From my new house in Kitimat, British Columbia, I can see from my front windows, the Kitimat Arm of the Douglas Channel framed by nearby mountains.
One of the many reasons that I chose to move back to my old home town, to build my new career as independent photographer, was that Kitimat is really a place of ever changing light. The Pacific winds bring weather up the channel, creating microclimates on each peak and each beach. Thus one moment you can have heavy overcast, a few minutes later scattered cloud, followed by sun, followed by black clouds and a torrential downpour.
A couple of days ago, during that major rainstorm that pounded the west coast for days, there was one of those breaks, where the sun suddenly shone through. So I decided to walk, rather than drive, to the local gym (a photographer hiker has to be in shape) and grabbed a couple of shots from a park a few steps from my house.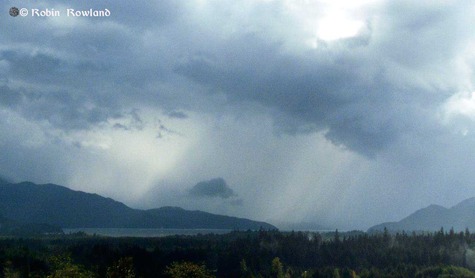 Of course, as I was walking back from the gym, the ocean squall returned full force and I was soaked by the time I got home.

But that shot gave me an idea. As I have said in previous blog posts, I always carry my Lumix FZ28 in a fanny pack, so for the past few days,as I walk to or from the gym, I stopped at the viewpoint and grabbed a few shots, hand held (against recommendations) and then using Photshop CS5 merged them into large (20 to 40 inch ) panaromas. Here are the web versions.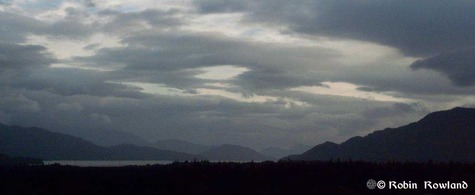 This dark, menacing sky is somewhat misleading. As I came home from the gym, on what had been a beautiful day, the skies darkened with dark clouds. But it was the opposite of the other day, the clouds blew over and the afternoon sun was soon shining again.
The panorama in afternoon light.
The panorama in mid-morning light.
Douglas Channel about the same time as the previous photo, on the following day.
(All photos pop as larger versions)