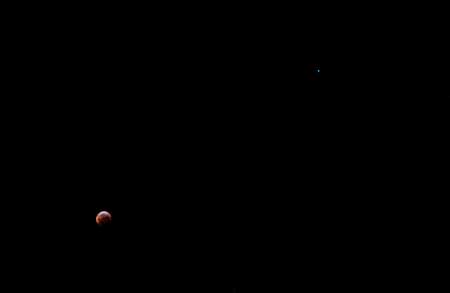 It was a very cold, clear, December night in Kitimat, BC, as I photographed the solstice lunar eclipse from my front driveway. Forecast low was -17 C plus windchill, and there was a windchill, making it around -30. As the eclipse reached totality, the winter sky was brilliant with stars, a couple of which can be seen in this photograph.
View slideshow of Lunar Eclipse 2010.
UPDATE
The most amazing moment of the winter solstice lunar eclipse can't, unfortunately, be captured, even with today's latest digital single lens reflex cameras. Normally Kitimat, BC, is blanketed in clouds. The day of the solstice and the eclipse was cold and clear and with most of the town down a hill and screened by trees, Kitimat certainly had one of the best views of the eclipse–no city lights. If it wasn't for two high tech cameras, I could have been at any point in history. That amazing moment, was to see the blood red moon moving above the two arms of the constellation Orion. That is when I switched to my wide angle lens in an attempt to capture the sight, but no luck, too dark and too much noise. Image 5 in the slide show was taken with my 70-200 2.8 at 70mm. I believe the bright star to the right of the moon is Aldebaran, since the moon was above the Orion arms.
I shot all images from my driveway. Most of the better viewing points weren't accessible, parks closed for the winter and some viewpoint parking lots used to hold plowed snow. As the evening went on, as the moon was higher in the sky, one camera, with my 500mm lens was almost vertical, about 85 degrees on the tripod. With the cold, even if I stepped back into my garage to get warm every 10 minutes or so, it wasn't always easy to adjust the camera on the tripod. Much easier to shoot from the roof of a high rise in a big city, but the view from skyscraper wouldn't be as good.
Note: I uploaded the slideshow at 0345 this morning. Today I reprocessed images 5, 6 and 7 to remove more of the noise.