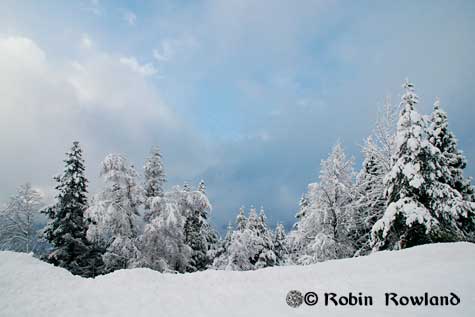 Slideshow
The beauty in snow
There was a major snow storm in my home of Kitimat, British Columbia, in the days after Christmas.
A big storm here in "Snow Valley" is not news, Kitimat has set records for snowfall. Now I know the situation in New York, New England and Atlantic Canada is not good, and this unusually stormy winter has spoiled the holiday season vacations for thousands of people from Heathrow to Moscow to New York. I see tweets and FB messages from friends in New York showing how bad it is while those say in Chicago not to mention the guys at the gym here, are chuckling about the Big Apple's misfortune.
Of course, New York is not that used to heavy snow fall. Kitimat (again, this is Snow Valley) has one of the most efficient snow clearing operations on the continent. On street parking is outlawed by a local bylaw for the winter season. A bylaw also requires that all cars have snow tires from November to the end of March.
The crews work all night. The first few shots in the photo gallery were taken last with my Sony NEX 5 set at maximum ISO 12800. As the sun came up this morning, and as I cleared my driveway for the fourth time in 24 hours, the ever changing light of Kitimat was magic. (With the long fjord, the Douglas Channel, and the mountain, the unique microclimate that brings all that snow also means that within a few minutes this morning there was orangish then bluish sea and snow fog and then clear blue sky. In the afternoon, it was the same but then there were scattered clouds over the Channel for the last shot in the gallery.) The day time shots were shot with my Alpha 700 and a Sony 18-200 lens.
Slideshow The beauty in snow