On Sunday morning, Feb. 13, 2011, got up to go to the washroom around 5 a.m., looked out the bedroom window and rain was washing away the snow from the previous week's storm.
When I woke up just after 10 and looked out again, snow was coming down, really coming down.
@cindysjyu tweeted at 1038, as I was finishing breakfast.
Kitimat reported 12 cm of snow so far. #BCstorms
So, went out and dug out the driveway.
Snow kept falling, and falling.
At 1538, I retweeted,

RT @cindysjyu: Kitimat reported 38cm of snow so far. #BCStorms
and out I went out to again to dig.
I didn't attend to go out again, but late in the evening at 2103 another tweet sent me out again.
@cindysjyu: 83 cm in Kitimat and counting. #BCStorms
Now that point I wondered if Kitimat was going break its own record for the most snow in Canada in a 24 hour period.
Kitimat had set the record for an urban area in 2000, with 113 centimetres or 45 inches. Nearby Lakelse Lake set the all time Canadian record in 1974 of 118 centimetres or 49 inches.
So out I went again. Just in case that record was broken overnight. I wanted the driveway as clear as possible, so that if I wanted to go out and shoot, I'd be ready.
Of course, I took a camera with me, the Sony NEX-5, which can be set to ISO 12800. As I was digging, the district snowblower came out of the darkness.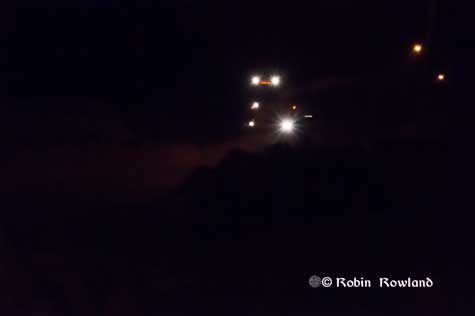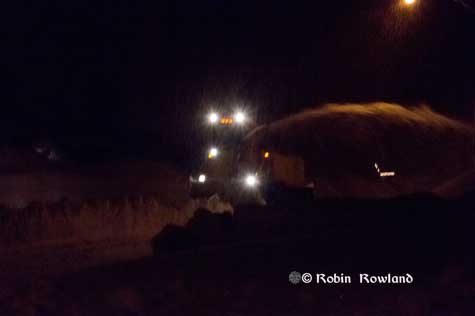 .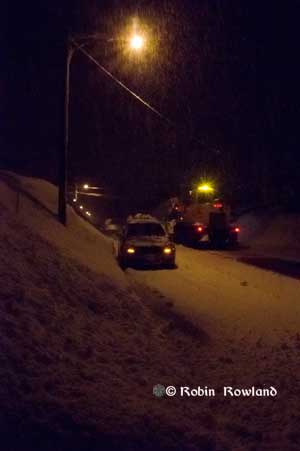 So the driveway clear as it could be, I went back in the house, preparing to save these photographs, just as the power failed and the house went dark. The lights came back on after 45 minutes and so it was off to bed.
So Valentine's Day dawned and once again, checked Twitter.
Kitimat Mayor Joanne Monaghan, who monitors snowfall amounts for Environment Canada, told local radio station CJFW: "We had, from 6 o'clock or 6:30 yesterday morning until 7 o'clock
this morning, we had 99.5cms of snow," said Monaghan, adding "It's going
to start being a problem with what do we do with the snow?"
So no national story about a new snow record. Big local story and a single clip on CBC Vancouver News.
Nor was it pretty, overnight the storm changed to wet snow, not worth shooting.
So a routine day, gym, supermarket, more digging.
Tomorrow is another day.