Posts Tagged "statue"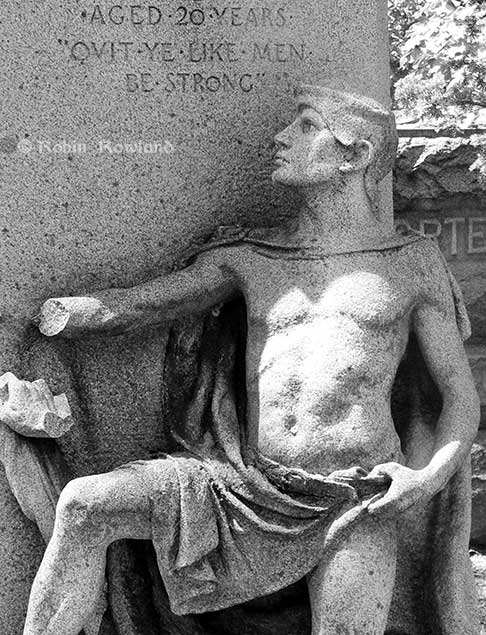 The First World War began one hundred years ago tonight; a war that eventually killed 16 million people, including 10 million serving in various armed forces.
This is just one story of a young Canadian flyer in the Royal Navy Air Service who died not in combat, but from an aircraft accident in 1917. H. Laurence (or Lawrence) Crowe of Toronto, aged 20.
On August 5, 2005 I had paid a visit to my parents' grave in Toronto's Mount Pleasant Cemetery and then walked around for a while on that pleasant summer afternoon.
I spotted a large memorial, a statue, with a broken hand, and both the statue itself and the fact that it was broken reminded me somewhat of the Parthenon Freize, (the infamous Elgin Marbles). Moving closer (and using the small digital point and shoot I  was carrying everywhere in  2005) I saw that the statue was both "ancient" and modern, the figure was bare chested, heroic, like the figures from ancient Greece, but around his waist was supporting what may be a short kilt is a modern belt. I'm not sure about the headgear, it doesn't really look like a flier's helmet, a Greek helm or a naval officer's cap.
Adding to the heroic nature of the memorial is the inscription: Quit Ye Like Men. Be Strong.  Although we call many "heroes" today, 1917 was a time when a classical heroic metaphor was still part of the culture.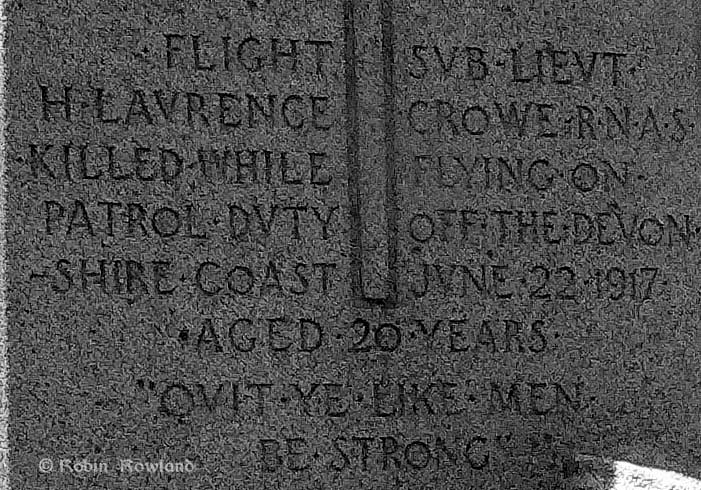 So watching the news items tonight on the beginning of the First World War, I wondered who was this young man?
You'll find a profile of Harry Laurence Crowe on the Veteran's Affairs Canada Virtual Memorial site.
He was born on April 12, 1897, in Bridgetown, Nova Scotia, which means that when the war broke out a century ago he would have been 17 years old. He attended St. Andrew`s College in Toronto and the University of Toronto, before deciding to become a pilot. He went to a flying school in Newport News, Virginia then  on to England and joined the Royal Navy in Plymouth. On June 22, 1917, after just three months service,  he was searching for a German submarine off the coast of Devonshire and was returning to base flying at 1500 feet and 500 metres from shore at Prawle Point when the plane suddenly nose dived into the ocean, probably due to mechanical failure.
There was a memorial service in Plymouth which included a large model of an aircraft covered in flowers.
Unusual for the time, his remains were returned to Toronto, and according to a Toronto Star report on August 8, 1917, the funeral with full military honours was held at Mt. Pleasant Cemetery. There was a second plane as part of that memorial, the Star reported:
This floral aeroplane was made from the wrecked portions of an aeroplane Lieut. Crowe was fond of using, but not the one from which he was killed. The wings spread out about five feet covered in forget-me-nots. The aeroplane body was about six feet also covered in blue flowers with sprays of white ones. An accurate model it was in every way from the carriage wheels below to the curved propeller in front.
There was a firing party, a bugler performed The Last Post and two aircraft made a flypast over Mt. Pleasant.
In 1918, the University of Toronto student newspaper The Varsity published a memorial to Crowe and other war dead. As you can see from the photograph from The Varsity, the sculpture did capture a likeness of the young aviator.