Who is Robin Rowland?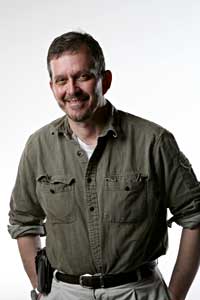 Photo by Bob Wilson
I'm a Kitmat, B.C. -based independent visual journalist and author. I freelance as a photographer, writer, journalist, television producer and web/multimedia producer, serving northwestern British Columbia and the rest of the world.
My current nonfiction book is A River Kwai Story The Sonkrai Tribunal. I'm author of four previous books, including the first book on how to do research on the Interent.
Until March 2010, when I took early retirement, I worked for the Canadian Broadcasting Corporation's news division as the Photo Editor for CBC News and a producer for the news website CBC.news.ca.
From April 1998 until April 2007, I also worked as a producer of "The National" website. Before I joined the National, I was a writer/producer with CBC.ca's predecessor CBC Newsworld Online, the CBC's headline news service on the Internet. From 1994 to 1996, I was a lineup editor for CBC Newsworld News hourlies on the weekends and wrote for other CBC News shows.
I worked for CTV News from 1988 to 1994. From 1982 to 1984 I worked for the CBC's pioneering new media experiment, Project Iris, which involved sending to news out through the then primitive teletext system.
From 1995 until 2001, I taught Computer-Assisted Reporting and Investigative Techniques at the Ryerson Polytechnic University School of Journalism.
Archived JRN802 2001 Course outline.

My current writing blog is Robin's Weir.

The Garret tree was my blog on the writing life from 2004-2009.