So an update from my last entry almost eighteen months ago.
I did move back to Kitimat, British Columbia and did buy a large ranch house with an ocean view.
At this point I am using the large rec room in the basement as my office for my freelance writing and photography.
The house has a large attic, which will become the layout room, as finances permit.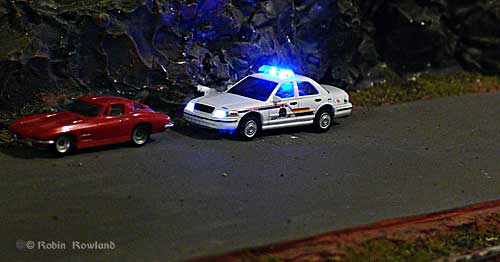 An RCMP cruiser stops a corvette for speeding on the HO Skeena  Valley Model Railroad Association layout in Terrace, BC. The cruiser has alternating red and blue LED lights, creating by Ian Illing.  (Robin Rowland photo)
In the meantime, I am a part time member of the Skeena Valley Model Railroad Assocation and you can see a photo gallery of more images on my photography site.
Trying to set up my new business means that I can't attend meetings that often at the moment.
I am working on a smaller shelf layout that will go into the rec room office.   Keeping the details to myself at the moment because the new small layout is also tied to a writing project.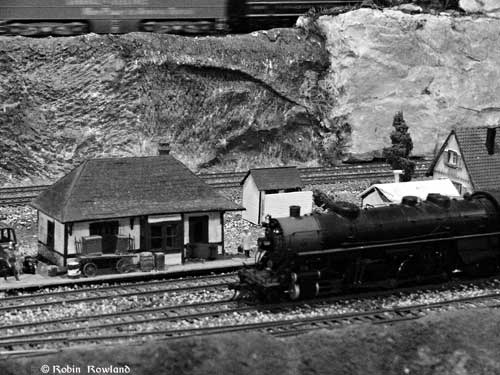 A steam engine pulls into a station at the Skeena Valley Model Railroad Association layout, while above a contemporary whips by on an upper track.  (Robin Rowland photo)