Posts Tagged "Camera"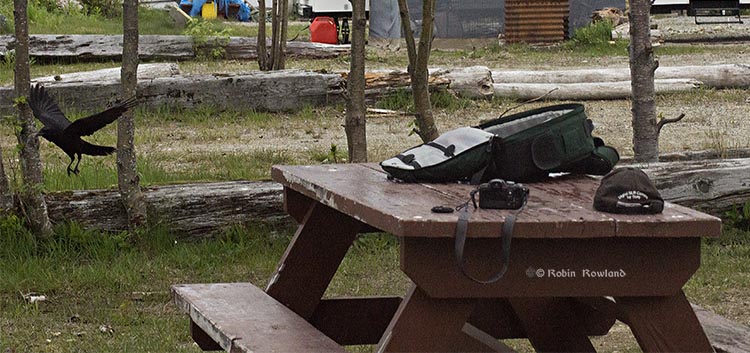 Sometimes the most interesting things are happening behind you. A crow flies past my gear bag. I heard the crow's call and turned from shooting birds at MK Bay to catch this shot.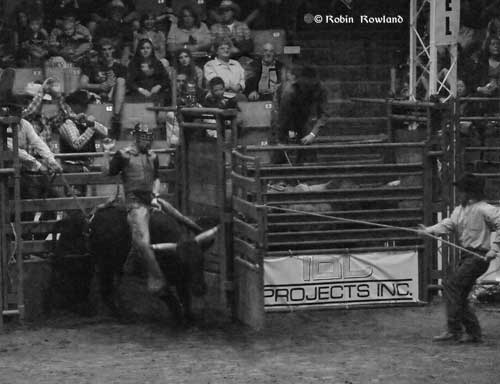 After the recent Stanley Cup riots in Vancouver, there was some discussion among photographers about carrying today's "big" digital SLRs into a volatile situation and where carrying that kind of gear can make a photographer a target or, going back to the American race riots of the 1960s, whether or not highly visible photo gear can provoke a crowd. It was pretty clear from watching the live coverage that the mob in downtown Vancouver, if it was performing for cameras, the mob was doing so mainly because of the mobile phone cameras that, it seems, everyone had with them.
Today's big, expensive and visible gear can be liability in some cases where a small camera like the kind everyone else is carrying, is likely to be generally ignored.
In my years in television news, going into a situation with a small camcorder rather than a big Sony Betacam was standard procedure, whether it is in a country that is generally hostile to the foreign media but welcomes tourists, or in disturbing situations where carrying a big camera (still or video) might be dangerous to the photographer.
That is why I often experiment with smaller point and shoot cameras. Take a small camera to an event, sit in the stands and just have some play time while getting to know the capabilities of your camera, just in case you do need to use it a real news situation.
Unlike the FZ-28,
which performs well under low light conditions
, the earlier generation of Panasonic, the FZ-50 is very noisy at ISO 800 and 1600. When I was going to the Kitimat Bullorama (a bull riding competition that is held in towns that don't have full rodeos) I decided to take the FZ-50 along because it has a standard lens that let's you control the zoom fairly accurately. That is not the case with tiny joy stick on the FZ-28 which I found awkward when I was trying to shoot hockey games from the stands in the same Tamitik arena as Bullorama was being held.
The light was generally low and shooting at 1600 produced fairly noisy images. All that said it was supposed to be a fun evening. So I tried converting the somewhat sickly colour images to black and white to get rid of all the noise. Still not that hot, but not too bad either, the result are images were still noisy and a bit washed out, but the photos reminded me of old photographs as they would have been seen by the public in some of the small and medium sized newspapers of the 20s and 30s,with inexpensive engraving equipment. So a successful experiment in some ways.
A sequence of three quick pictures capturing one ride.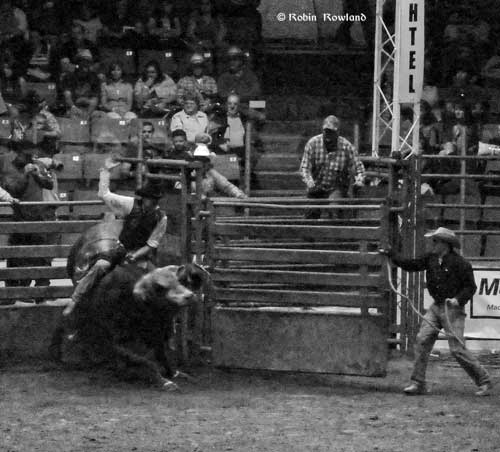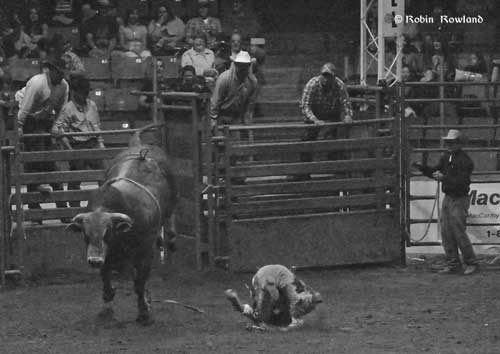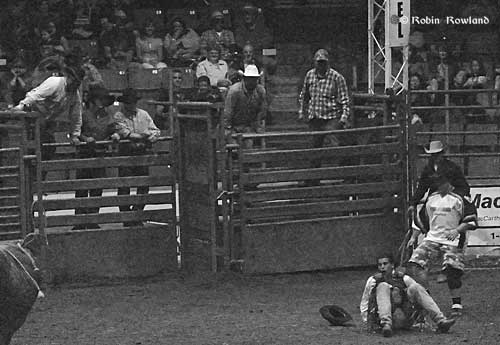 Another rider tries a bull.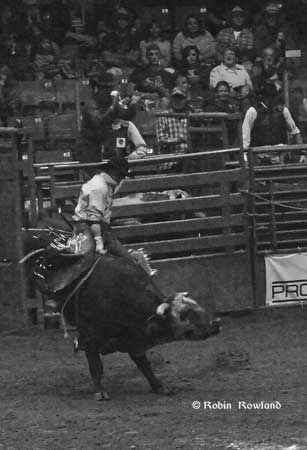 The half time wild horse riding competition.