Archive For The "available light" Category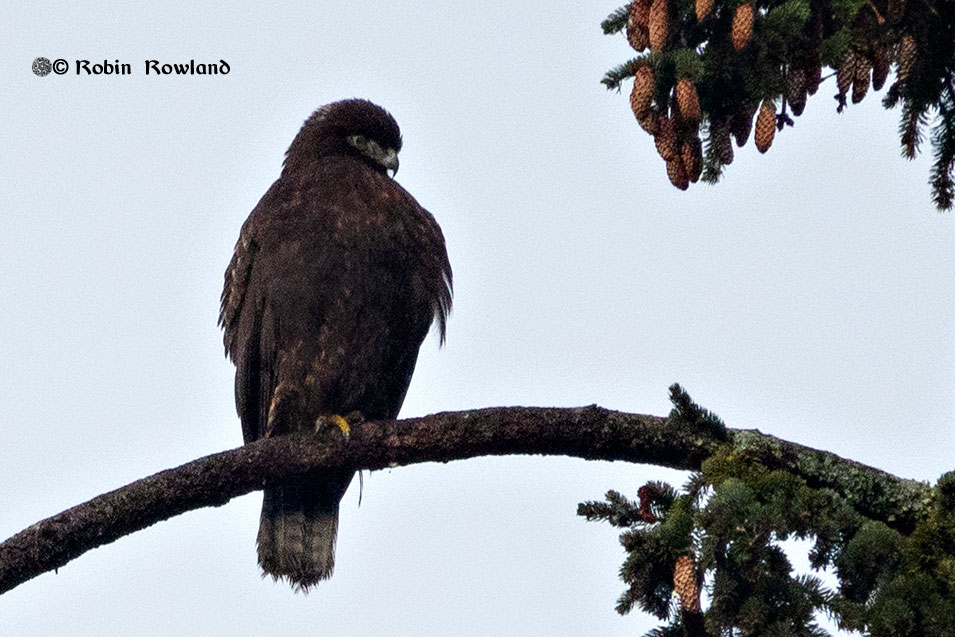 For the Christmas Bird Count in Kitimat, there's usually a lot of ground to cover in a very short period of time–that's because here in the northwest daylight hours are limited as we get closer to the Winter Solstice. So we started before dawn, which is OK for those who are counting but not so good for photography.
The highlight of my day came at what is known as the Maggie Point trail to a gazebo overlooking Kitmat harbour built by members of the Haisla Nation. The problem is as you get older, hiking a trail in icy weather can be quite dicey, especially for me who has had minor hip problems since I was a kid. So with ice on the trail, I decided to stay by the cars and wait while the rest of the gang went to see what they could see from the gazebo. Then a swift flying bird landed on the branch not far from the parking area. I wasn't sure what it was, but I began shooting with my SonyRX10iii which is 24 to 600 mm 35mm equivalent.
I wasn't sure what the bird was, but I guessed it was a raptor since it sat there for almost ten minutes, surveying the area. At one point a crow flew by and the raptor didn't budge. Then it swooped down over my head and into the bush. It was only then I checked the display to see the yellow rimmed eyes. The birders debated whether the raptor was a merlin or a sharp-shinned hawk and then came to the conclusion looking at the eyes that it was a dark red-tailed hawk.
And here are some other views from the Christmas Bird Count 2019.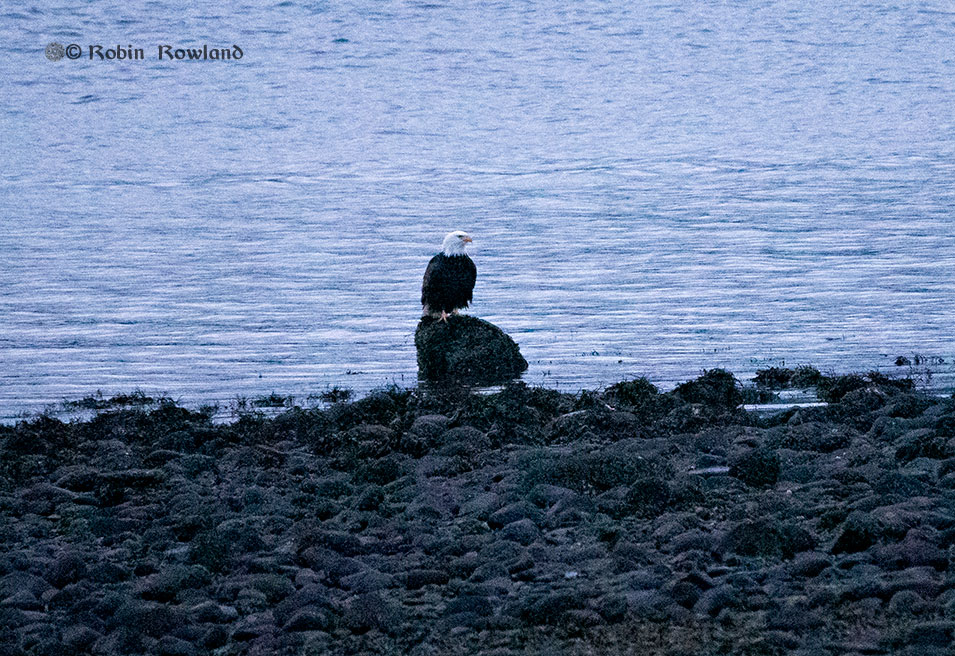 All the images were taken in the morning up until about 11 a.m. I went home for lunch, ingested the morning images and then we went out again. But with heavy cloud cover, fading light and fewer birds, the afternoon session was a bust. No photos worth posting.
A winter full moon rises over Kitimat BC's iconic Mt. Elizabeth, November 25, 2015.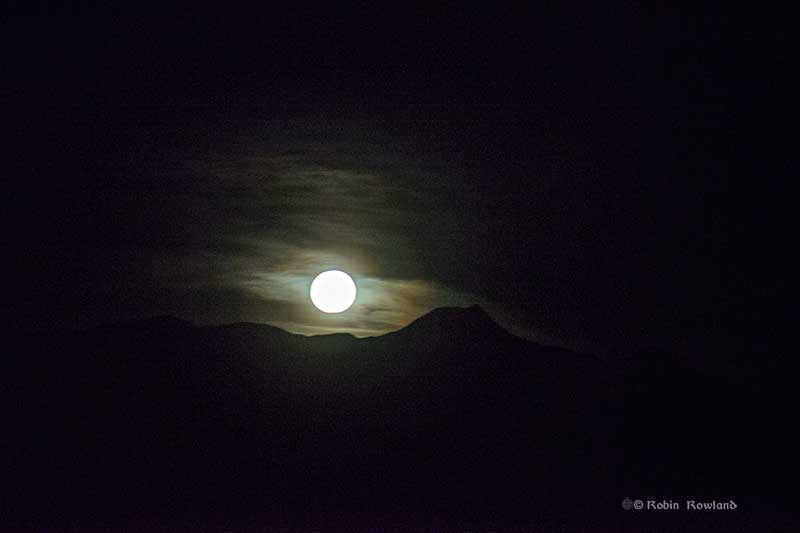 The moon rises over Mt. Elizabeth, shot for the sky.  Sony A7II, using old Vivitar manual Minolta mount 85 to 205 zoom, 1/100 sec, f3,5, ISO 5000, Shutter priority (Robin Rowland)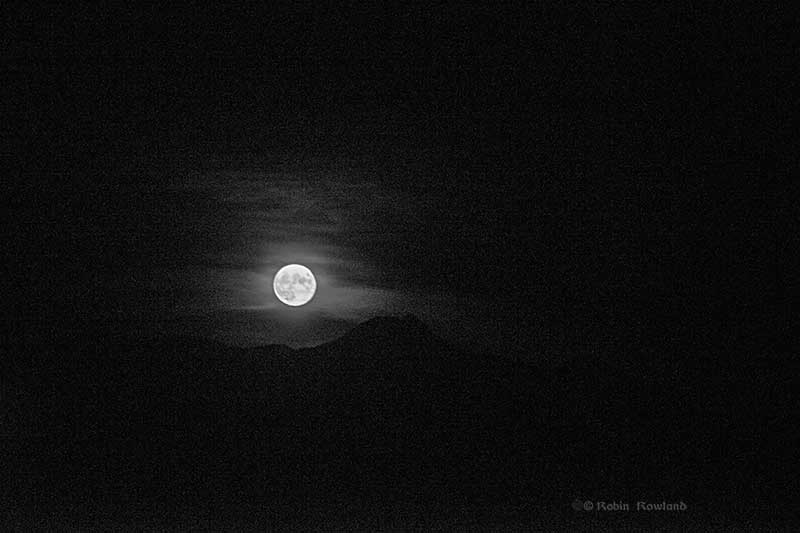 The moon over Mt. Elizabeth, shot for the moon, a bit noisy, better in black and white. Sony A7II, Vivitar 85 to 205mm, ISO 5000, 1/250 f3.5, Shuter priority (Robin Rowland)
The moonrise begins.  Sony A77, Sigma 170-500 at 180mm, 1/30 f5.0, ISO 4000, Shutter priority (Robin Rowland)
Mt. Elizabeth at dusk as I was setting up. Taken at 1649. Alpha 55, Tamron 70 to 300mm at 135, ISO 6400 1/125 at f4.5, Shutter priority (Robin Rowland)
The Photographers' Ephemeris called for Moon rise at 1654 hrs (at sea level, of course). The first hint of moonrise (on a very cold night) came at 1728.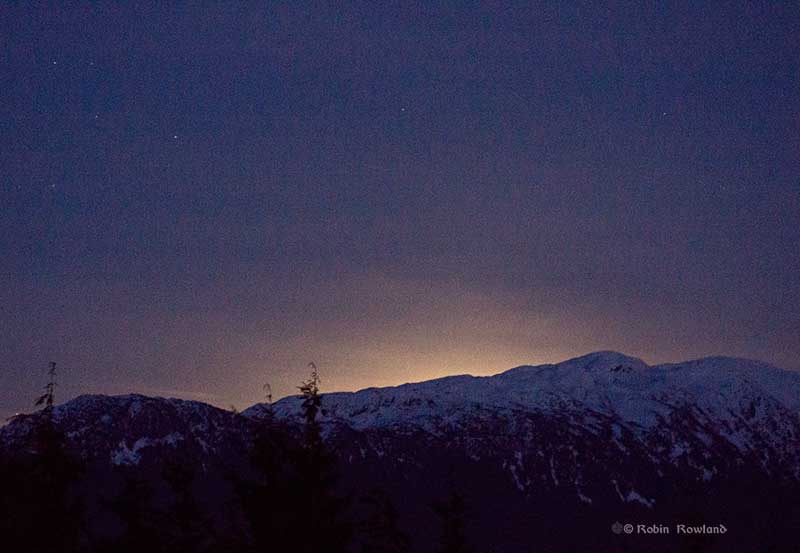 Another view of the hint of moonrise to come.  The sky is dark enough at this point that you can see stars in the sky, before the bright moon floods them out. Sony A77 with Sigma 170-500mm (on tripod) at 180mm, 0.4 sec at f5, ISO 4000 program mode.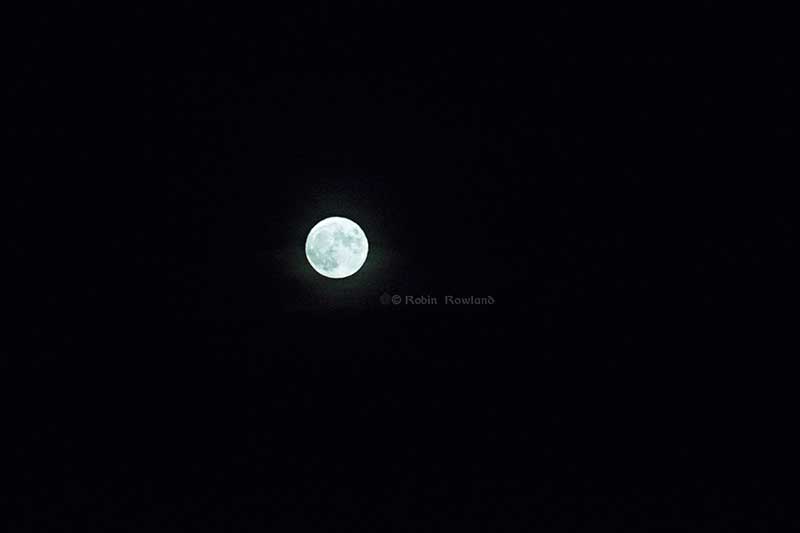 The cold November moon, over Kitimat, shot for moon exposure at 1749.  Alpha 77, 170 to 500 at 200mm, shutter priority 1/2000, f5.6, ISO 4000. (Robin Rowland)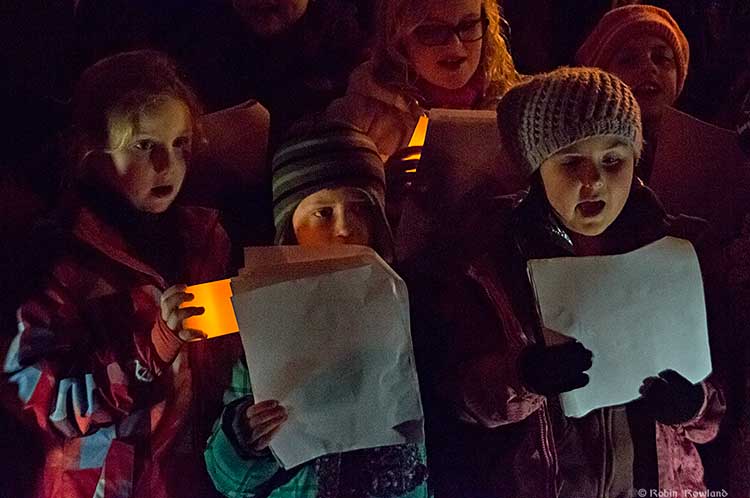 Hundreds of people (including lots of kids) turned out in a chilly, wet, West Coast November downpour on Saturday for Kitimat's Festival of Lights, officially marking the start of the holiday season.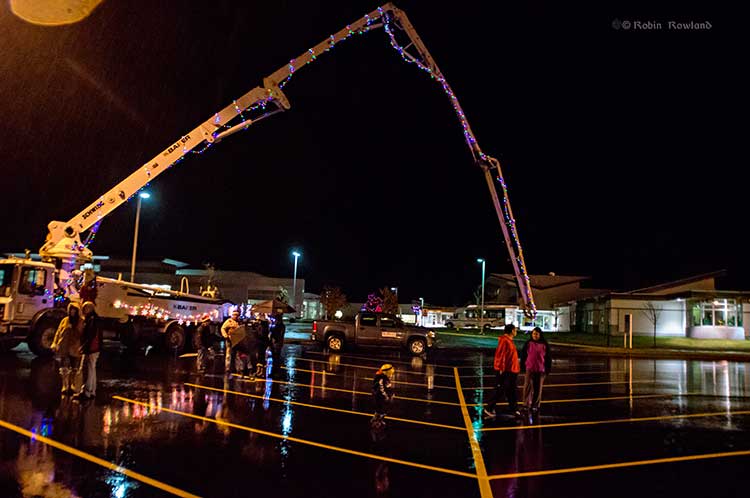 A construction truck created an arch of Christmas lights over Mountainview Square. (Robin Rowland)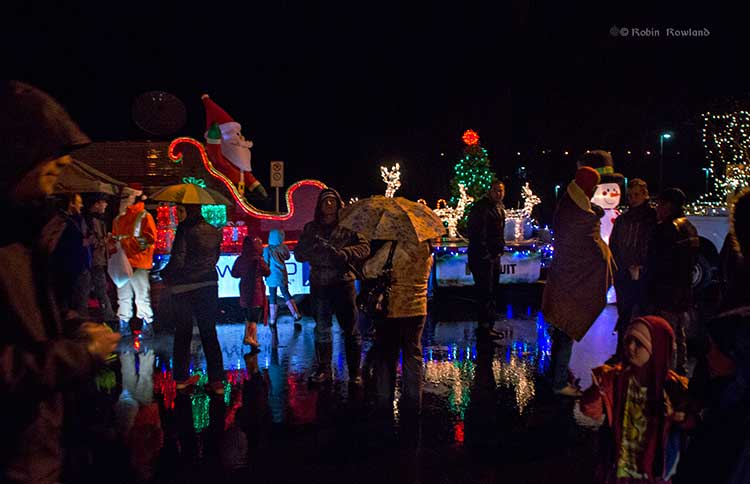 Puddles reflected the lights as the rain continued. (Robin Rowland)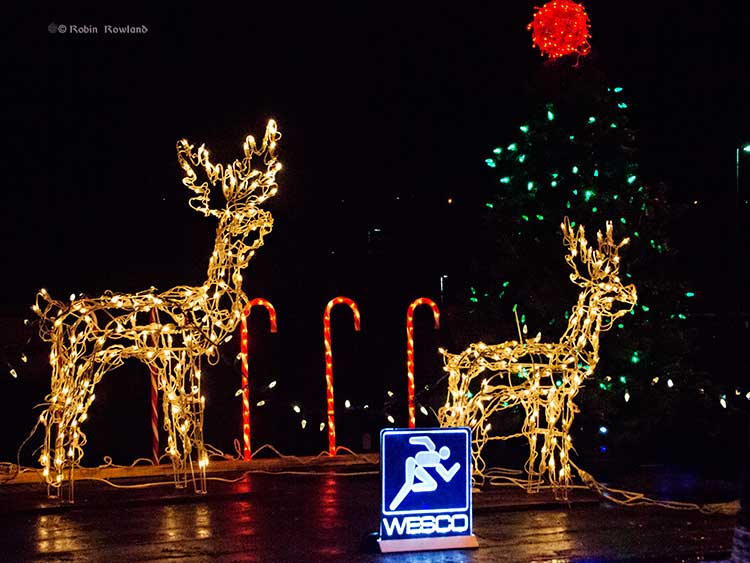 A couple of reindeer in lights on the back of a flatbed. (Robin Rowland)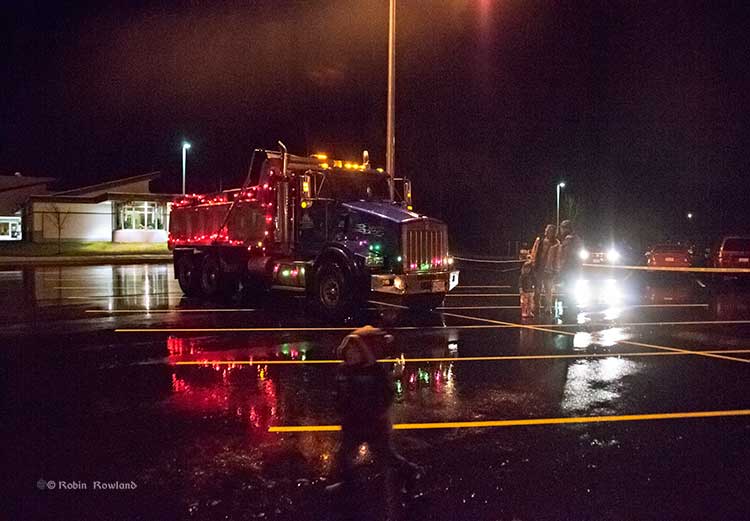 A dump truck arrived, lit up like a Christmas tree. (Robin Rowland)
Then just as Santa Clause was due to arrive, the rain stopped.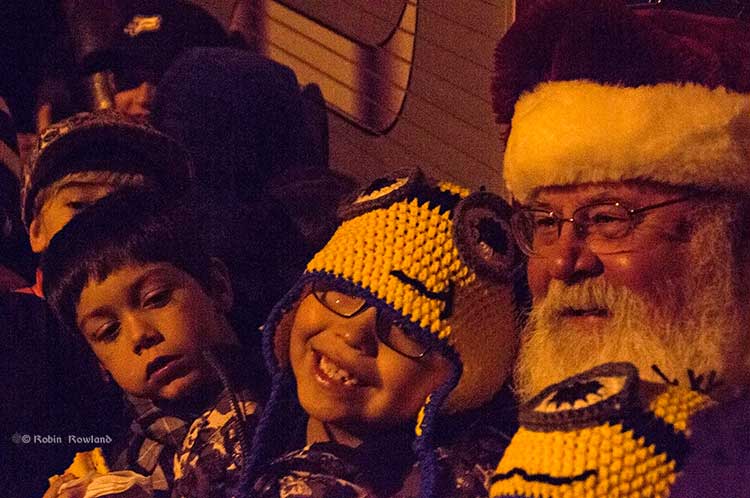 Santa Claus, sitting on the Kitimat Fire and Rescue Ladder 11 talks to kids at the Festival of Lights. (Robin Rowland)