Archive For The "Coast Guard" Category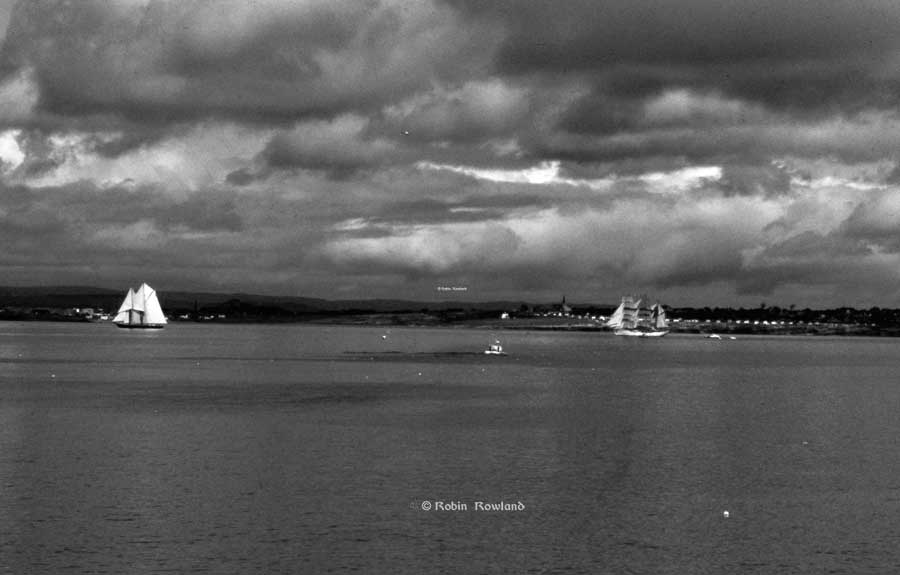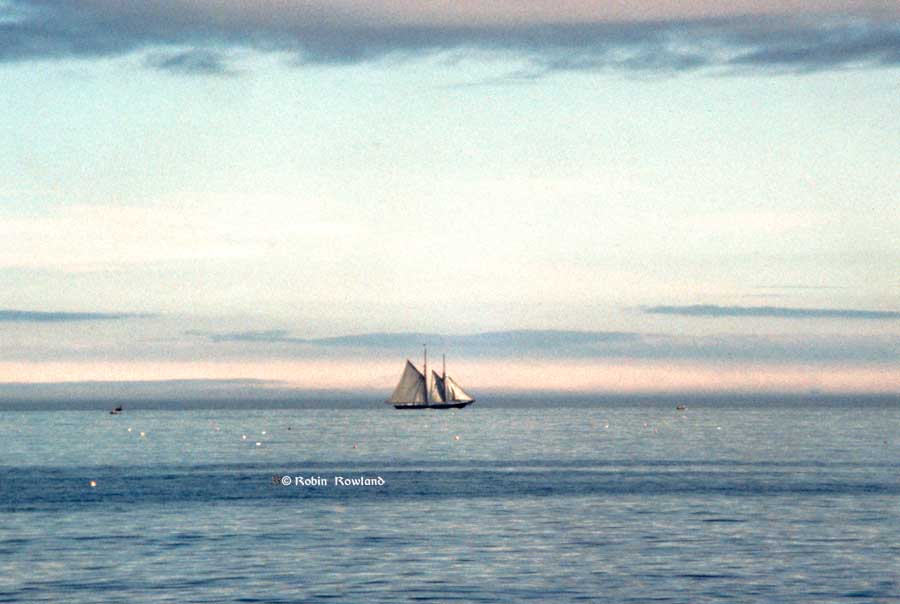 This is one of the my favourite photographs. The Bluenose II sailing off Sydney, Nova Scotia, on July 11, 1984, thirty-one years ago today. I like it because the Bluenose hasn't set the ships tops'ls and that's something that you don't see that often at least in most photographs
After a controversial $19.5 million refit, earlier today the restored Bluenose II arrived at Lunenberg, Nova Scotia to begin it's summer touring season. You'll find the sailing schedule on the ship's official website Bluenose II: Nova Scotia's Sailing Ambassador.
I had visited Sydney back in 1984 as part of a summer vacation trip to Nova Scotia. The international Parade of Sail celebrating the 450th anniversary of Quebec City, also visited Puerto Rico,  Bermuda, Portsmouth, NH, Gaspe and Halifax.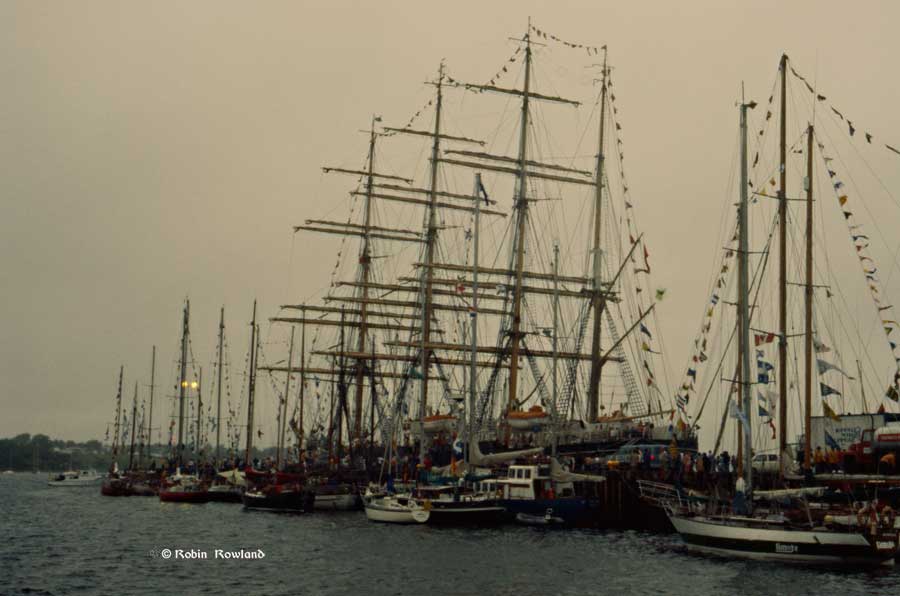 The tall ships tied up at the dock at Sydney, July 10, 1984. (Robin Rowland)
Technical Data: Minolta X-700, Minolta 135mm prime M mount lens or 50mm prime, Ektachrome colour film. No record of exposures.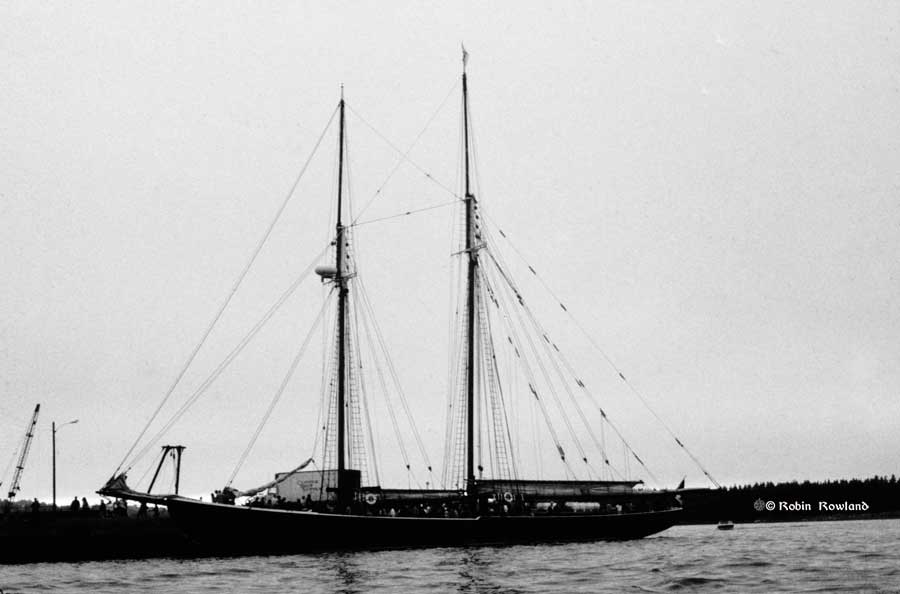 The Bluenose II tied up at Sydney, NS on the evening of July 10, 1984. I converted some images to black and white either because the original slide was rather dirty and couldn't always be completely restored with digital cleanup or because it looked better and more historic in black and white.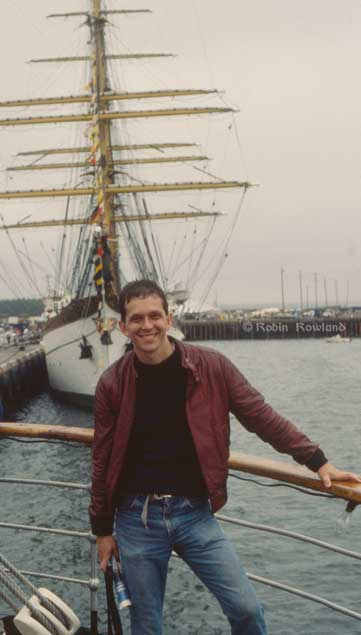 And that's me, July 10, 1984, on the deck of one of the tall ships that was open for touring.  It was just starting to rain.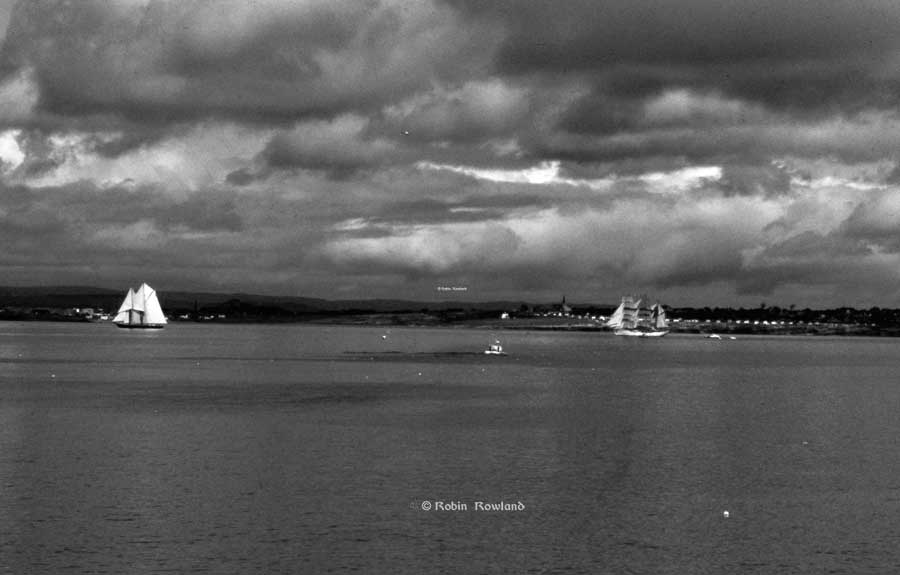 The Bluenose II leads the United States Coast Guard training vessel USCG Eagle out of Sydney harbour, July 11, 1984. (Robin Rowland)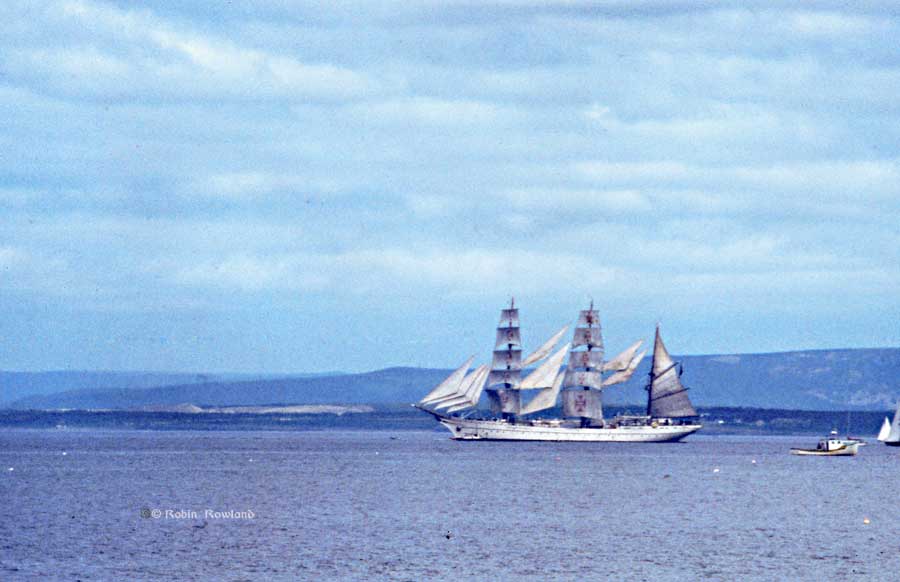 The Columbian training ship ARC Gloria, leaving Sydney harbour, July 11, 1984. (Robin Rowland)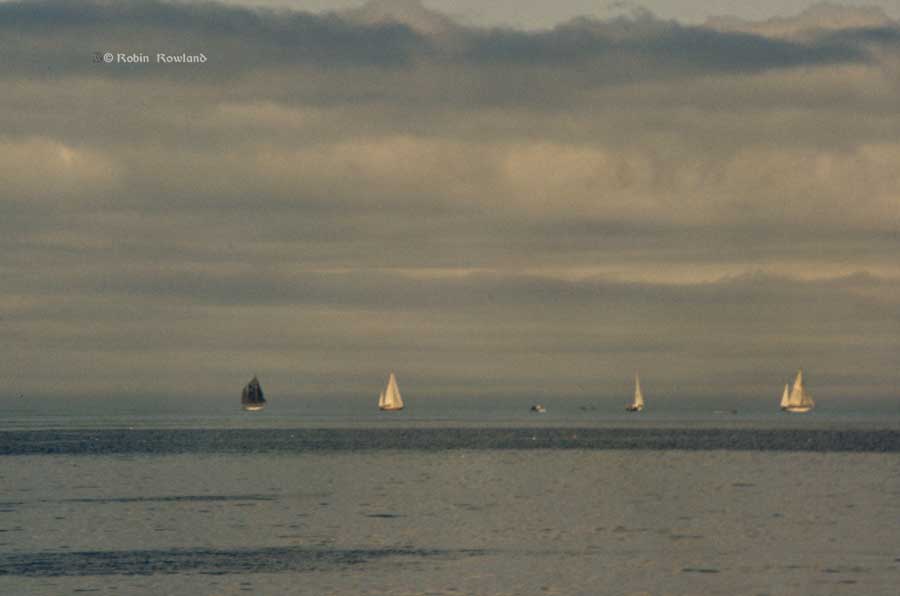 Some of the smaller sailing yachts, from both Sydney and from the sail "in group" saying farewell to Cape Breton. (Robin Rowland)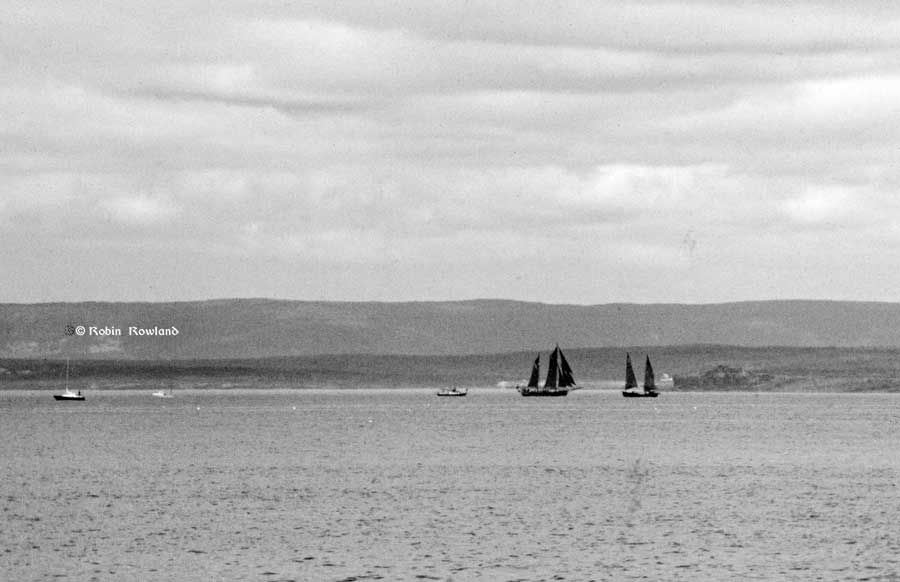 In some ways, this photograph could be more than a century old, rather than just 30 years. (Robin Rowland)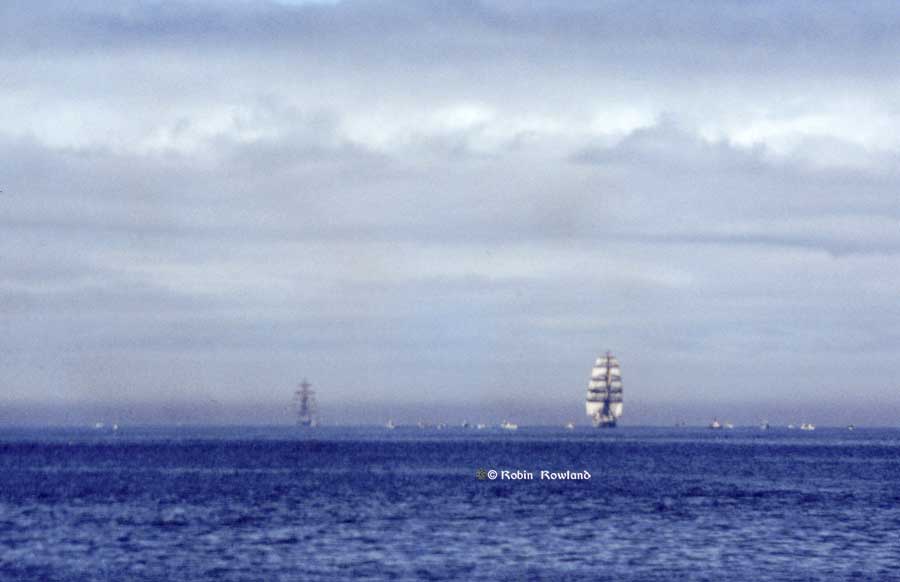 The then Soviet training ship, Kruzenshtern, under power, followed by the Gloria, a full square rigger with sails set. (Robin Rowland)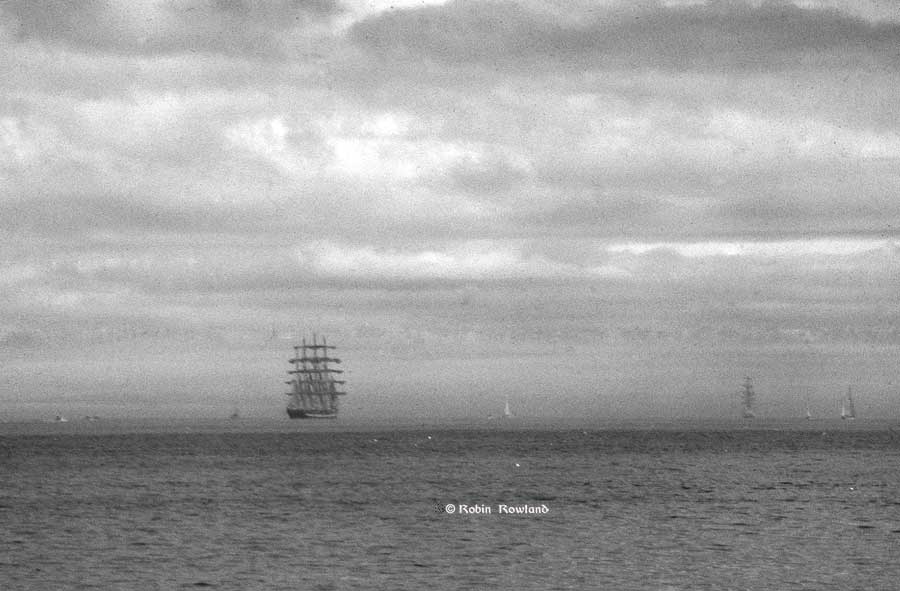 The Kruzenshtern and a second unidentified tall ship heading out to sea from Sydney. (Robin Rowland)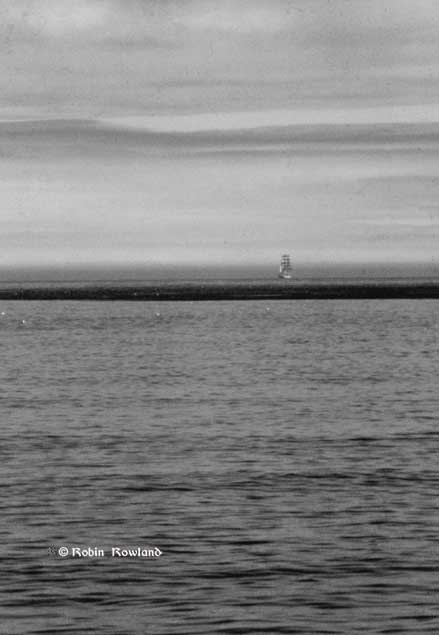 A tall ship (possibly the Gloria) disappears on the horizon. (Robin Rowland)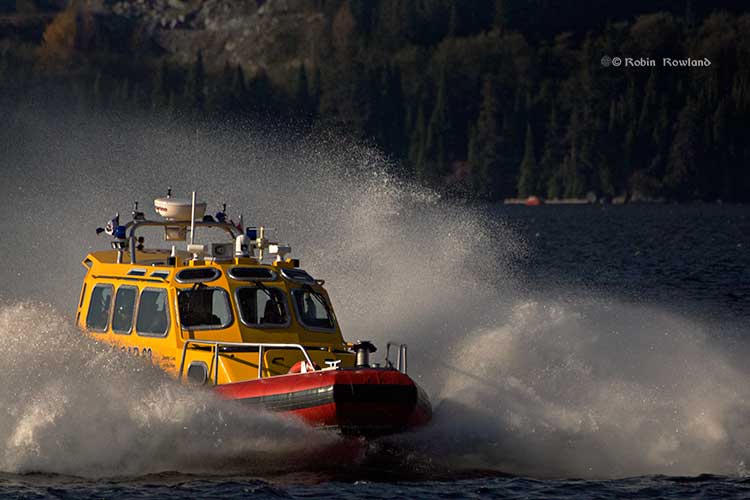 Kitimat's Royal Canadian Marine Search and Rescue Station 63 (SAR 63) christening its new enclosed rescue vessel on Saturday, October 25, 2014 at MK Bay marina. Almost all the more than $600,000 need for the state-of-the-art rigid hull inflatable Type II Falkins Class dedicated rescue boat was raised locally by the Kitimat Marine Rescue Society with support from local businesses, the District of Kitimat and individuals as well as grants from BC gaming.
As SAR 63 says on its website:
RCM SAR 63 Kitimat is located at the head end of the Douglas Channel on the North Coast of B.C. The station was founded in 1988 and is supported by the Kitimat Marine Rescue Society. The area served is from Kitimat to the Hecate Straits. Mission distances and durations are the longest of all RCM SAR stations. The nearest Canadian Coast Guard station is 130 nautical miles with response time in a 8 hour window. The Kitimat Station is considered a prime resource in the area.

The Douglas Channel and area reach 80 kilometers inland from the inside passage. The narrow fiords through the mountains produce extreme winds and temperatures. In winter the salt spray freezes before it lands on the boat and crew. Minus 20 is not uncommon.
Snowflake Responder III, left, and the open Snowflake Responder II, tied up at Kitimat's MK Bay Marina. Snowflake Responder II is an open 26 foot (eight metre) rigid hull inflatable powered by twin 200 horsepower outboards. Cruising speed is 35 knots with a range of over 200 nautical miles.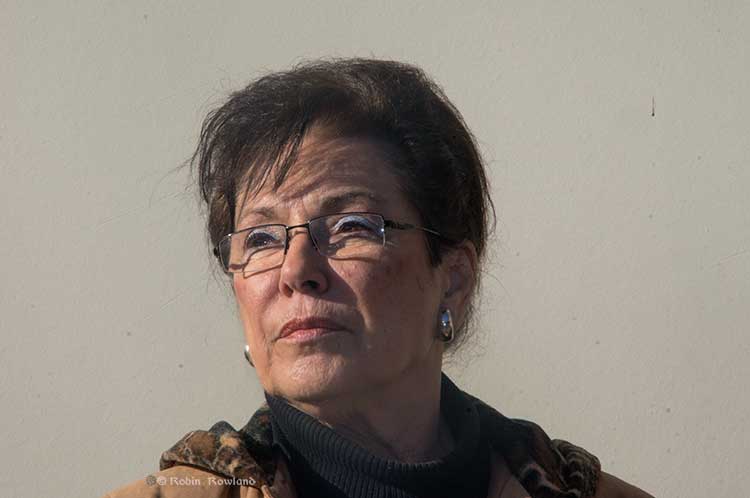 Kitimat mayor Joanne Monaghan waits to speak at the start of the christening ceremony for the new Snowflake Responder III.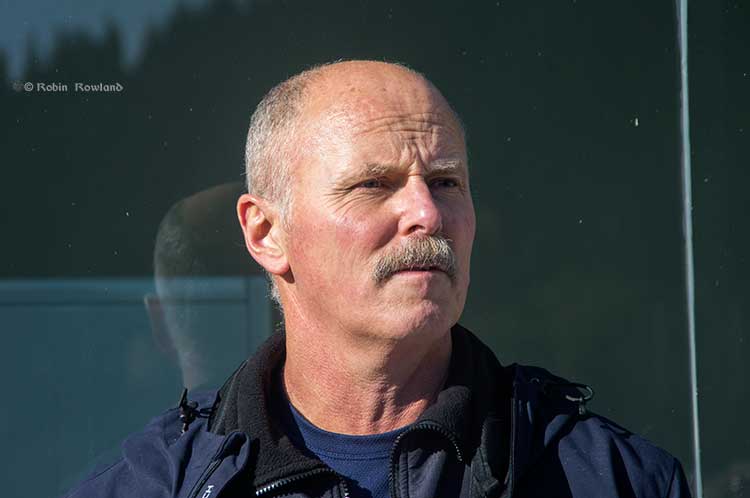 Duncan Peacock, president of the Kitimat Marine Rescue Society and veteran member of Station 63 speaks about the new vessel prior to the christening ceremony.  (Robin Rowland)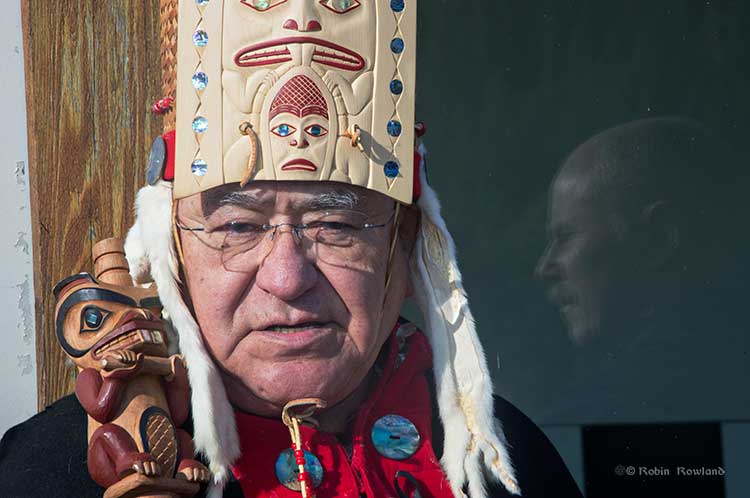 Sammy Robinson, the eleventh Haimus, hereditary Chief of the Haisla Nation at Kitimaat Village, explains that he will use a traditional Haisla blessing for a new canoe, a ceremony that hasn't been used for decades, during the christening of the Snowflake Responder III, as Duncan Peacock, seen reflected in the window, listens. (Robin Rowland)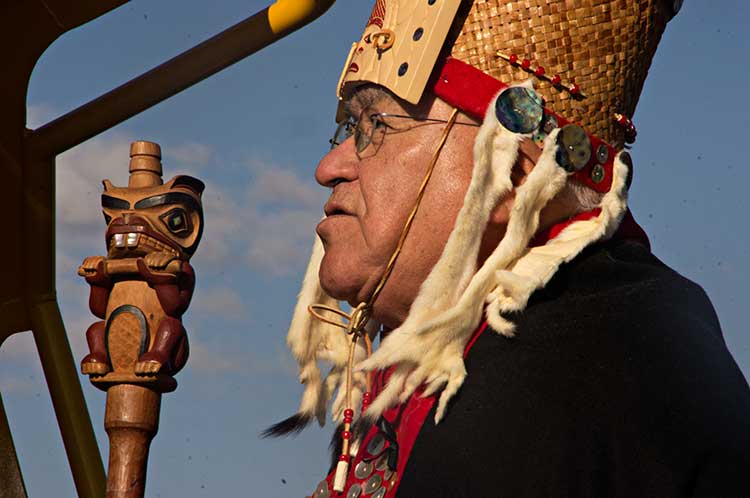 Sammy Robinson prepares to bless the Snowflake Responder III and banish any hostile spirits from the boat. (Robin Rowland)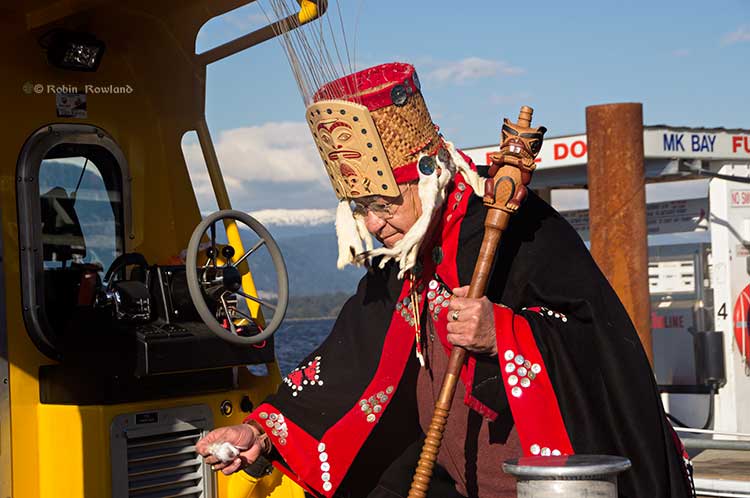 Sammy Robinson uses down feathers as part of the blessing ceremony.  (Robin Rowland)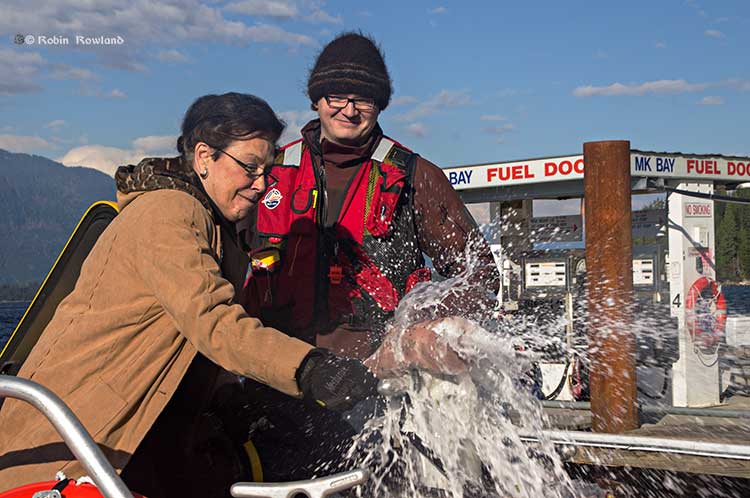 Kitimat mayor Joanne Monagahan uses the traditional bottle of champagne (inside a safety jacket) to christen the Snowflake Responder III as coxswain Christopher Peacock watches. (Robin Rowland)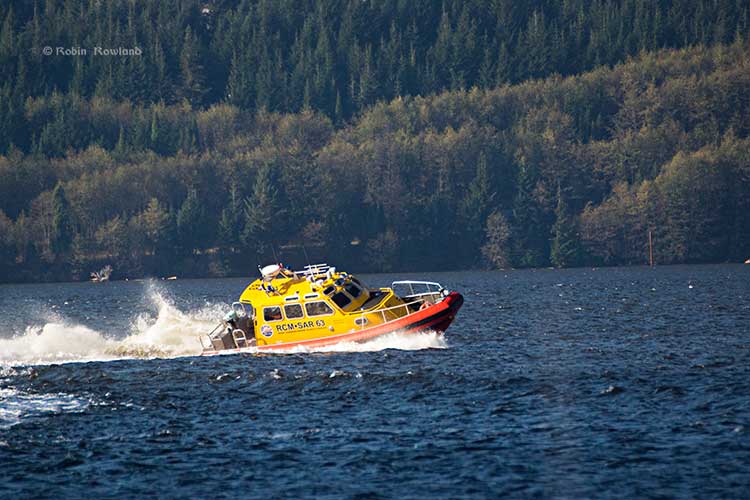 The Snowflake Responder III does a demonstration practice in Kitimat harbour (Robin Rowland)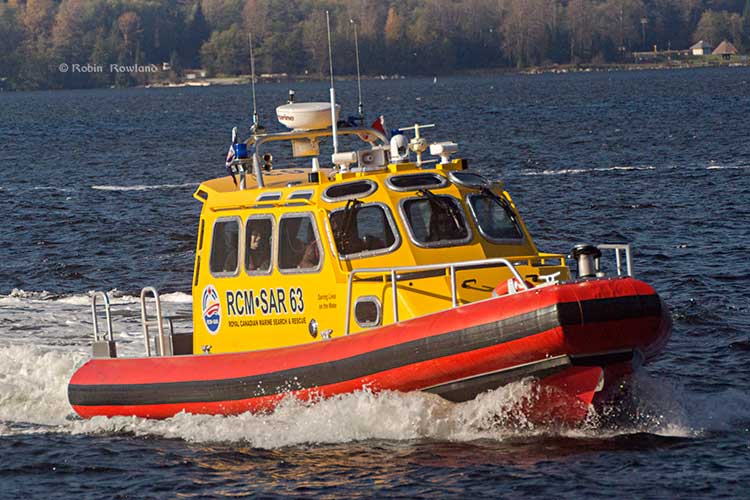 Snowflake Responder III (Robin Rowland)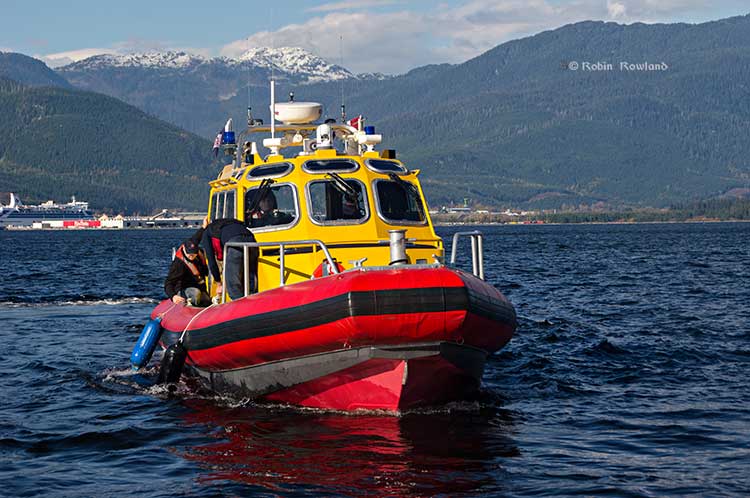 Approaching the dock at MK Bay Marina. (Robin Rowland)
The Snowflake Responder III is a Falkins Class Type II Vessel with the following specs:
– LOA: 33′
– Beam: 11'9″
– Draft: 28″
– Top speed: 40 knots
– Cruising speed: 30 knots
– Crew: 4 to 5
– Maximum capacity: 12
– Stretcher capacity: 3
– Gross weight: 17,000 lbs
– Engines: Twin D6 Volvo
– Horse power: 435 per engine
– Propulsion: Twin Hamilton Jet Drives
– Service years: 30
– Range: 240 nautical miles
– Infrared heat sensor: "FLIR" M626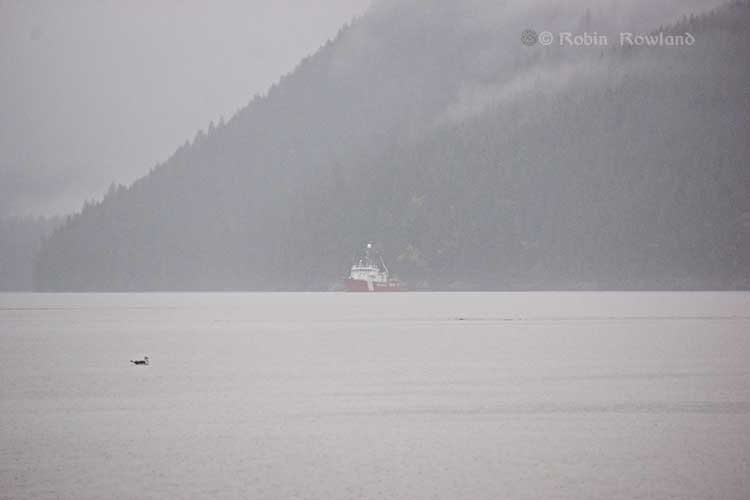 The CCGS Gordon Reid, a Canadian Coast Guard offshore patrol vessel, is seen on a stormy, wet and windy Douglas Channel, off Coste Island, south of Kitimat, on Sunday, Oct. 5, 2014.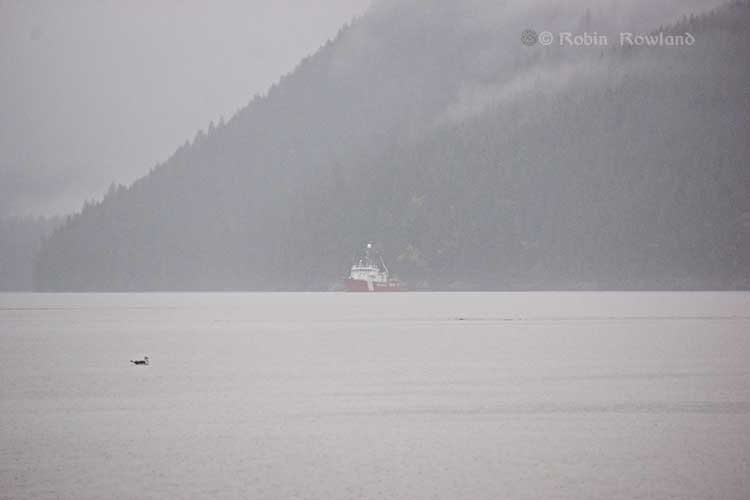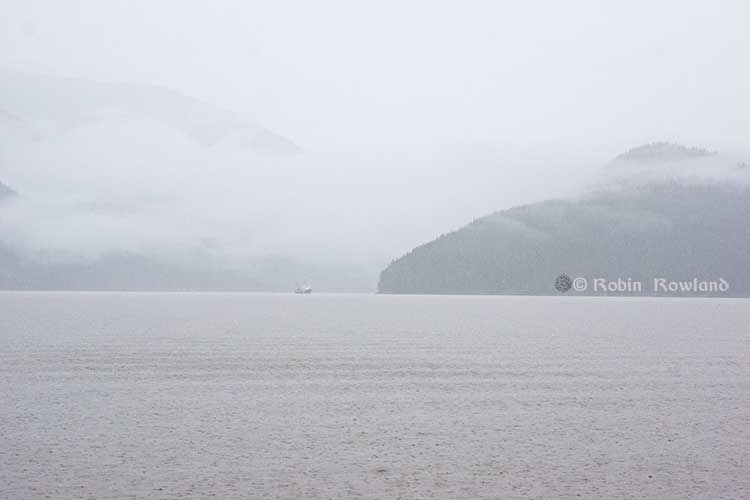 The Gordon Reid is currently (as of 2200 Oct 17, 2014) towing the Russian container vessel Simushir which lost power off the coast of Haida Gwaii and threatened to run aground on the island's pristine shores. (CBC story as of 2200 Oct. 17, 2014)