Archive For The "ice" Category
Went out for the monthly shore bird count this morning in the midst of the Polar Vortex hitting the west coast.About -8 C with a cold wind off Douglas Channel which probably made it even colder than airport windchill of -15.  Even the birds, it seems, were huddling some place hidden for warmth.
Wahtl Creek flows past Kitamaat Village, home of the Haisla Nation, into MK Bay on Douglas Channel, across from Kitimat's Rio Tinto BC Operations aluminum smelter.
You wouldn't know it's the end of February, except for nip in the morning air. After fellow photographer Doug Keech posted on Facebook that on Saturday morning, low tide would coincide with sunrise, I decided to go out with my gear. One thing you have to realize is that the Photographers' Ephemeris gives sunrise at sea level, so it takes (depending on the season) about 45 minutes to an hour for the sun to rise above the mountains. That meant when I arrived 8:30 am, the tide was already rising and a (minor) snow storm was being blown by inflow winds up Douglas Channel.  There were lots of birds doing their Saturday morning grocery shopping (probably for herring)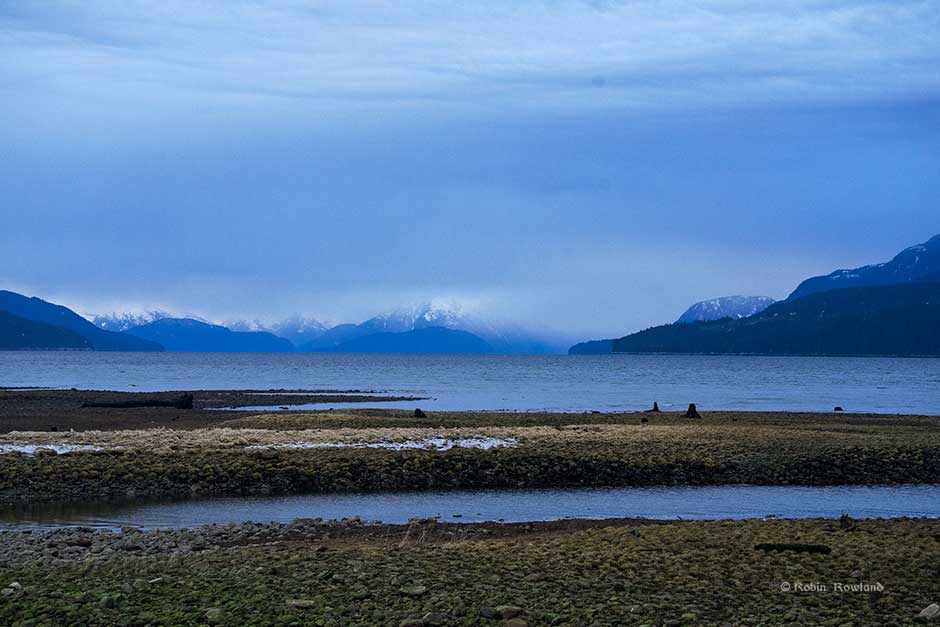 Looking across Wahtl Creek down Douglas Channel, Feb. 25, 2017 (Robin Rowland)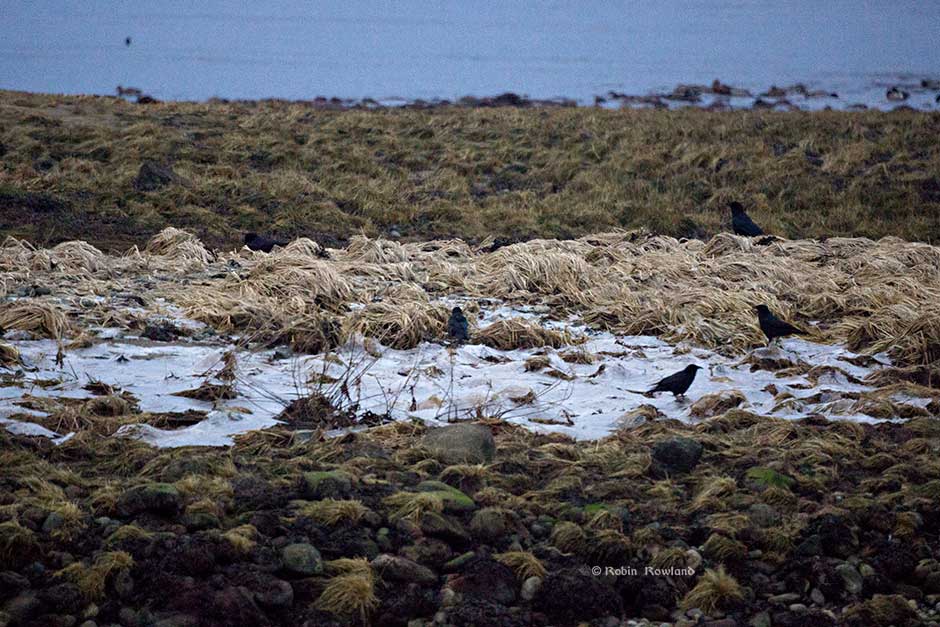 Crows on ice… the seaweed and seagrass are fed by the fresh water of Wahtl Creek, hence the thin layer of ice. (Robin Rowland)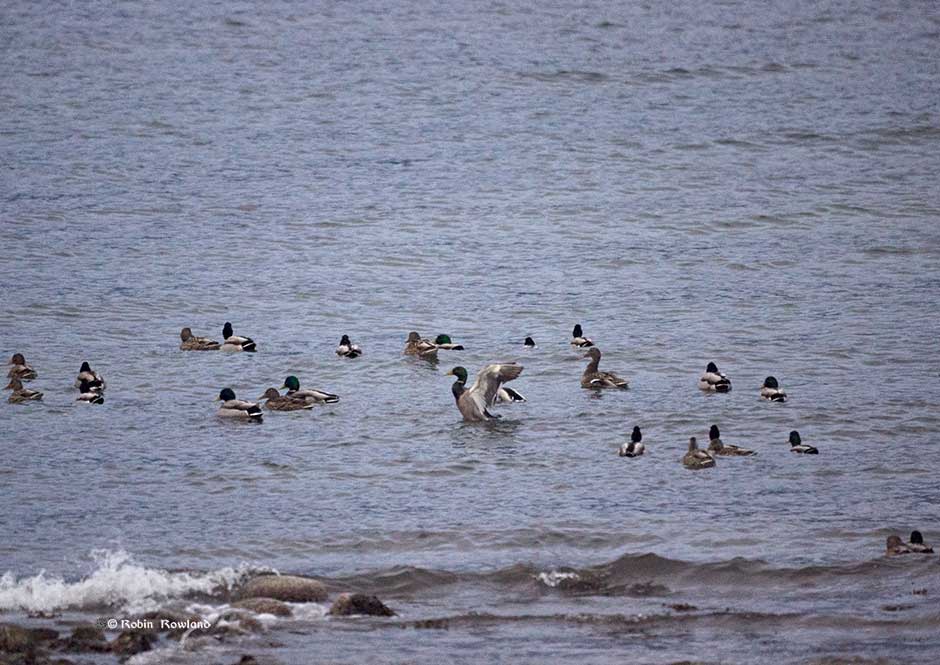 Mallards in Douglas Channel. (Robin Rowland)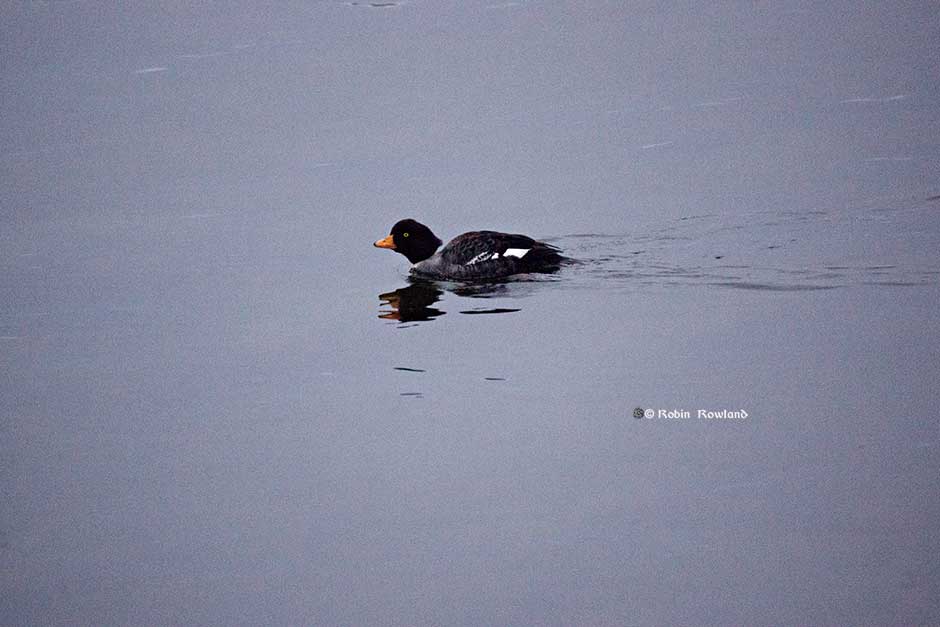 A female Barrow's Goldeneye hunts for food in Wahtl Creek. (Robin Rowland)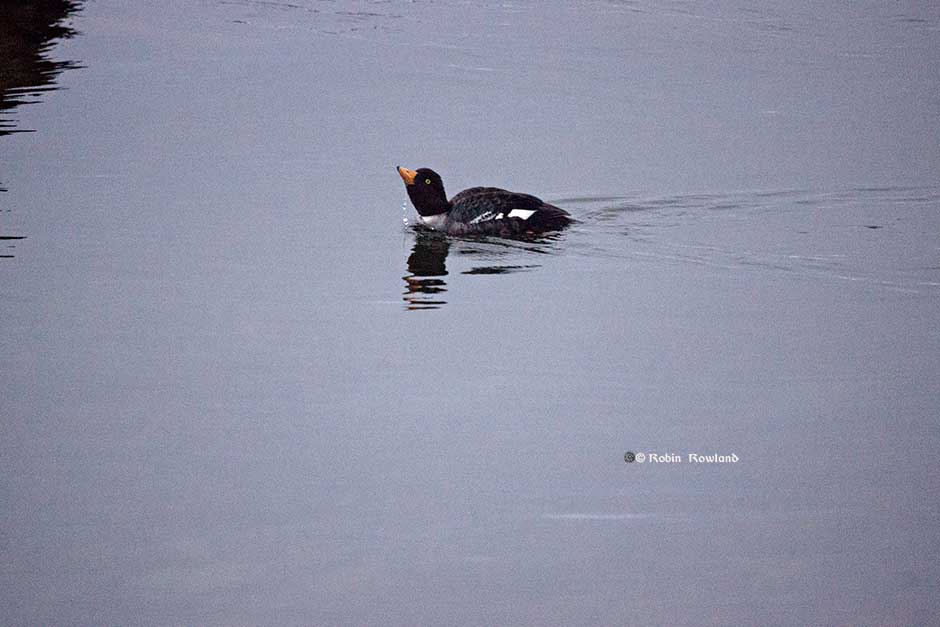 Water drips from the bill of the Barrow's Goldeneye after it grabbed a meal from Wahtl Creek (Robin Rowland)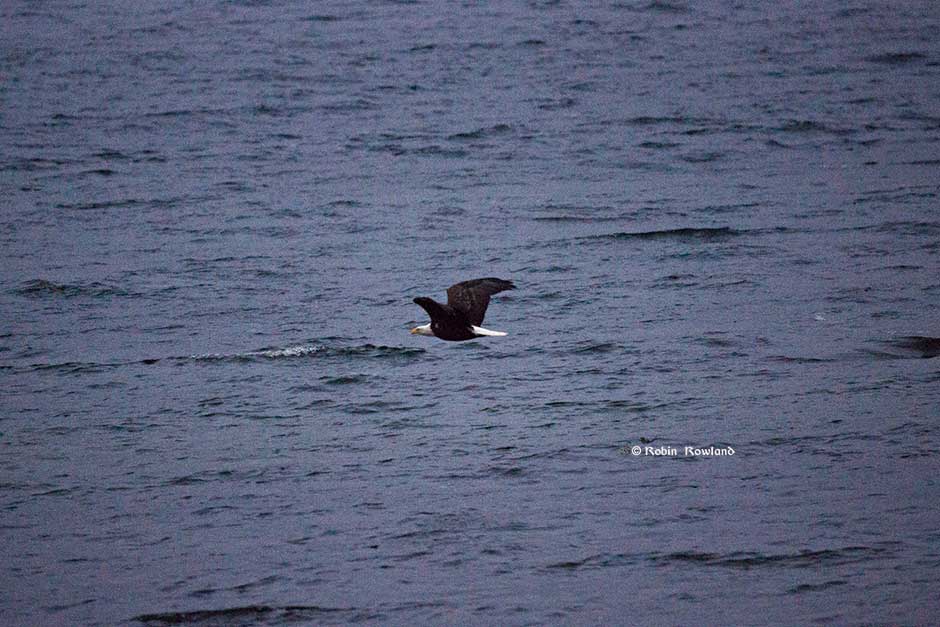 A bald eagle skims just above the surface of Douglas Channel in Kitimat harbour (Robin Rowland)
The eagle has landed. (Robin Rowland)
The bald eagle perches on the old stump  (Robin Rowland)
The mallards head out into the Channel as the tide comes in (Robin Rowland)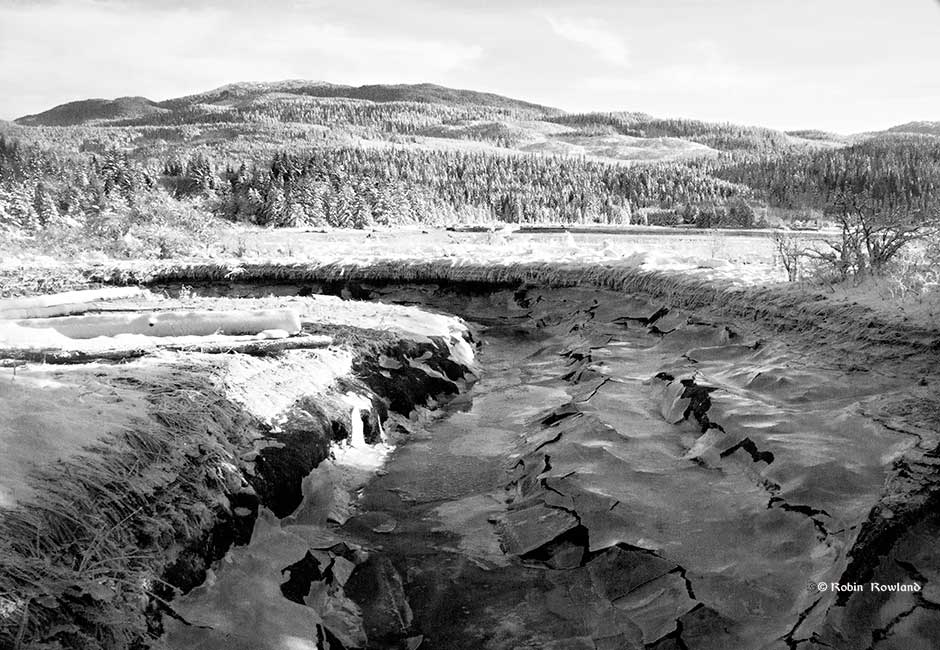 As the tide goes out, the ice  covering a briny tidal creek collapses, leaving  patterned cracks. Minette Bay, Kitimat January 1. 2016. (Robin Rowland)
I spent New Year's Day on the mudflats of Minette Bay, near Kitimat, with other local photographers.   At low tide,  of course.   Ruth and Howard Mills who run the luxury B&B the Minette Bay Lodge invited us for the photo walk on the ice and mud followed by  hot soup and great New Year's snacks.
Most of my images look best in black and white.  There are few in colour at the end of the blog.
Looking across Minette Bay with Kitimat's iconic Mt. Elizabeth in the background.  Just after noon the water was just a couple  of centimetres deep, covered in thin layers of ice.  The cold made the mud solid enough so that it wouldn't be boot grabbing ooze you experience in the summer. January 1, 2016 (Robin Rowland)
The beach, covered in seaweed, snow and old logs looking west from the trail,  January 1, 2016. (Robin Rowland)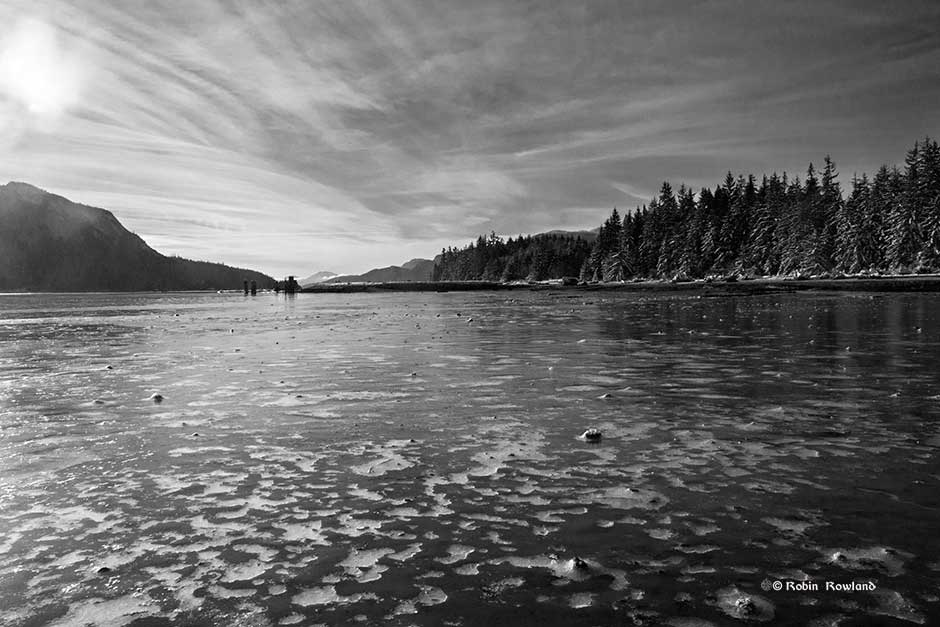 Looking west toward Douglas Channel, and the Rio Tinto aluminum plant with the winter sun low over the hills to the south. January 1, 2016. (Robin Rowland)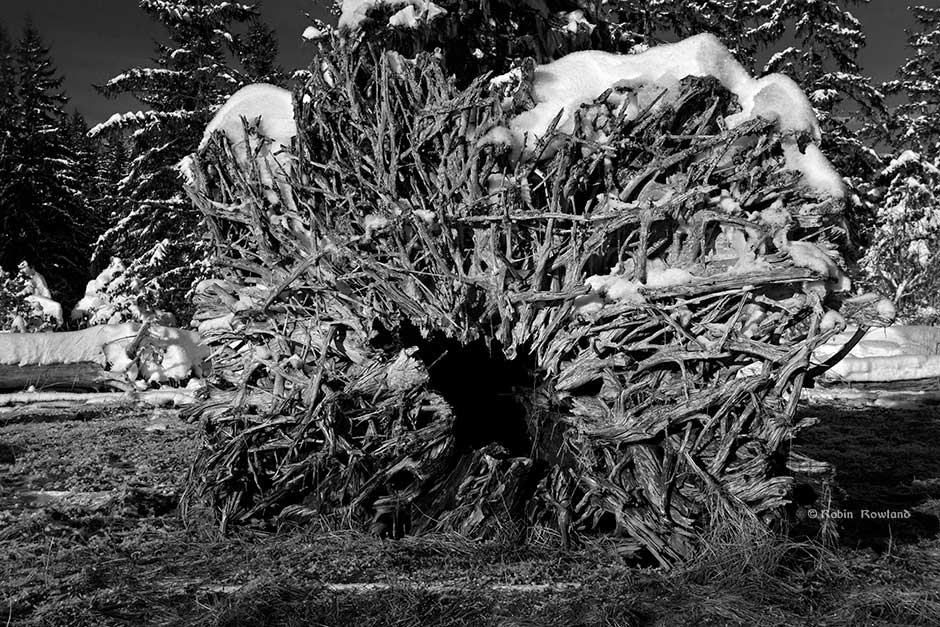 The twisted roots of a dead tree lying on the beach in some ways reminded me of the Iron Throne. Game of Stumps, anyone? (Robin Rowland)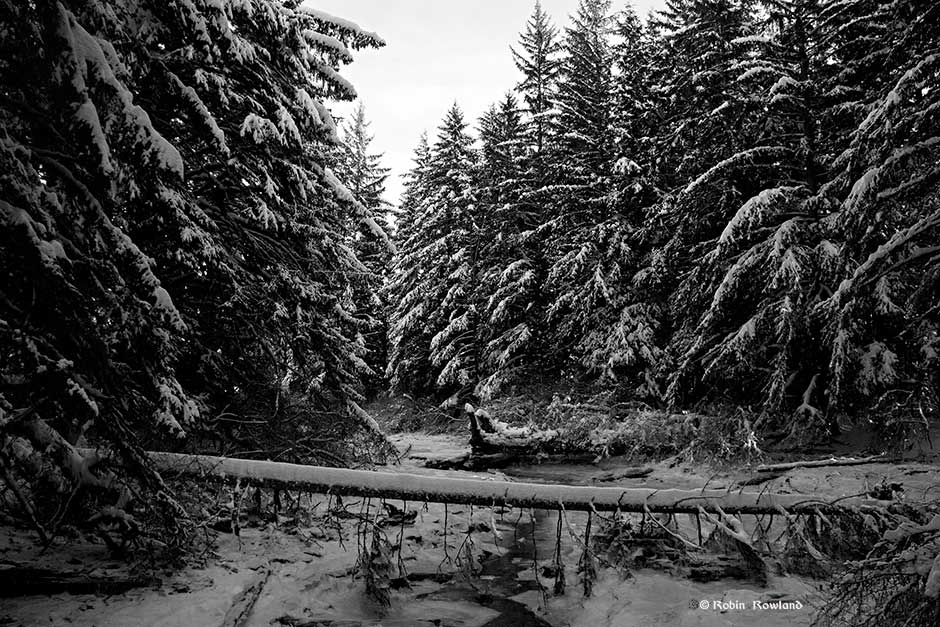 Walking back to the lodge along the creek trail. January 1, 2016. (Robin Rowland)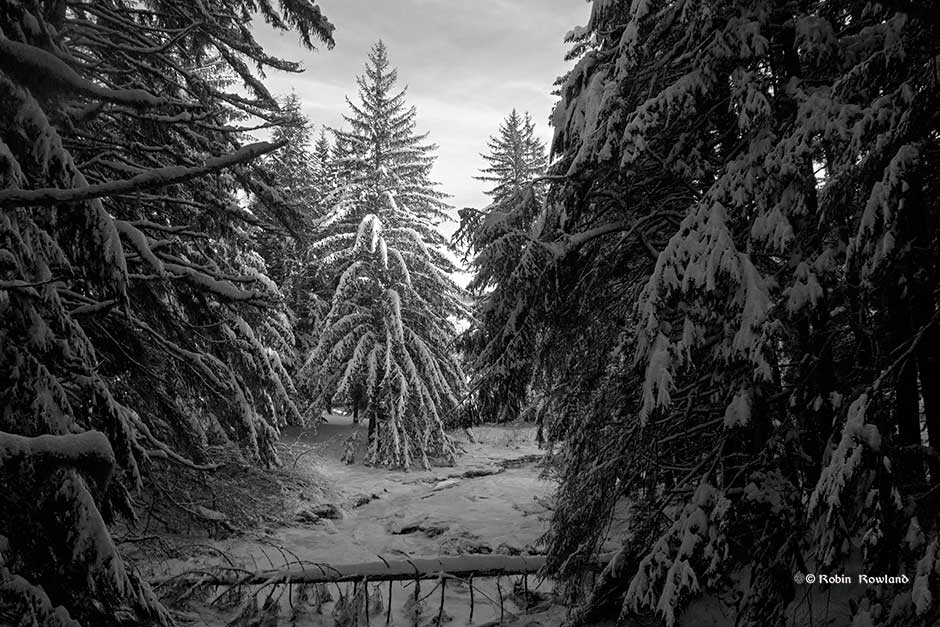 Another angle on the creek from a bridge a little further along the trail. (Robin Rowland)
---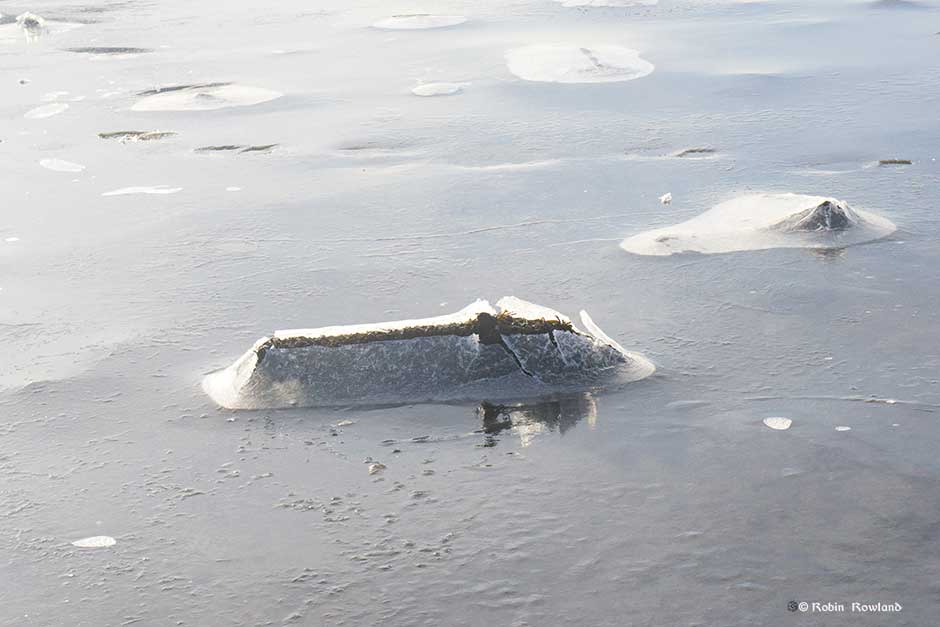 Ice on a chunk of rotten log on the mudflats. January 1, 2016. (Robin Rowland)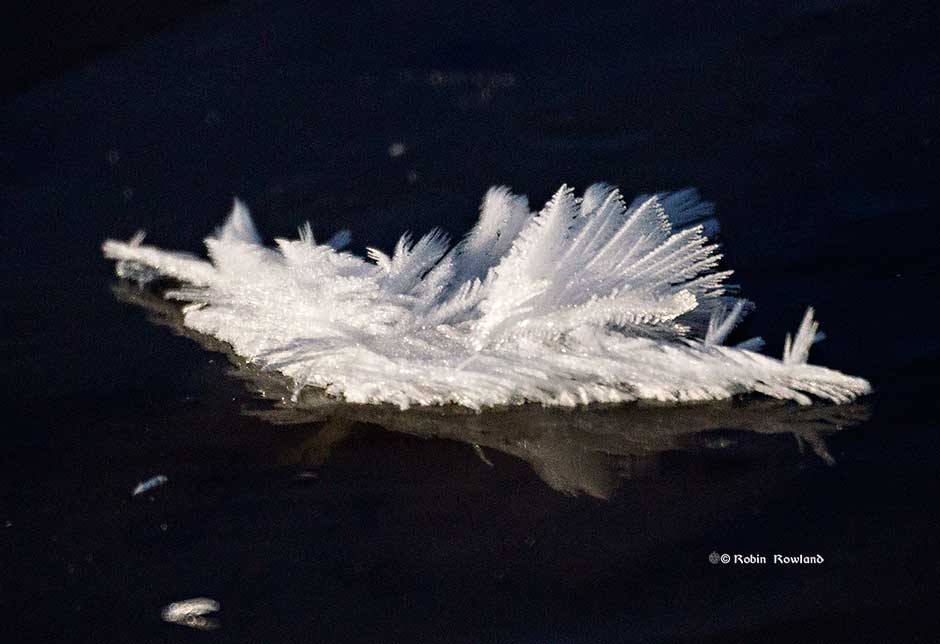 An ice crystal floats on the thin layer of water on top of the frozen mud. (Robin Rowland)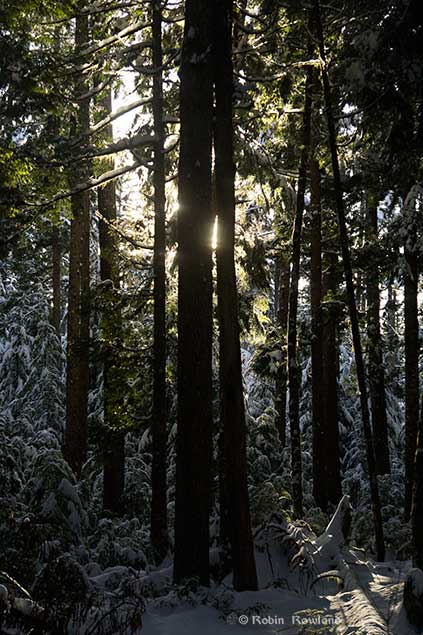 The winter sun shines through the rain forest. January 1, 2016. (Robin Rowland)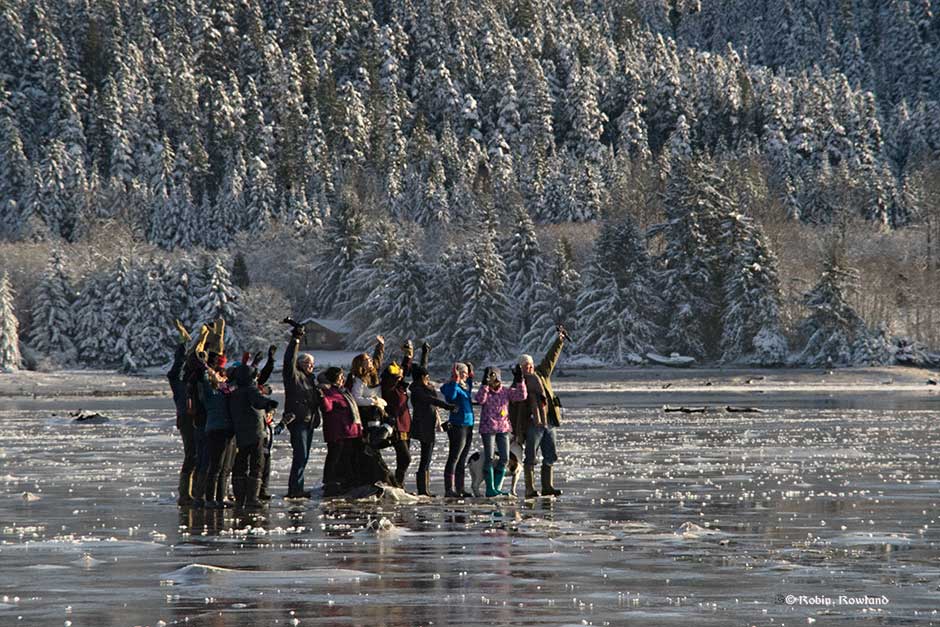 Happy New Year! Kitimat's photographers celebrate in the middle of a day on the ice. (Robin Rowland)