Posts Tagged "Endor"
Photography is often affected by the weather. A change in the weather can mean as Robbie Burns wrote in 1785, "The best-laid schemes o' mice an 'men gang aft agley," or to quote a more contemporary author, some guy called Murphy, "anything that can go wrong, will go wrong."
So it was on Saturday night. The main employer in Kitimat, Rio Tinto Alcan, was celebrating a company safety record for the year 2010 and, to include the community, sponsored a fireworks display at the local Riverlodge Community Centre.
It was unlikely that any of my regular clients would want the photos of a corporate event, late on the Pacific coast, with the NHL playoffs and the election taking up most of the feeds and play in the Canadian media. (I did check, they said no.).
So that gave me a chance to try an experiment. Rather than going down to Riverlodge and try to find a good location, I decided to shoot from a park just down from my house, a park with a great view of the mountains. Saturday was clear all day and with a near-full moon coming up in the east at about the time of the fireworks and some fresh spring snow on the peaks, I figured there would be just enough moonlight to illuminate the white snow on the mountain peaks that would be behind the fireworks.
The fireworks were scheduled for 10 PM PT. Wouldn't you know, about eight o'clock, the clouds began to move in. By the time of the last twilight at ninish, you could see that the peaks were socked in.
I went to the park and got set up. As it got closer to 10, the moon was a barely visible white blob behind heavy clouds, the peaks to the west were invisible in the black night. Overall ground level visibility was good, you could see the lights of the Rio Tinto Alcan smelter kilometres away, but occasional whisps of mist drifted over the tops of the trees of the park.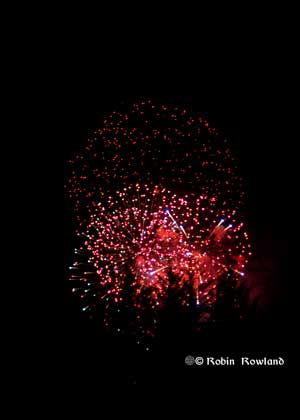 Had one camera on a tripod, with a 170-500, aimed at the hidden snow-covered peaks (just in case the weather cleared. It didn't.). Second was hand held, with a 70-300. Not the best situation.
You have to make the best of it.
Got home, checked the computer, threw out most of the images but then I noticed that on some photos, there were some tree tops in front of the fireworks. For some reason, I remembered the closing scene of Return of the Jedi, where the CGI fireworks over the tree tops on the forest moon of Endor celebrate the end of the evil empire. (By the way Canadians, vote on May 2 and vote for democracy).
What I love about photography is that you can always have fun while you are working, especially when things aren't working out. Make the best shots you can under the conditions of the moment. So for this fun blog I chose images that let me imagine that it was that forest moon and that the evil empire was gone.
The end of the Death Star.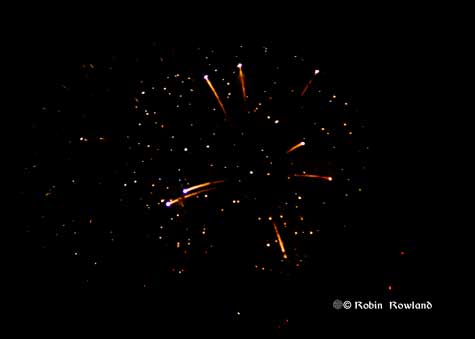 The end of the Death Star.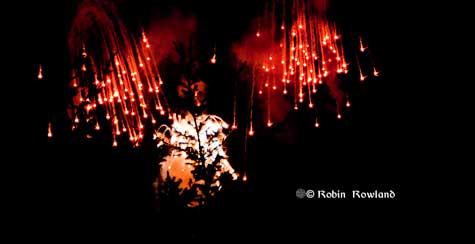 The celebration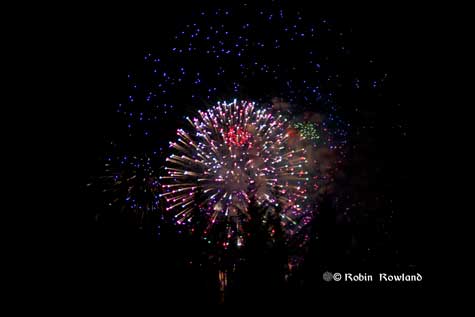 The celebration.