Posts Tagged "G20"
Photoshelter's Grover Sanschagrin's blog 15 Digital Point-and-Shoot Cameras Used By Pro Photographers:
Do professional photographers really
use point-and-shoot cameras? Surprisingly, yes.
Using Facebook and Twitter, I just completed
a little of my own unscientific research. I wanted to find out
which digital point-and-shoot is the camera-of-choice among professional
photographers. Just over 50 professional photographers responded, and
most of them are included…
The blog includes my contribution, on my favourite point and shoot, the Pansonic Lumix FZ28. And for more indepth information here is the original blog post on shooting the FZ28 during the Olympic Torch demonstration in Toronto.
You have to contrast the peaceful and professional way the Toronto Police Service contained that anti-Olympic demonstration in December 2009, with attacks by various police services during the G20 in June 2010 in Toronto on peaceful demonstrators, on the supposed free speech safe zone at Queen's Park and the blocking of hundreds of people during a thunderstorm at Queen St. and Spadina Ave.
Here is a photo gallery from the News Photographers Association of Canada of the G20 events, including images by accredited photographers just doing their jobs (and not interfering) who were attacked by the police.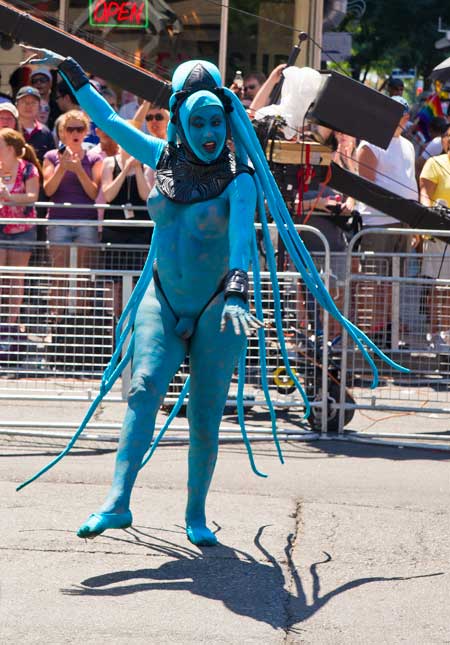 I hadn't expected to be in Toronto for Pride on July 4, 2010. After i took early retirement in March, I planned to move to British Columbia. Now at the moment I am caught in the slowdown in the Toronto housing market.
When I shot Pride for CBC in 2007 and 2008 I was accredited and could move anywhere on the parade route. (I wasn't in Toronto for Pride 2009). This year with no accreditation, I went back to my favourite spot to watch Pride Yonge and Alexander streets. Not the best choice this year, with a very hot sun overhead and the CP 24 camera position across the street. But by the time I got there, it was too late to move to a better position. Despite that I had fun any way.
(I took early retirement from CBC News on March 31, 2010 and embarked on an new career as an independent visual journalist. But I haven't been blogging as I should. I was caught up in last minute renovations and now, so far, I haven't been able to sell my house in Toronto, which means my life has largely been on hold. Now I am starting up again)
So Toronto is now on G8/G20 security lockdown And since I am not really working at the moment, because I can't make any commitments until the house sells, I didn't look for any G8/G20 related assignments.
It's a beautiful June afternoon, so a friend and I decide to get away from it, as far as way as possible, without leaving the city. We went to Humber Bay Park West to enjoy the sun and photograph the birds and flowers.
But security was evident in the park as well. A Canadian Coast Guard boat went by first.

Sometime later it was a Toronto Police Service Marine Unit rescue boat.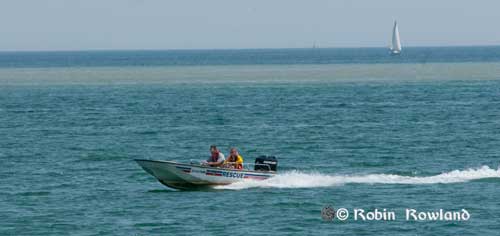 After a couple more hours of of nature photography (more on that later) we were driving back downtown, a downtown that despite news tweets about demonstrations and TTC tweets about streetcar service disruption, seemed relatively quiet.
Until we got to Dundas and Yonge.
Stopped at the traffic light we heard loud whistles, and weren't sure where they came from. Ahead at the intersection maybe? No they were behind us as a group of police officers on bicycles sped by. We wondered where they were going in such a hurry.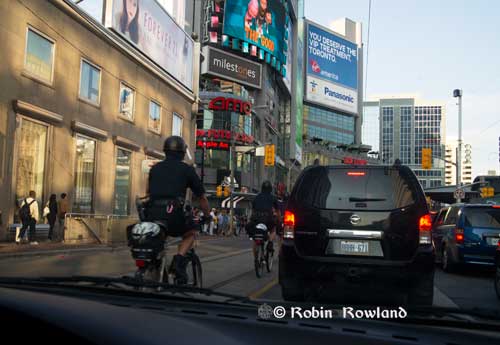 (Note the officers are wearing their riot helmets. The bicycle helmets they normally wear in the pouch at the back of the bicycles.)
It wasn't long before we spotted the police again. Stopped at the Pizza Pizza at Dundas and Church.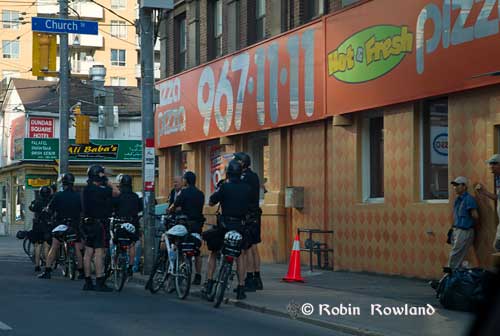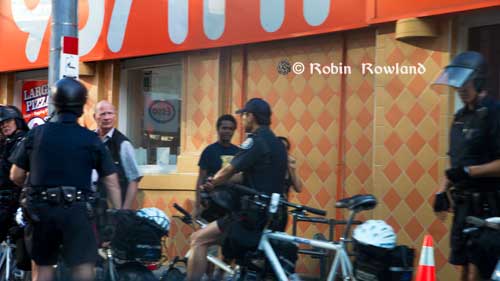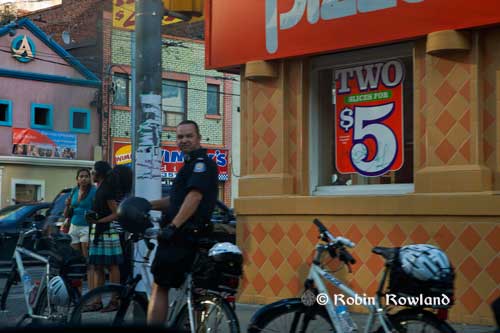 I guess they were hungry after a long, hard day. And why not? After all the newsrooms of Toronto keep Pizza Pizza in business during crisis periods and summits. These guys, of course, apparently got to stop for a pizza. Just wondering for all those journalists who are locked into the security zones. Is it delivery (e.g Pizza Pizza) or Deliciso?