Posts Tagged "Photoshop"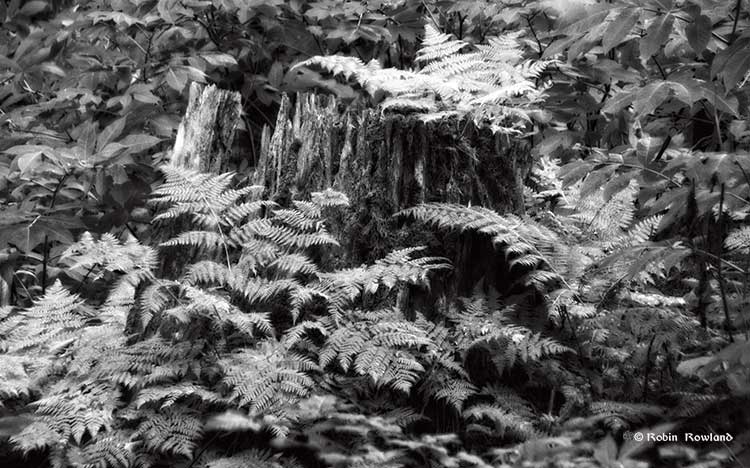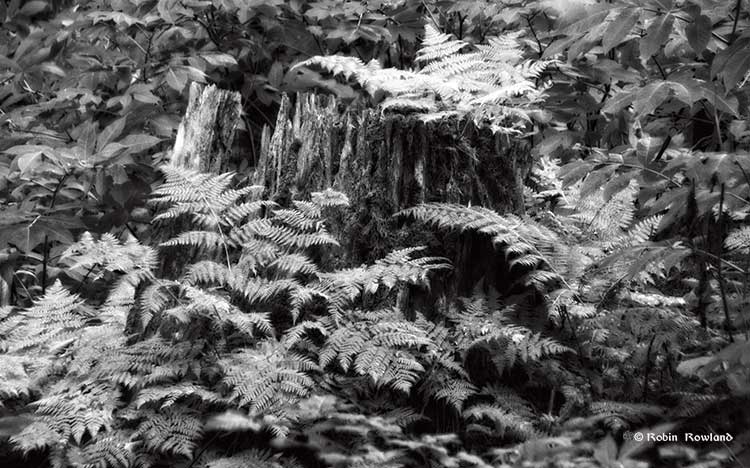 A little experimentation with black and white here. Three versions of the image blended together, a standard black and white conversion, with two versions from Perfect Effects 8, mostly selenium but also a smidgen of high key.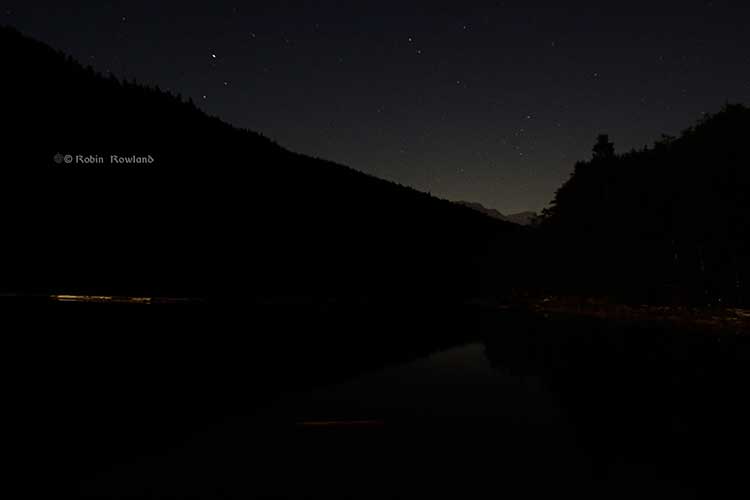 (First in a series of notes for photographers working in the Pacific northwest)
The standard advice for photographing stars is to find a clear sky, far away from urban light pollution, with no moon and someplace solid where you can put a tripod. That's great, perhaps for New Mexico, Arizona, or even parts of California.
Up here in the northwest, where there is rain forest because it rains, you make the best of your opportunities.
So here's how to photograph stars on a moonlit night from a floating lodge. There are some conditions, of course. Calm seas are the only way to go. Mountains are great. Where you're anchored (boat wise)  is also a factor.
Tropical day
Last weekend I was shooting some news stock, both video and stills, at Clio Bay, southeast of Kitimat, BC., site of a growing environmental controversy. (See more on Clio Bay at the end of this article)
It was a beautiful weekend on Douglas Channel, rather unusual for mid-September, with a clear sky and near tropical temperatures.
The last time I was out on Douglas Channel on the same mid-September weekend in 2011, there was, to say the least, a raging gale. The Kildala arm is somewhat sheltered, so it was  just choppy.  Out in Douglas Channel one to two metre waves and worse storm conditions on the actual coast.
Setting up for the star shoot
After the news shoot, I stayed overnight at the floating Tookus Inn, which is moored, for now, in Clio Bay. I had checked various weather forecasts, especially the Environment Canada marine forecast, as well as  the regular Environment Canada regular forecast and the Accuweather forecast app on my iPad. All said clear skies.
So given this very rare opportunity, I spent the evening shooting the stars over the mountains of Clio Bay and the west side of Douglas Channel.
Here is a shot taken just as we arrived back from the news shoot, a great blue heron nicknamed Henry on the log boom seen in the night shots.
By checking the Photographers Ephmersis app, with my local knowledge, I knew we would have an early sunset (behind the mountains) long before the official time, a long twilight and that the moon would rise behind and to the left (east) of the lodge before the sky was really dark.
Camera is a Sony A77, with a Konica-Minolta 17-35mm wide angle, manual setting and manual focus on (except where noted) a Giotto MT8260 carbon fibre tripod, using a MH 5001 pan head. (I have a solid Manfrotto tripod, but the lighter Giotto is much better suited for working in remote areas, or where travel storage is limited, as this weekend when I was travelling on a fishing boat. With the pan head it can do double duty both for my video camera and still gear). I used the usually recommended setting of ISO 800 for star photography and varied both exposure and focal length. Shot RAW+JPG.
All images were processed from RAW to Tiff and then to web friendly JPG in Photoshop CC, using minimal  black level, white level, curves and contrast sharpening.
This shot was taken at 8:41, just as I was setting up the tripod, camera sitting on the balcony rail. ISO 320, F4, 1/8sec, looking northwest. FL 17mm.
From the ephemeris you can see that the sun has officially set, we're already 20 minutes past civil twilight, but the last rays of the sunset can still be seen over the mountains of Douglas Channel to the northwest.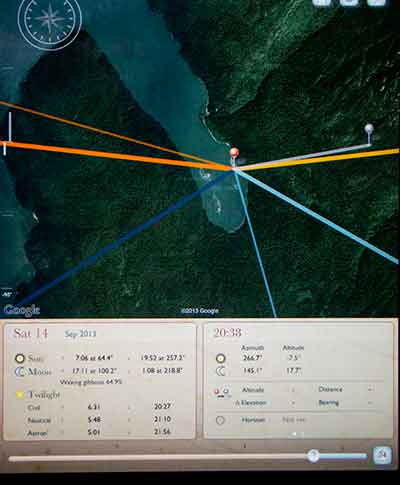 About fifteen minutes later, the moon has risen over the mountains, (waxing 64.9 %) behind and to the left of where I am aiming the camera to get stars over the mountains and Douglas Channel. This was a test shot, at 9:03, using my backup A55, on the balcony rail, ISO 1600, F3.5 at one second. Even with the bright moon, you can see stars in the night sky.
It's now an hour after the first shot at 9:40.08 The A77 with the KM wide angle is on the tripod and I am using a remote trigger.
The moon is higher in the sky, shining directly on the log boom to the left and illuminating the far off mountains on the west side of Douglas Channel. The forest in the right foreground is mostly illuminated by the moon, with some light from the lodge as well. The constellations to the west are clear. ISO 800, FL 24 mm, F4, 15 sec.
A similar shot minutes later at 9:52:01, FL 24 mm F 4 15 sec.
Moon is at a slightly different and higher angle, most of the lights in the lodge are out, so the forest is no longer fully illuminated, moolight reflects off the log boom, stars appear brighter.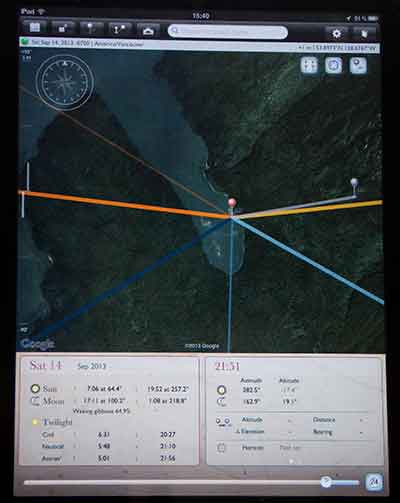 Last of the main shots. At 10:14:51, FL 24 F4 but shorter exposure at 10 seconds.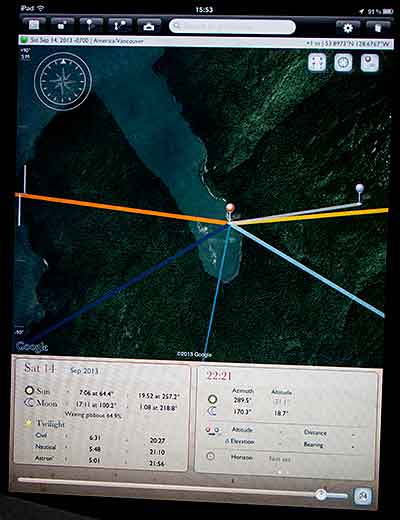 All the lights were turned out at the lodge at 10, so there is no longer any artificial illumination, which brings out the moonlight on the log boom but still captures the moonlight on the distant peaks.  Angle is slightly different, so one constellation is behind the forest.  (After that because it had been a long day and I had to get up early for the boat trip back to Kitimat, I went to bed).
Clio Bay is a considered a safe anchorage in case of storms. Saturday night was beautifully calm. But not one hundred per cent. Compare the stars in these images.
The first at 10:10:22 shows a small amount of blur  in the stars and trees as the lodge moved in the water during the exposure.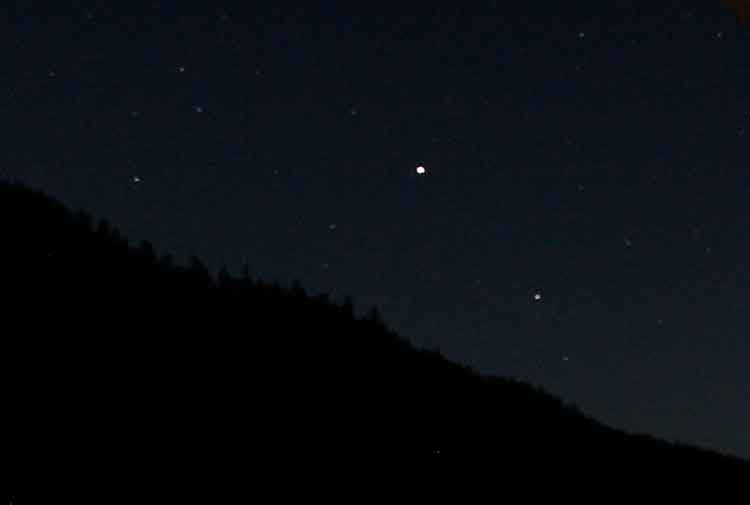 but at 10:18:21 it was relatively still and the stars and treeline are sharper. Both using tripod and remote trigger.
Both 13 seconds at F4
This shot was taken at 9:26 p.m, ISO 800, FL 17,  6 seconds at F4.  As I tried various angles, the camera captured a lampshade  hanging from the balcony ceiling, painted with light from inside the lodge. I found I preferred the original JPG and could not duplicate the tones of the image by processing the RAW.
Clio Bay
Clio Bay is an inlet on the east side of Douglas Channel, just south of Kitimat, BC. For years, Clio Bay has been used to sort logs so they can be sent by boom or ship to the Lower Mainland of BC or to Asia. Over the years, thousands of logs have sunk to the bottom of Clio Bay. Now there is a proposal by Chevron and Apache, partners in the KM LNG project across the Channel at Bish Cove to dump thousands of tons of clay on top of the trees. The question is what will the clay do? Will the clay kill a thriving ecosystem among the old trees or will it create an new ecosystem by making a new seabed. The debate continues and that's why it's an ongoing news story.
Raven Coast Workshops
Watch for Raven Coast Workshops, photo workshops and tours for all levels of experience and skill in the unique environment of BC's pristine and historic Pacific Northwest. We aim to start full workshops in 2016, when two new luxury hotels in Kitmat are slated for completion. In the meantime for 2014 and 2015, we can organize smaller workshops or individual charters along Douglas Channel, the Kitimat River and in the historic Skeena River region. High quality accomodations are currently available for a limited number of guests. Please contact us, let us know your interests and budget so we can set up your charter or you can join a small group workshop for a photo-trip to remember.
Today, March 24, 2010, Adobe began the promotional campaign for its Creative Suit 5, to be launched on April 12 At this point it appears that the feature that Adobe is most proud of, and is already promoting is something they call "Content Aware" which is actually an intelligent enhanced and combined clone and healing tool that can manipulate an image in just minutes.
See Adobe's CS5 Launch
This UK site. PC Pro, has a mini-review and the YouTube Video
Photoshop CS5 demonstrates its stunning new party piece.
Those who use Photoshop for creative work are already celebrating this feature in tweets.
Visual journalists, however, only see disaster ahead. As the video shows, whereas it once took hours to manipulate an image, the intelligence in the software is now completely "aware" of the surrounding content of the image and thus it takes only a few minutes to manipulate that image.
That will be a disaster, for once the public, already suspicious of photography, realizes just how easy it is to manipulate an image and once the unethical start practicing manipulation with Content Aware on news, current affairs and historic photos, photographers will face even more accusation of manipulation and forgery.
In this polarized, paranoid era people who are ignorant of basic optics now yell "manipulation" at photographs taken with a long telephoto or a super wide angle lens on photos that have had minimal, basic Photoshop processing.
What was a tedious operation to eliminate or change the elements in an image in George Orwell's 1984, and was hard work up until now with Photoshop CS <5, will be very simple from now on.
Adobe is welcoming Big Brother to 2010 with CS5.It's another case of software engineers creating a product without considering all the implications.
Clearly the creative photographic and graphic arts community are celebrating their new tool (which means there is a market for this). The creative community will continue to celebrate, at least until someone in that community is caught with major manipulation and finds themselves in a social media storm.
It would help, however, if there was little less hubris from Adobe and a little more awareness of the Pandora's box that company has opened. Like the demons Pandora released, the feature is here to stay (there are already less powerful ways of doing this with other software) so visual journalists and documentary photographers now have to be even more careful. There have been suggestions that every image be shot in Raw and every image archived just to provide a trail if there are ever any accusations of manipulation.
So with the hype comes a headache.
Update March 26.
The hype among the silicon crowd is growing. PC Magazine quotes Adobe and goes on to say:

"One of the biggest requests
we get of Photoshop is to make adding, removing, moving or repairing
items faster and more seamless," Adobe said. "From retouching to
completely reimagining an image, here's an early glimpse of what could
happen in the future when you press the delete key. How might you use
this new capability in your workflow?"
If you're a photographer who works with Photoshop this tool is
nothing short of life altering! It's something you would have been
asking for forever if you'd only thought of it first.
Life-altering is right, PC magazine, it's going to make a visual journalist's life absolutely miserable.
The celebration continues among the Adobe fans (if they are all Adobe fans and not employee ringers) as seen on the numerous enthusiastic comments on this John Nack on Adobe blog.
The comments like "amazing," "fantastic work," "Mind boggling. Great job, Photoshop dev team:" remind me of the old 1960s Batman TV series with it's "bam" "powie" text graphics. Except, of course, we're now dealing with the Joker, right?
Or as one other comment on that site puts it: "Any sufficiently advanced technology is indistinguishable from magic. Arthur C. Clarke." Black magic, black hole.