Archive For The "protest" Category
A few of the protest signs from the Kitimat, BC, "peopleofcolourlivesmatter" rally on Saturday June 6, 2020.
 (Cross posted from my Northwest Coast Energy News site)
Click on this link to launch audio slideshow
A crowd estimated by the media at high of more than 2,000 to a low of about 600, marched through the streets of Prince Rupert on Saturday, February 4, to protest against Enbridge's $5.5-billion Northern Gateway bitumen pipeline and the associated super tanker traffic.
The protest was organized by the Gitga'at First Nation, of Hartley Bay, at the mouth of Douglas Channel . Nearby Wright Sound, known for its tricky currents and winds in bad weather would be the passageway for most of the tanker.
The Tsimshian First Nation, the hosts, welcomed the Gitga'at and protestors from other First Nations and reisdents of northwestern BC, before the the march began at Pacific Marinter's Memorial Park.
It ended at the Jim Ciccone Civic Centre, where, iin the afternoon, speakers spoke about environmental concerns, followed by a dancing and concert in the evening.
Gitga'at boats from Hartley Bay rescued passengers after the sinking of the ferry Queen of the North in 2006.
The Gitga'at say oil still leaks from the Queen of the North, affecting some shellfish beds in the area.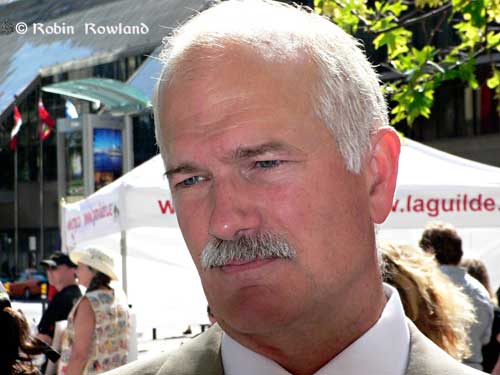 The late New Democratic Party leader Jack Layton listens to the concerns of locked out CBC employees at the picket line at Simcoe Park, Toronto, August 26, 2005.

NDP leader Jack Layton lost his battle with cancer this morning August 22, 2011.
In this photo, taken August 26, 2005, Layton passes the CBC Broadcast Centre after walking the picket line in support of locked out CBC employees before speaking to the crowd gathered at Simcoe Park.
CBC: Canada mourns 'courageous' Jack Layton
Globe and Mail: Jack Layton eschewed attacks in pursuit of greater good
Layton speaks to a large crowd of locked out CBC employees and supporters from other unions at Simcoe Park, August 26, 2005.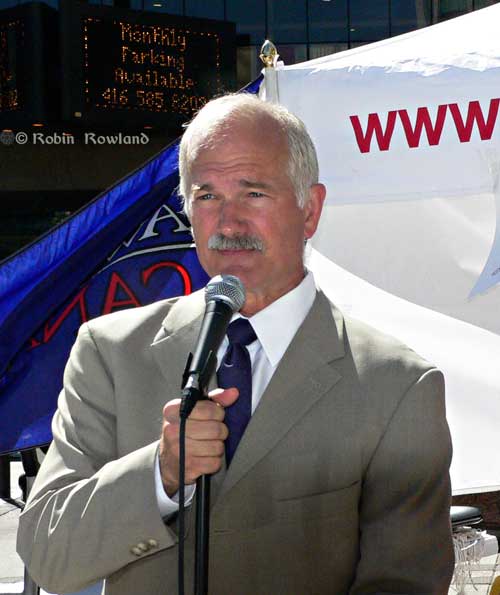 Jack Layton and his wife Olivia Chow were regular participants in the Toronto Pride Pride. This photo is from the 2008 parade.