Posts Tagged "Firefighter"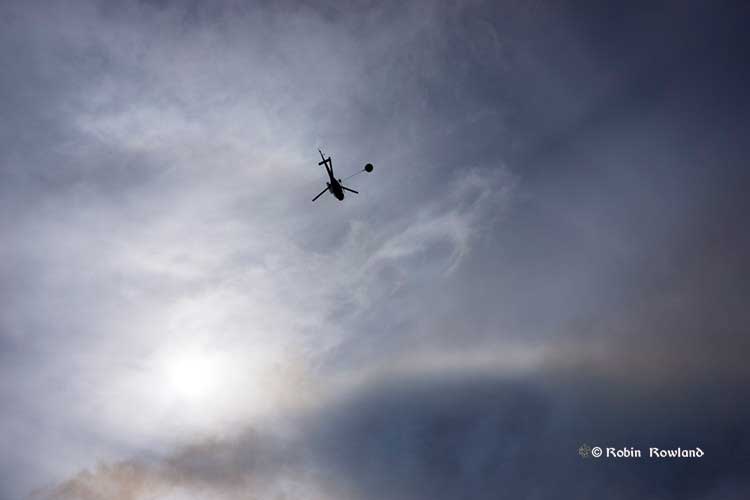 Updates with cause,  Friday morning situation
A wildfire broke out in the Strawberry Meadows neighborhood, about two kilometres south of Kitimat, around 4 p.m. on Thursday, July 17, 2014. Kitimat Fire and Rescue quickly responded to the call, setting up a command post at the back of the Oviatt  Contracting construction yard which was close to the fire. The  District of Kitimat says the fire was caused by an unattended canpfire on the Kitimat River bank. The fire began about 100 metres square and driven by strong winds, quickly spread to two hectares and then about  three. (The District release says the fire was about one hectare, the one to three hectare estimate came from those on scene at the time). Oviatt officials say the fire was technically in Haisla territory, within the boundaries of the estuary and river reserve area #1, a traditional Haisla fishing area.
Kitimat Fire and Rescue found that the overgrown brush near the river was too thick and called in the BC Wildfire forestry service firefighters. As they waited, Kitimat Fire organized a firebreak with the help of Oviatt employees on site which luckily had all the heavy equipment needed to cut a gap through the bush to the river. By 5 p.m. winds had spread the smoke and haze throughout the town.
At one point fish camps on the Lower Dyke Road were evacuated as a precaution. First one, then two Forest Service helicopters arrived to fight the fire, and later were joined by a aerial tanker from Smithers which made about six or seven drops on the fire. A second firebreak was pushed through the bush.
The tanker was then redirected to a fire near Terrace while the helicopters continued to drop water on the fire. At the height of operations, according to a release from the District of Kitimat, seven BC Forestry Service Firefighters on the scene and 12 Kitimat Firefighters were there monitoring the fire guards for any hot spots.
The firefighters were worried that strengthening winds would drive the fire either toward the upscale homes in Strawberry Meadows or toward the fishing camps along the river on the Lower Dyke Road. While the wind did become much stronger in the early evening, the weather was quickly turning cool and there were light raindrops by the time the District said the fire was contained at 8:18 p.m. Kitimat Fire and Rescue left a crew at the Oviatt site overnight to monitor for hotspots.
As of Friday morning forestry crews were surveying the area for "a dangerous tree assessment" and to check for hotspots. The District of Kitimat reminded everyone in the news release that a campfire ban is in effect.