Posts Tagged "Joanne Monaghan"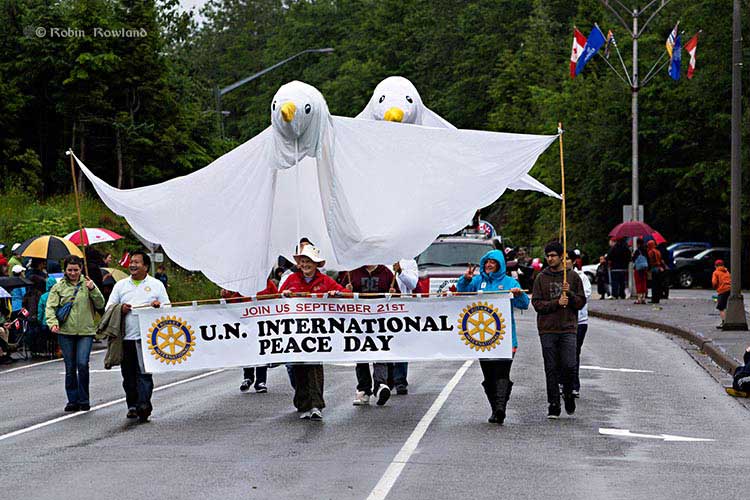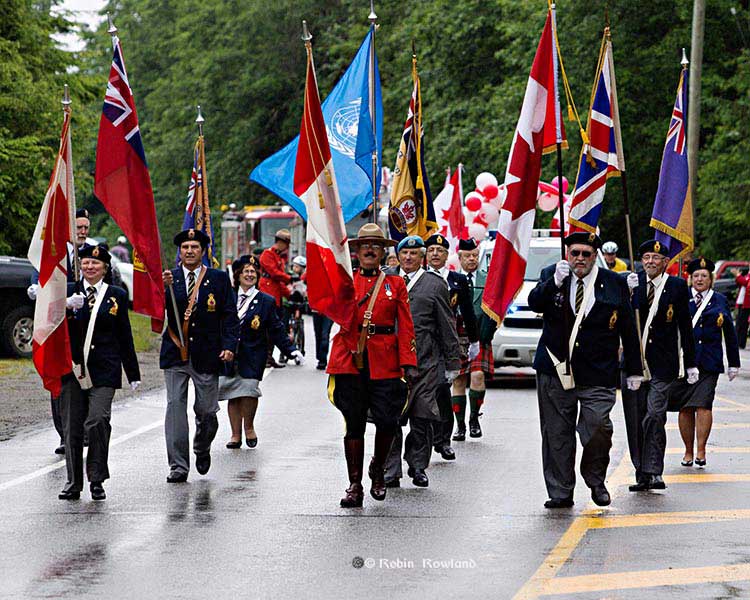 The Royal Canadian Legion and the Royal Canadian Mounted Police lead the Canada Day parade in Kitimat, BC, July 1, 2012. (Robin Rowland)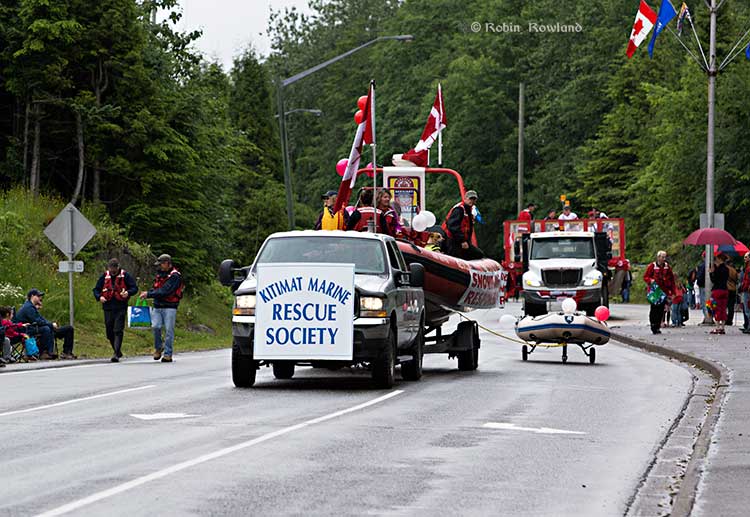 The Kitimat Marine Rescue Society's Snowflake Responder in the Canada Day Parade. (Robin Rowland)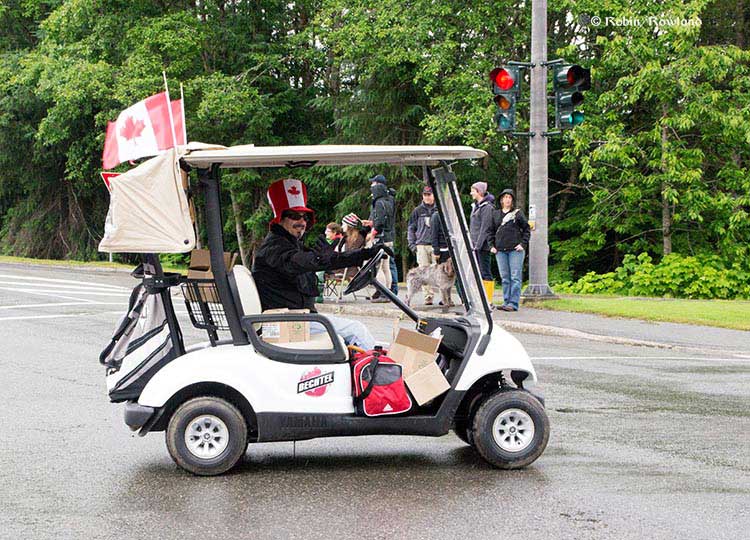 Bechtel, which is building the Rio Tinto Alcan Kitimat Modernization Project had a small fleet of golf carts in the parade. (Robin Rowland)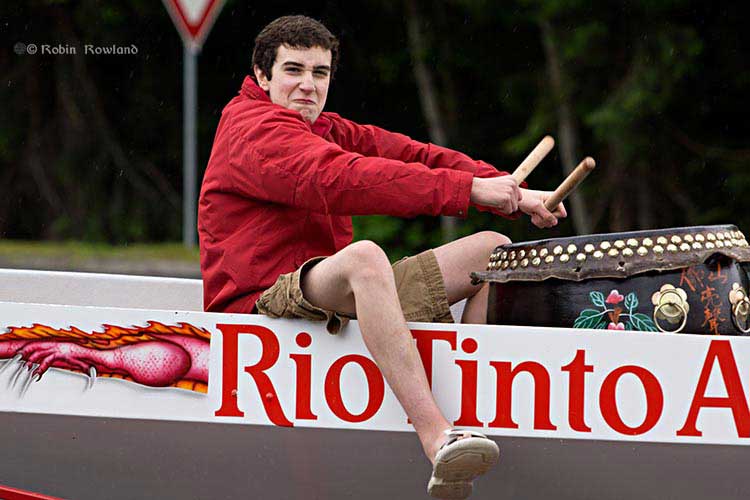 A young drummer in the Rio Tinto Alcan dragon boat. (Robin Rowland)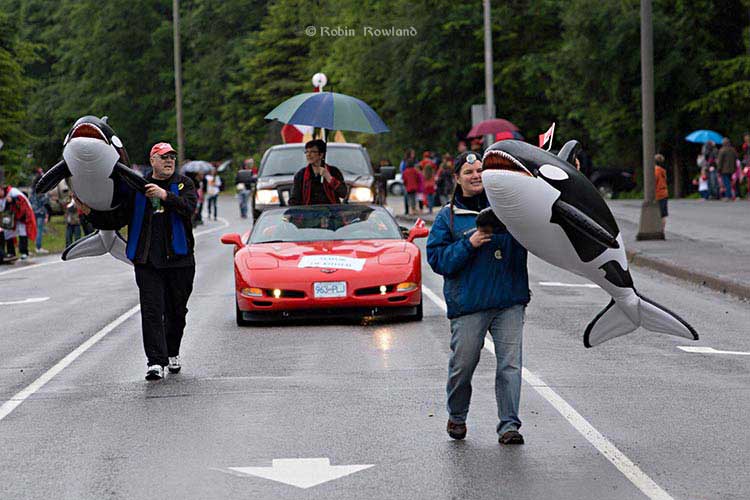 Members of the environmental group Douglas Channel Watch march with blow-up Orcas, as Kitimat mayor Joanne Monaghan follows in a convertible. (Robin Rowland)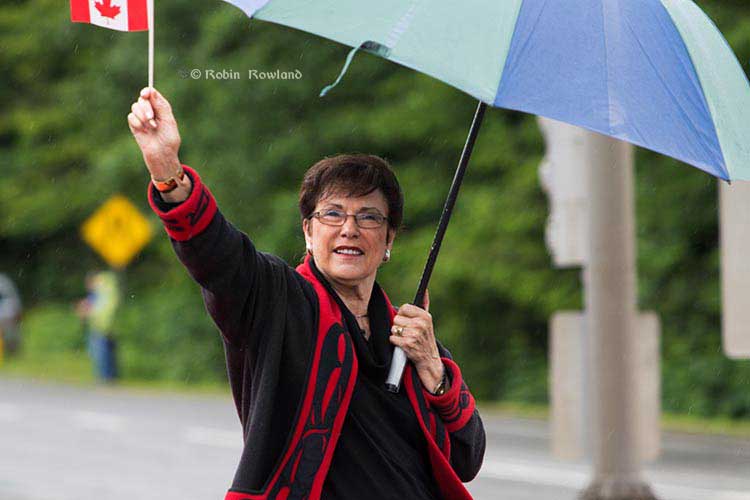 Kitimat mayor Joanne Monaghan (Robin Rowland)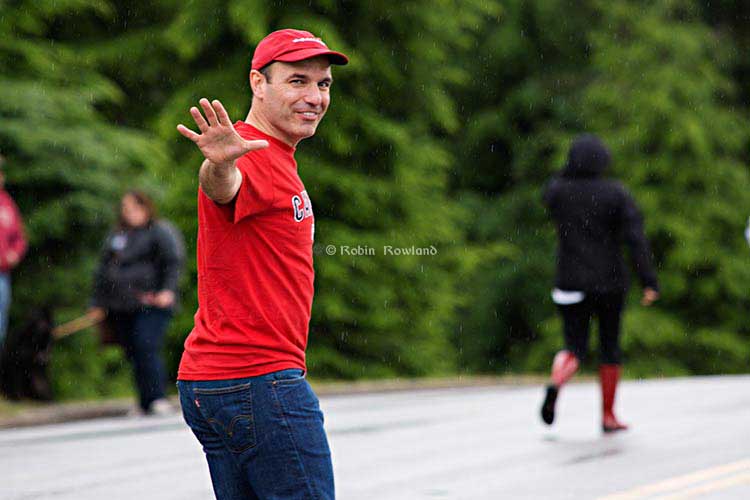 Nathan Cullen, NDP for Skeena Bulkley Valley, and NDP House Leader waves to spectators while marching in the Kitimat Canada Day parade. (Robin Rowland)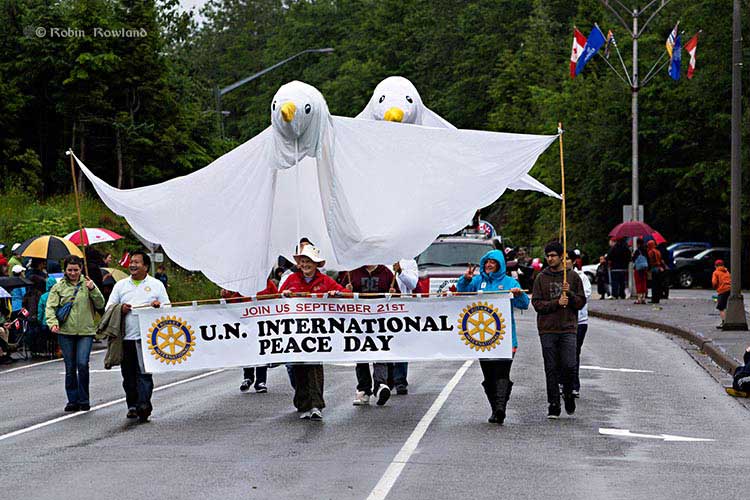 The International Peace Day contingent in the Canada Day parade. (Robin Rowland)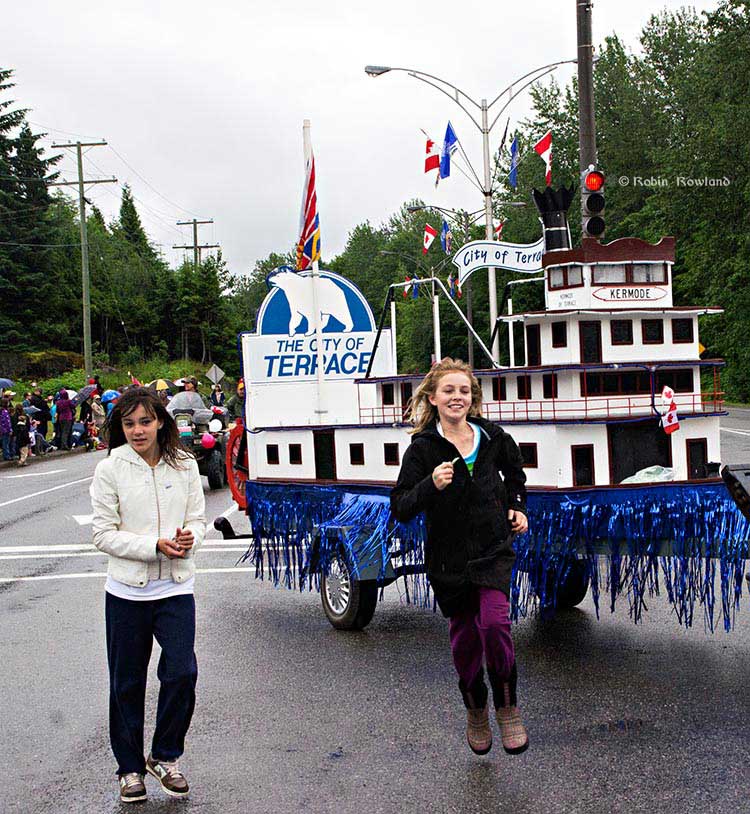 Two girls, part of the Terrace Riverboat Days float, run to distribute candy to Kitimat's children. (Robin Rowland)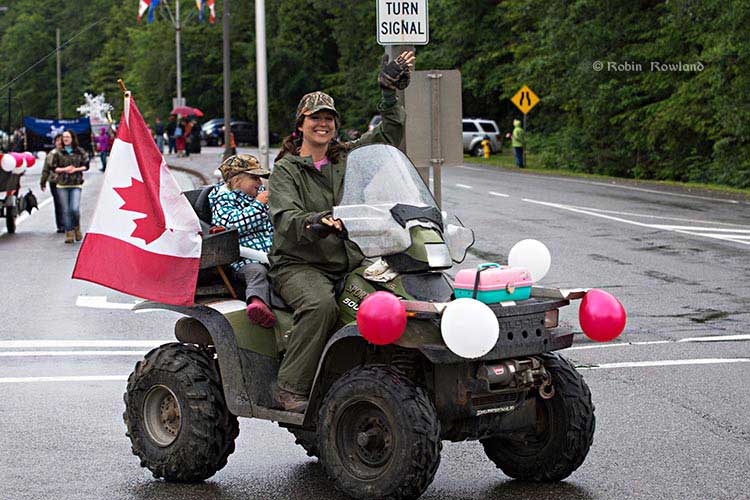 A guad from the Kitimat Rod and Gun Association (Robin Rowland)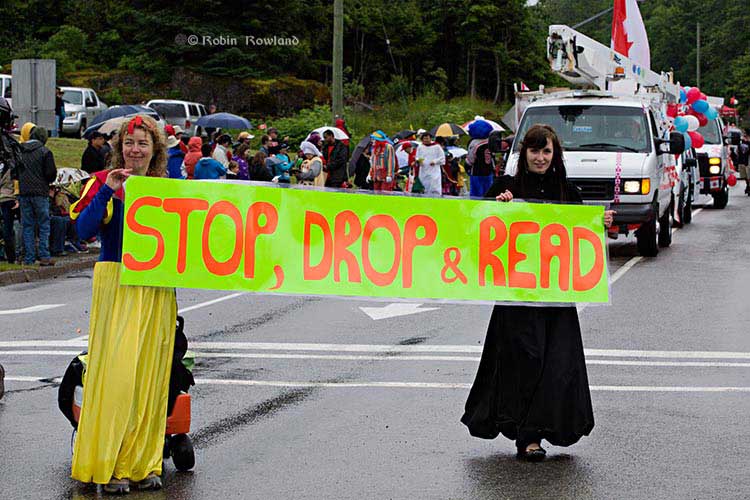 Stop, Drop and Read (Robin Rowland)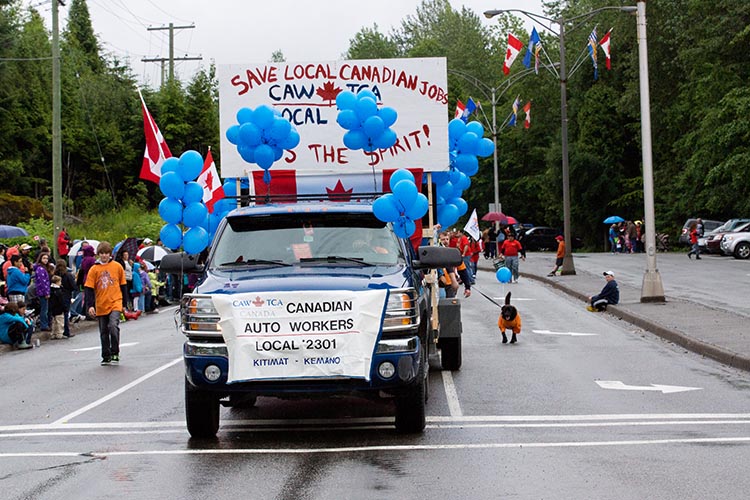 The Canadian Auto Workers float in the Canada Day parade. The CAW is currently in tough negotiations for a new contract with Rio Tinto Alcan. (Robin Rowland)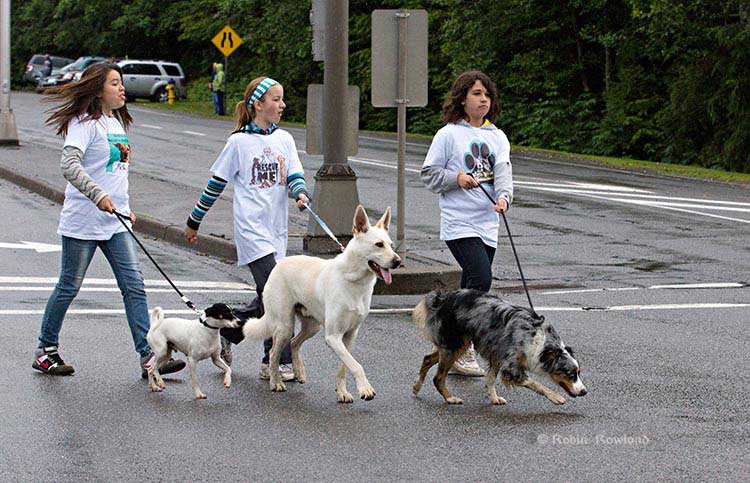 Girls and dogs march with the Kitimat Humane Society (Robin Rowland)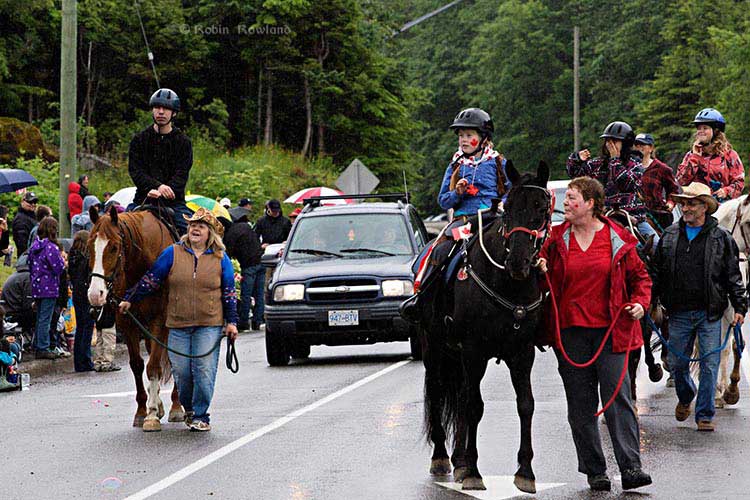 Children on horses conclude the Canada Day parade (Robin Rowland)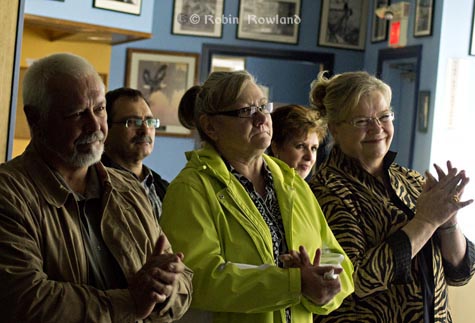 The people of Kitimat, BC came together Saturday Aug 27, 2011, with Canadians across the country to honour the late NDP leader Jack Layton, gathering at the local Canadian Autoworkers Union hall to watch the broadcast of the state funeral . Here Kitimat Councillors Randy Halyk (left) and Corinne Scott (far right) join the crowd in clapping as Lorraine Segato sings "Rise Up" at Roy Thomson Hall in Toronto.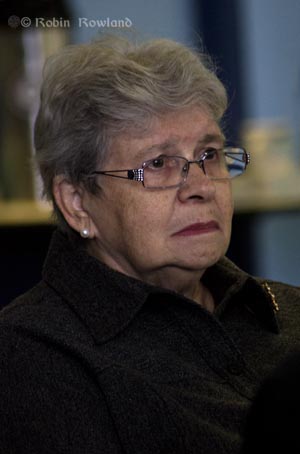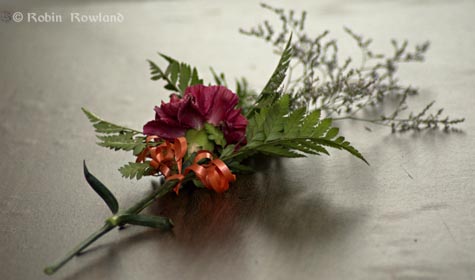 A single red rose was placed on the table used for the television projector.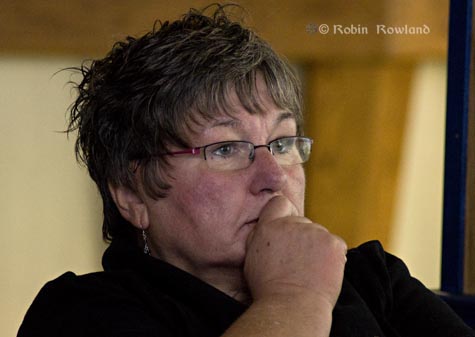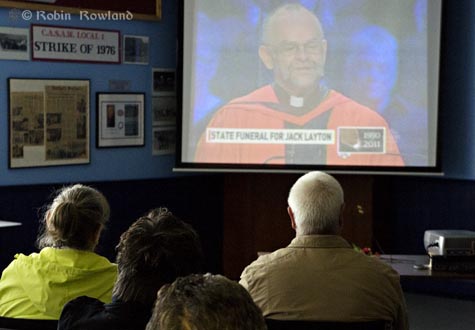 Watching as the Rev. Brent Hawkes of Toronto's Metropolitan Community Church delivers the sermon.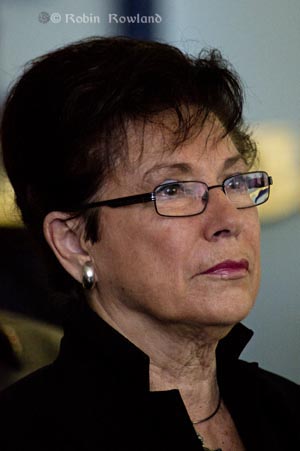 Kitimat Mayor Joanne Monaghan worked closely with Jack Layton when both were officers of the Federation of Canadian Municipalities.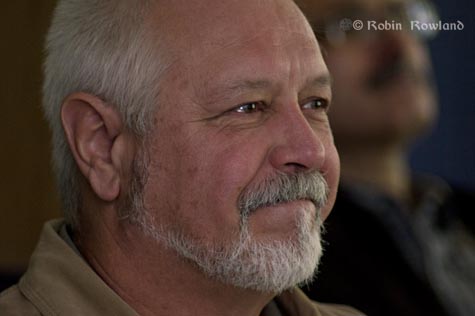 Councillor Randy Halyk cracks a smile as Sarah Layton tells amusing stories about her late father.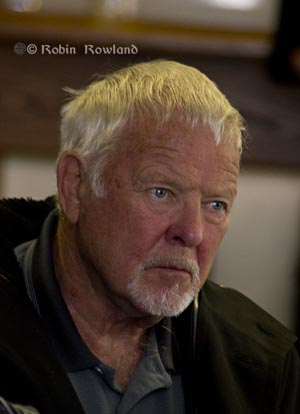 Environmental activist Dieter Wagner of Douglas Channel Watch.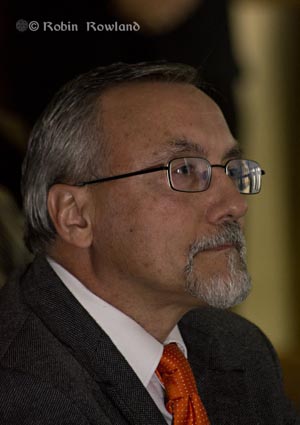 Councillor Rob Goffinet honoured Layton with an orange NDP tie.