The end of the Minolta era
The Minolta era has come to an end.
It was about 38 years ago, when I was about to turn 18, when I asked for a single lens reflex camera for my birthday.
My father bought me a Minolta SRT 101, a camera that unexpectedly changed my teenaged life. I was a bit of nerd but I already loved photography (I had also received my first small camera for my seventh birthday). Before school started in September I used my summer job money to buy a 135mm telephoto lens. Then, again, out of my interest in photography, I began shooting the Lawrence Park Collegiate football team,
the year that junior team won the city championships. And when the football players and cheerleaders saw my pictures, I had a new group of friends.
That SRT 101 served me well for more than a decade, as a journalism student at Carleton University (for the photojournalism course and taking pictures of friends) through my first job on the Sudbury Star (1965-76) as a reporter/photographer
a year later on a trip to Europe and a couple of years after that when I moved to London, where the SRT101 somehow survived the crazy landlady (a former Olympian by the way) who tossed the camera case on top of a dresser while cleaning the room. I also used it to shoot Diana and Charles' wedding procession to St. Paul's Cathedral.
When I came back to Canada, I upgraded to the X700, a camera that is now considered a classic.
See also Camera Review and
How I use the Minolta System.
I did not switch to Nikon as many have done; I was familiar with the Minolta system and had also had a lot of luck with those cameras.
For the next few years there were other priorities, writing books and working in television news, although I did still take photographs on my holidays.
When I began shooting video, first when I shot a documentary on the River Kwai for CBC's Pacific Rim Report in 1997, and for myself, the moving image trigged older memories and so I decided to concentrate more on still photography. Digital was still a bit expensive around 2000, so I purchased a Maxxum 4 film SLR and starting shooting.
When I was ready to try a digital camera, there was no medium or high end Minolta camera models, perhaps a hint of things to come, so I bought the Panasonic FZ1 after I read a good review, while still shooting film and buying lenses for the Maxxum.
Minolta was still behind, rumours of a digital SLR in the magazines but nothing was forthcoming. I was still waiting when the fixed lens prosumer A1 came out.


In February 2004, when I decided to take a photo workshop, I bought the new eight megapixel A2, also a fixed lens digital prosumer camera. By this time Canon, with Nikon not far behind, were dominating the professional digital and prosumer markets.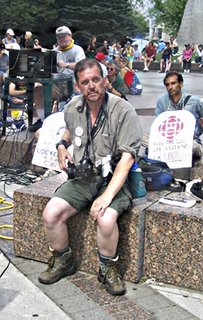 For a couple of years I carried the A2 and an upgraded Panasonic FZ3. When the Minoltal Digital SLR the Dimage 7 came out, I didn't need one at that moment. And since I have worked with computers for more than 20 years I was content to wait until, as I think everyone expected, a newer version would come out.
Photograph.
Covering the CBC lockout with the Minolta A2 and the Pansanic FZ3 in Simcoe Park, September 2005. Photo courtesy Fernande Savard
The first hint of trouble came in early October, when an RSS feed from Digital Photography Review
told me that Minolta had ceased operations in Canada.
I shook my head when I saw the news. I had the lenses for the Maxxum which would fit the Dimage 7. At first I thought I would have to wait until my next trip to the United States to pick up a camera. Then, the sell offs began. Within a couple of weeks I was able to buy the Dimage 7 on Ebay from a Canadian camera store and then a zoom lens from a Toronto dealer.
The fact that Minolta had gone out of business in Canada, and at that time, no where else, brought shaking heads among colleagues who had used Minolta cameras.
Then shortly after I walked into the CBC newsroom on Thursday, January 19, a colleague in the business unit told me that Minolta had announced that they ended their decades in the camera business.
A quick check on Dpreview
showed that the bare wire story I had seen did not have all the news, and all the news wasn't bad. As the Minolta release posted on the site noted in corporate gobblygook.
In camera business, we have reached an agreement with Sony Corporation (Sony), having numerous image sensor technologies such as CCD and CMOS, to jointly develop digital SLR cameras in July 2005. In order to continue to have our customers use Maxxum/Dynax lenses, and to maximize possibilities of the optical, mechanical and electronics technologies accumulated through development of SLR cameras in the years to come, we came to the conclusion that it was best to transfer assets concerning camera business to Sony. Since then, we have been negotiating with Sony, and as a result, we have reached an agreement with Sony to transfer a portion of assets regarding digital SLR camera system to Sony. In this relation, we have decided to withdraw from camera business, such as film cameras and digital cameras, within Konica Minolta Group as of March 31, 2006.




Sony is planning to develop digital SLR cameras compatible with Maxxum/Dynax lens mount system, so that the current Maxxum/Dynax users will be able to continue to use them with Sony's digital SLR cameras. In addition, we will consign camera service operations for Konica Minolta, Konica, Minolta brand cameras and related equipment to Sony

.



It appears, at this point, that's a good deal. Sony produces superb video equipment And that means in the future, if everything goes right, I will be able continue to use my Maxxum lens should I want to and as technology develops, I can upgrade the system.




Without knowing what was going on in the corporate world of Japan, it can be seen in retrospect that the merger between Konica and Minolta was a sign of trouble.


Often in mergers the stronger managers quickly sacrifice those parts of the company where there is little emotional connection to keep that section alive. And Minolta was certainly slow in entering the mid and high-end digital market.
So once again, as happened often in the software industry, the customer becomes the orphan. Although with Sony taking over the lens system, it is not as bad as when software customers were completely abandoned and sometimes better products phased out for an inferior one.
In theory, seldom in practice, in the free market system, "the customer is always right." Too often these days company management is out of touch, or incompetent or nothing more than beancounters either following some business school model where the spreadsheet, not reality, is supreme or taking advice from know-nothing consultants who claim to understand the customers but never speak to a real human being.
Hundreds of companies, many with loyal customers, have disappeared over the centuries. But in this era of the cult of management, it would be well to remember that often the customer is right and management dead wrong.

Technorati tags
photography, Minolta