Photoblog Don Valley Brick Works
Photo blog for May 18, 2009.
Red winged blackbird at the Don Valley Brick Works.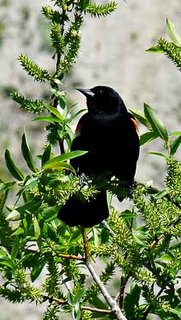 More photos from the Brick Works hike in my public Facebook album.



All images are copyright Robin Rowland 2009. Do not download or reuse without permission.





Labels: birds, photoblog, photography
What "breaking news" means in May 2009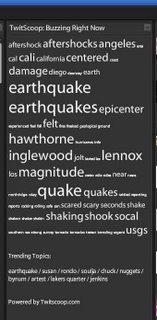 Around 8:30 p.m. Pacific Daylight Time, May 17, 2009, an earthquake with a prelminary estimated magnitude of 5.0 struck near Los Angeles International Airport LAX. As this is written an hour later, at 0025 hours May 18 Eastern Daylight Time, the Los Angeles Fire Department reports no major structural damage or injuries.

Here is a lesson for all those news executives in our dying industry who insist on screaming about hours-old "breaking news."

This is a screengrab from Tweetdeck taken at 0017 hours EDT which shows Twitter trending topics, as measured by Tweetdeck. (Twitter's own trending topics are a little different, I've found but in this case the earthuquake is still a top topic). The top topic, of course, is the earthquake, aftershocks, and the Los Angeles neighborhoods where it the quake was felt.

Even the Los Angeles Times in its coverage is quoting the LA Fire Departments Twitter feed.


Updated at 9:10 p.m.: An initial assessment by the Los Angles Fire Department found "no major structural damage, no serious injuries," according to spokesman Brian Humphrey's Twitter feed.


In May 2009, news breaks on Twitter.

If you've got a red "breaking news" banner on your screen or web page even an hour later, rather than "developing story" you're crying wolf and further eroding the credibility of our already stricken profession.

More and more people on the cutting edge of online journalism and high tech coverage are calling for a return to quality (although no one is sure how to pay for it right now). "Citizen journalism" is no longer someone ranting on the comments section of any news site. It is hundreds of those citizens' tweets.




Technorati tags
writing, journalism, Twitter, news,

Labels: journalism, news, Twitter