Aviation history in an old envelope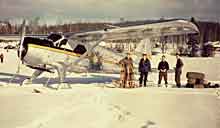 DHC-2 Beaver at Ootsa Lake, B.C. 1951-52
A couple of weeks ago, I was going through old family pictures. There were baby pictures of me among the prints from that roll. Since I am planning to return to the parts of northern British Columbia where I grew up, I was looking for landmarks that would help me identify the places where I was little kid. Among the photos I found interesting were of some old planes, so I scanned the old prints at high res, and checked them out.
Turns out that I flew as a baby and toddler in one of the most famous aircraft in Canadian history, the original DHC-2 Beaver.
And the story is now up on CBC.
The de Havilland Beaver and the birth of the bush plane

Technorati tags
writing, journalism, DHC2 Beaver, Ootsa Lake, De Havilland,Junkers W34, Kitimat,
Kemano, Central BC Airaways, bush plane, Alcan

Labels: British Columbia, CBC, DeHavilland Beaver, Junkers W 34, Kemano, Kitimat, Ootsa Lake