The David Lean Anniversary Conference

This year, 2008, as we've all heard from the superheated publicity, is the one hundredth anniversary of the birth of author Ian Fleming.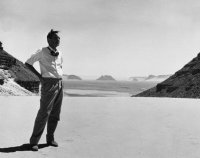 The fact that 2008 is also the one hundredth anniversary of the birth of one ot the greatest film directors David Lean, has had less hype.

There have been events in London all year marking the anniversary and one is a conference at Queen Mary University on July 25 and 26, 2008, that "offers an opportunity both to celebrate David Lean's career and to evaluate the nature of his achievement."

You can find out more about the David Lean conference on both the conference website or, if you're on Facebook, by joining the Facebook group David Lean 100th Anniversary Conference QMUL.

Facebook Event page for the conference.

I'll be speaking about "that movie" that it is what many former prisoners called

The Bridge on the River Kwai

on the afternoon of July 26, officially on "The Reception of The Bridge on the River Kwai among Former Far East Prisoners of War." It was a love hate relationship with that great film for many former POWs.

And I'll tell the conference why.
Hope to see you there.


Technorati tags
writing, London, Burma Thailand Railway, World War II, film,F Force, Prisoner of War,
David Lean, Bridge on the River Kwai, Kwai, book

Labels: A River Kwai Story, Bridge on the River Kwai, Burma Thailand Railway, David Lean, film, London, World War II, writing