Sony launches the Alpha 900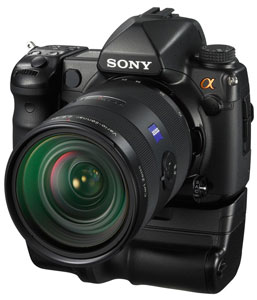 I covered the Toronto launch of the Sony Alpha 900 today Tuesday, Sept. 9. 2008.
*24.6 megapixel full frame sensor
* 5 frames per second capacity, recording capacity at continuous 11 images at raw 105 at jpg extra fine
Sony is saying their new viewfinder based on refinement of an old Minolta system is the best around.
My report on the launch is at
Sony fires new volley in pro camera war
I had only had a brief hands on, had to get back to the office to file.
Sony handed around the bare bones body to show how light it was.
But in the hands on session, with the all the bells and whistles stuffed into the chasis and the lens, it was just as heavy as any other DSLR.
As well as the two new lenses announced todaythe 70-400 and the 16-35, their sales people were enthusiastic about 135 2.8 STF prime lens which they said was a revamp of a popular Minolta lens. That was the one I tried and in those few moments really liked it, especially using the new view finder.
Sony is also offering a fully pro flash with a wireless system where you can control the ratio of multiple flashes from the camera. And

finally

a proper converter for the pocket wizard to the Sony proprietary flash system.
Price is a lot lower than expected $3300 Cdn MSRP body only with cameras available in November.
Sony's prime marketing seems to be aimed (at least from what they said at the launch) at fashion, advertising and product photography.
(Although Sony is using photographs shot around Banff for their world wide Alpha 900 promotion campaign.)
I have heard from a couple of fashion shooters that some of their colleagues in Europe are switching to Sony from Canon.
One of the demonstrators, an ad photographer, said "You don't need this to shoot sports." Not exactly the most diplomatic statement--and I am sure folks on the sidelines would disagree.
Now if I wasn't spending all that money in energy retrofits for the house I would be preparing to buy some new toys in November, Well may be the spring, if I have the $$$$.

Technorati tags
Sony, journalism, photography, Alpha 900, Minolta,

Labels: Alpha 900, photography, photojournalism, Sony