Sonkrai Update: News of the Pope puts project on hold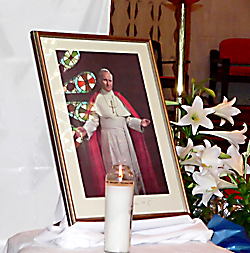 There I was working away on Sonkrai on Friday, when CBC Newsworld began reporting that the Italian media was saying that Pope John Paul II had died and within a few moments I was called back in to work for the death watch.

I went into the office, created a photo gallery from wire photos of Canadians at prayer.

Saturday, the weather in Toronto was miserable, a windstorm combined with rain, freezing rain and sleet. The news of Pope John Paul's death broke about 2:45 p.m. and within a few minutes the storm took down a tree a few houses away.

An hour or so later, Toronto Hydro cut power to the block, just as I was starting to cook dinner and I was left in the dark for five hours, just as I was working on photo assignments for the next morning, dialing the phone with a flashlight (thanfully my Palm is back lit). Power came back on sometime after 9.

The next morning I went to shoot the mass at a local parish, Holy Name. Weather was still horrible, wind gusts, freezing rain and slush. Here is one shot I got, where part of the stained-stained glass window was reflected in the portrait of the late Pope.

You can see the complete photogallery A parish prays at this link.

Now back to work on the book.