Photography: Why I stayed with Minolta (now Sony)
After I posted my CBC blog entry on the new Sony Alpha 700, a couple of friends asked me why I stuck with Minolta when everyone else was working with Canon or Nikon digital single lens reflex cameras.

CBC technology blog post How about a HDTV with that DSLR?

It begins with my first SLR.


When Minolta made the announcement that it was going out of business, I wrote a longer version of my experiences with Minolta in my blog post The End of the Minolta Era.

Here's a slightly updated summary:

My father gave me my first SLR, a Minolta SRT 101 for my 18th birthday many years ago.


That camera took me right across Canada in the summer of 1969 from Montreal to Victoria, across Canada to Halifax and then back to Montreal. I was part of the first

Aventure Canadienne

, one of Pierre Trudeau's first experiments in bilingual and bicultural exchange, twenty students, half Anglophone, half Francophone going across Canada in two blue minibuses.

I used the SRT 101 in journalism school and on my first job as a reporter/photographer on the Sudbury Star, and then I took it across Europe a year later. I took the SRT 101 with me for the year I worked in London,where it survived being tossed across a room by a crazy landlady.

In the early 1980s, bought the Minolta X700 just before I moved into broadcasting and used that camera for years...mostly landscapes since I wasn't shooting journalism at that time.

For video I used a Sony Hi8 camera to shoot my documentary for CBC's Pacific Rim report on my trip up the River Kwai and later bought a Sony DV camera).

I bought a Minolta Maxxum 4 around 2000 or so and added a Sigma zoom and a Minolta 50mm.

At the time when Canon and Nikon and other camera companies were going big on high end, professional digital, Minolta stood still--one reason they got into to business trouble.


I probably would have switched to Canon except for the fact that
in October 2005,
Minolta Canada went out of business before the company's other branches which closed down in January 2006.

That meant the retailers here in Canada wanted to dump their Minolta cameras and lenses (they didn't foresee the deal where Sony bought Konica-Minolta digital camera technology and patents)


So I got the 7D for $1000 instead of $2000, got a better mid range zoom and a wide angle and a flash --all at less than half the price it would normally have cost.

It appears that elsewhere around the world no one dumped Minolta lenses at fire sale prices after the Sony deal was announced-- the retailers knew the lenses were good for the upcoming Sony cameras.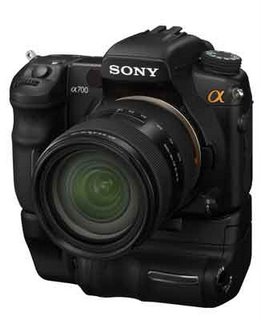 So I have now all this equipment and most of it is compatible with the Sonys--and if, from time to time, I want to shoot film, most of the lens and equipment will work with the Maxxum film camera. So I am going to stick with cameras I know, know how to operate and like using.

I didn't have much time last Thursday for the hands on session with the Alpha 700. You will find a review from Doug Brown on the DPreview forum here.



Among the features that stood out for me in the Alpha 700 were:


The presenters were pushing a function key system that means you don't have to stop and look at the menu in midshoot.

Both in the PR book and the presentation Sony said the in camera image stabilization system is made to work with any lens--in other words all the Minolta lenses out there just waiting for a new digital camera.

Some of the "new" features were on the Minolta 7D which I use such as the auto focus/manual focus button.

One feature I found interesting is a white balance bracketing setting, three frames at different WB settings, could come in handy if you are shooting jpg in an unusual lighting situation.

Offers an optional vertical grip with a second battery with automatic switching to the second battery when the first gets low.

Shoots 5 fps -doesn't match the Mark III's 10 fps.(although Brown was told Sony was working on improving this).

Offers something called cRAW which compresses the RAW setting by 30 per cent.
Continuous shooting capacity is 18 frames RAW, 25 frames cRAW and 16 frames extra fine jpg, looks like the continuous mode is optimized for cRaw.

Doug Brown's review also said the Alpha 700 is the only DSLR on the market at the moment that shoots in the 16:9 aspect ratio. That will be a great advantage for me because broadcasters are now shooting mostly 16:9 as part of the transition to high definition and I am already shooting 16:9 assignments using my Lumix FZ50 point and shoot.

Sony Canada news release.


Technorati tags
photography, journalism, Minolta, Sony, Alpha 700,CBC, 16:9,
photojournalism


Labels: Ajpha 700, CBC, HDTV, Lumix, Minolta, Panasonic, photography, photojournalism, Sony



Photography: The Sony Alpha 700

I covered the Canadian launch of the new Sony Alpha 700 digital single lens reflex camera today, Thursday, Sept. 6, 2007.

You can read my story on the CBCnews.ca technology blog. The Sony A700 is not the new pro model some people were expecting. But it can come with a high definition television.

How about an HDTV with that DSLR?




Technorati tags
photography, journalism, CBC, Sony, HDTV,


Labels: CBC, HDTV, Minolta, photography, Sony



Throwing out the baby with the developer bath water

A number of newspaper managers around the world, apparently desperate to keep their corner offices in the uncertain and unsettling world of the digital convergence are predicting the end of the still photo camera.

Some photographers, the "early adopters" are also jumping on the band wagon.

The photo is dead. Long live video they say.

They're wrong. They're throwing out the baby with the developer bath water. A sort of mixed metaphor, especially for the age of digital photography, but I hope it makes a point.

EPUK, the website for the Editorial Photographers United Kingdom and Ireland, in a story last fall, that I just came across, quoted the newly appointed Executive Editor (Pictures), Stuart Nicol, of the

Daily Telegraph

as saying:



"Digital stills photography will, when we look back on it, form a very small period of time in the history of photojournalism", Nicol told EPUK. "Telegraph photographers will

undoubtedly

be shooting solely on video in the future, and certainly within a year we hope to be well advanced down that route."


The article goes on to say


At the moment the quality of video stills available from small video cameras is generally below that needed to produce photographic quality. However, some US newspapers including the Detroit Free Press and Dallas Morning News have already begun shooting solely on video, at 1920×1080 pixel resolution, on cameras costing around $5000, equivalent to a high-end digital SLR body

You have to use the new High Definition cameras.
In this post on MultiMedia shooter there is a tutorial on how it is done.

I would also note that while many newspapers are adding video to their pages (just as television stations and networks are adding still photography) and both the Associated Press and the Canadian Press offer video for member websites, the quality when it is shot with a still camera or when processed just for the web is so poor that it cannot be used for broadcast unless it is the only video of an important news story.

In my view, and I have the experience, while video frame grabs can be good, there is no substitute for the still photographer and there never will be. There will still be photographers shooting stills with still cameras long after Mr. Nicol has retired from the Telegraph.

(And in checking the site, I couldn't find any images that looked as if they came from an HDTV video cam)

Shooting stills and shooting video are like two brothers or sisters. Same gene pool but different people.

For more than 10 years how, I have been grabbing frames from CBC News video for use on the CBC.ca website. I discovered very early that the trigger finger process used for on the fly frame grabs never produces a good still frame. For a good picture, you have to capture a section of the video and examine it frame by frame until you find one that has the potential for a good still picture.

If you find that one frame that captures the decisive moment and has great composition and framing and colour, you can get a good picture. But remember, at this point, with NTSC, with 515 lines,and PAL with between 575 and 625 lines, depending on the local standard, and a maximum capture of 720 x 540 pixels, you're talking the equivalent of a one megapixel camera.

The best High Definition frame is 1920 x 1080, which would roughly be the equivalent of a three to four megapixel still camera, although from what I saw from an briefing on future software developments by Adobe last fall, the fact the HDTV capture is digital does give the photo editor more to work with.

For a fast paced, money conscious news organization, the bean counters will quickly find out that it is faster for an experienced professional photo editor or photographer to scan the frames shot from a still camera with modern software and pick out the best pictures. In fact, it is highly likely that a photo editor could choose, process and send to the web or the layout desk a still picture before the video was captured and a good frame chosen for use.

Let's just give two examples where the difference between video and still photography is seen the most:

1)

Speakers

. A TV photographer shooting a speaker is recording the best clips. A still photographer recording the same speaker is looking for the decisive moment in the speech. You have the same moment, but the aim of the shooter is different.
The video camera records the movements of the face. In going through a series of captured frames, each frame will have a different moment of human expression.
The most difficult job in grabbing frames is not just finding a good picture, often it is finding the frame that doesn't make the speaker look an idiot, whether president or prime minister, mayor or police chief, cop on the scene or heroic kid (the politicians may be idiots but a frame grab is not the time to point that out.)
The still photographer can always do it better.

2.

Action.

The video shooter is looking and following the action. The camera is often moving. The current television camera captures at 30 frames per second, film at 24 frames a second and HDTV can capture at between 24 and 60 frames a second, depending on how the video is going to be used.

That means that even an HDTV camera cannot capture at any faster than 1/60 of a second. So whether it is football game, a wildlife shot or action on the street, a still photographer shooting at anywhere from 1/125 of a second to 1/1000 of a second can capture the action better. The problem is that when you look at a current NTSC frame, captured at 30 frames per second, 1/30 of a second, the action is blurred. Your eye doesn't see it on the TV screen, but it is there on the frame. You may get lucky and get the one frame that does capture the action-- I was able to do that last year with an Olympic skiing shot from the CBC broadcast that was requested by Canadian Press and run in papers across the country.

More likely you are going to get the face or the arms or the legs or the running back or the speeding car all jaggy, the equivalent of the photo blur. The only solution is to try multiple passes at deinterlacing in PhotoShop and even then it is not perfect.

The bottom line is that these are two different technologies. I have excellent 13" x 19" prints from pictures from my first 2 megapixel camera, so I am not saying it can't be done with an HDTV cam. But with the standard for consumer still cameras now at 10 megapixels, it is unlikely we will see the end of the still photographer anytime soon.

Want to compare still photos and well-processed NTSC capture images? Go the photo gallery I produced of the storm wrecked West Coast Trail on Vancouver Island, Paradise Lost, click on Open in Full Screen and see the difference between a photograph and an NSTSC screen grab.


Labels: CBC, Daily Telegraph, HDTV, news, NTSC, PAL, photography