A big cross border camera rip off

At this moment the Canadian dollar has fallen back even with the United States dollar.
One US greenback may no longer be worth $1.10 Cdn, as it was when a friend of mine was up from New York a couple of weeks ago but it's at

PAR

. $1=$1.

So how's this for yet another big cross-border rip off.

I really like my new Sony A700 camera. Not so sure about Sony.

And the one additional feature that most A700 users want is the vertical grip, that is just that a vertical grip --but it also has space for two batteries.

The manufacturers list price has been $399.99 in Canada and $349.99 in the US.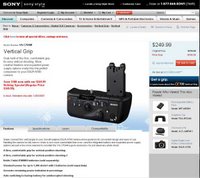 It isn't any more.

Sony US is selling the vertical grip through Sonystyle.com at $249 and giving US customers free shipping up until December 31.



Here's the page from the US Sony style site,

but in Canada it is still $399.99 and no free shipping through the Great White North.


Here's the Canadian URL

And just for the record at the moment $1 Cdn = 111.04 Yen, $1 US =111.11 Yen. Not much of a difference is there???



Technorati tags
photography, Sony, Alpha 700, Canadian dollar

Labels: Ajpha 700, Canada, dollar, Minolta, photography, photojournalism, Sony, United States