Changes to Creative Guide blog

Since I decided that I would continue to look at developments, such as podcasting, in how writers and reporters deliver what they research, I have retitled my other blog to The Creative Guide to Research and Reporting.

And the newest post is "From a 500 channel to a 1,000,000+ universe"

Links to this post:
I write in a renovated garret in my house in a part of Toronto, Canada, called "The Pocket." The blog is named for a tree can be seen outside the window of my garret.
I'm a Toronto-based writer, photographer, web producer, television producer, journalist and teacher. I'm author of five books, the latest A River Kwai Story: The Sonkrai Tribunal. The Garret tree is my blog on the writing life including my progress on my next book (which will be announced here some time in the coming months) My second blog, the Wampo, Nieke and Sonkrai follows the slow progress of my freelanced model railway based on my research on the Burma Thailand Railway (which is why it isn't updated that often) The Creative Guide to Research, based on my book published in 2000 is basically an archive of news, information and hints for both the online and the shoe-leather" researcher. (Google has taken over everything but there are still good hints there)
November 2004
/
December 2004
/
January 2005
/
March 2005
/
April 2005
/
May 2005
/
June 2005
/
July 2005
/
August 2005
/
September 2005
/
October 2005
/
November 2005
/
December 2005
/
January 2006
/
February 2006
/
March 2006
/
July 2006
/
August 2006
/
September 2006
/
December 2006
/
January 2007
/
February 2007
/
April 2007
/
May 2007
/
August 2007
/
September 2007
/
October 2007
/
December 2007
/
January 2008
/
February 2008
/
March 2008
/
April 2008
/
May 2008
/
June 2008
/
August 2008
/
September 2008
/
November 2008
/
January 2009
/
February 2009
/
March 2009
/
April 2009
/
May 2009
/
August 2009
/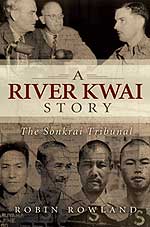 A River Kwai Story
The Sonkrai Tribunal
A River Kwai Story: The Sonkrai Tribunal page
Model railway blog Wampo, Nieke and Sonkrai
RobinRowland.com Home Page
CBC lockout link archive
Comments by e-mail welcomed
InfoATthisblogsdomain



The Garret Tree
That tree can be seen outside the window of this garret.
An original photograph, filtered by a Photo Shop plug-in called India Ink.




Second World War

Journalism

Human Rights