The trumpet shall sound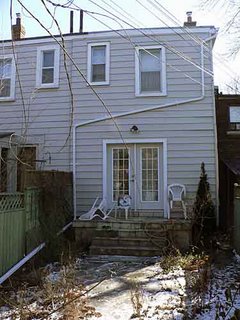 I have a foghorn in my back yard. Or perhaps a dinosaur.
The City of Toronto has what is called a "downspout replacement program." The idea is to stop too much water going into the storm sewers. So the downspout from the evestrough (gutter for the Yanks reading this) which originally went into the sewer system now waters your garden. A great idea, good for the environment--and it didn't cost me a cent (of course I do pay for it with my taxes).
The city did the site survey in the fall and I expected the contractor to do the work in the spring.
But our warm January provided the contractor the opportunity to do the job.
So I got home from work and
"Wooooooooh."
What was that? I wondered as I was going off to sleep. Some strange bird?
"Woooooooooooh."
It was only after hearing that sound for a day or so, that I figured out that the new downspout was acting like a trumpet.
Somehow the wind is sweeping down the evestrough and then down the downspout.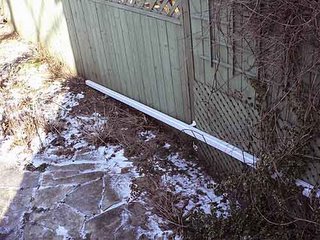 So for every breeze, there's a "wooooooooooh." Sometimes it sounds like a foghorn. Other times it does sound like the call of some tropical bird.
And a dinosaur. While
the latest theory
is that the crest of the duckbilled dinosaurs were visual signals like those on a rooster, there have been theories as well that those long crests also acted as calling trumpets.
"Wooooooooooh."

Technorati tags
gutter, downspout,environment, Toronto,dinosaur,physics,acoustics,