Living in a science fiction world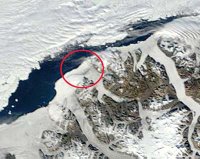 Sometimes last week, I wondered if I was living in a science fiction novel or movie. I've been reading science fiction since I was a kid. Only it wasn't the great adventure into space, it could be the opening scene of a disaster story.


On December 28, 2006, the Canadian media, including the CBC reported a discovery by Laurie Weirs of the Canadian Ice Service. She had found, by looking at NASA satellite images, that the Ayles ice shelf had collapsed on the northern tip of Ellesmere Island back in August 2005.
(official report on the collapse).

Weirs' discovery was confirmed by Luke Copland at the University of Ottawa Laboratory for Cyrospheric Research. You wll find his special website on the event here.

The story was picked up media around the world.

My colleagues at CBC's Quirks and Quarks also reported on the even on January 6, 2007. You can find and listen to an MP3 of the broadcast by clicking the link.

Once I got back to work after the New Year, I spoke to both Weirs and Copeland. At CBC.ca, we decided to build a photo gallery that would track the collapse. The first images used in the study were from the NASA/MODIS real time images from the Terra and Aqua satellites and uncorrected for the curvature of the earth.

So I called my contacts at the Goodard Space Flight Center, where the MODIS project has its headquarters and requested images corrected for the curvature of the Earth for use in the photo gallery. MODIS reported the ice shelf collapse on January 9. 2007.

The images were used in the CBC photo gallery which tracks ice shelf collapse minute by minute.
The CBC's Kelly Crowe also did a follow up report for the National. (Real Video, runs 5:24).

So no wonder there were those science ficton movie thoughts in the back of mind, getting those satellite images from NASA of yet another indication of global climate change. Is it the opening scene of what is to come.....?

Labels: Arctic, Ayles Ice Shelf, Canada, CBC, climate change, Ellesmere Island, NASA