A River Kwai Story progress report


A brief pre-Christmas progress report on

A River Kwai Story The Sonkrai Tribunal.


I spent the first couple of weeks of December going through what were once called (and perhaps still are in some ways) "the galleys." In the old days the galleys were the proofs were the long sheets of paper taken off long rows of metal ("hot") type. Later the galleys were the proofs that came out of some sort of electronic typesetting system.

These days it is Adobe's Acrobat system that is the standard, the complete book (all 6.5 megabytes) came to me by e-mail as a pdf attachment for that final check.

So it is now off to the printers (although the book won't be officially out until April, this was a good time to fit into the production schedule.

There is growing pre-publication interest in the book, with my agent looking at an offer for Asian English language rights and United Kingdom rights. Now perhaps an North American publisher will be interested as well.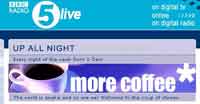 I appeared live on BBC Radio Five this week (live from a CBC studio in Toronto) at 10:30 pm Toronto time, 3:30 am in the UK, for a 20-odd minute interview with Up All Night's host Rhod Sharp where we explored both the historic aspects of

A River Kwai Story

and the modern implications.

There is, unfortunately, no podcast of the show, and the onsite "aircheck" expired on Dec. 26.

Technorati tags
writing, journalism, Burma Thailand Railway, World War II, Iraq,F Force, Prisoner of War,
military tribunal, law, book

Labels: A River Kwai Story, BBC, Burma Thailand Railway, CBC, Geneva Convention, Guantanamo, Japan, Singapore, war crime, World War II, writing
The Alan Johnston rally at Simcoe Park
Photographs by Robin Rowland © 2007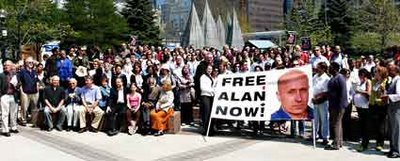 Hundreds of journalists and other supporters rallied at Toronto's Simcoe Park on Thursday May 10, 2007, to support kidnapped BBC journalist Alan Johnston, who by that time had been held in Gaza for 60 days.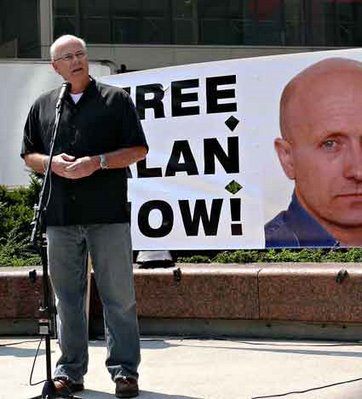 CBC Chief Correspondent Peter Mansbridge expresses his support for Alan Johnston and his family at the rally.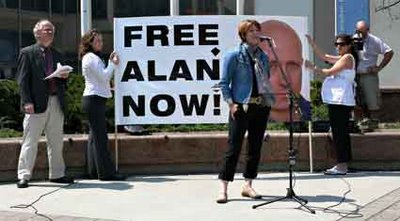 Host of CBC's The Current, Anna Maria Tremonti, a former Middle East correspondent, spoke about Alan Johnston's reporting from Gaza. Former BBC correspondent Daniel Lak who helped organize the rally is on the left.


CBC News story on the rally at Simcoe Park

CBC Editor-in-chief Tony Burman's letter calling for freedom for Alan Johnston

Sign the BBC Online petition

BBC "How You Can Help"

Toronto Star Canadian media protest kidnapping

Canadian Press story on Canoe

Daniel Lak's blog, Lakwords


Technorati tags
writing, journalism,
BBC,Alan Johnston, Gaza,CBC


Labels: Alan Johnston, BBC, Canada, CBC, Gaza, photography, Toronto
Toronto rally May 10 for BBC's Alan Johnston
Canadian Journalists for Free Expression
(CJFE) and the
Canadian Media Guild
(CMG) have called on their members and all journalists to mark May 10, 2007, by attending a rally in Toronto in support of British journalist Alan Johnston. BBC Gaza correspondent Alan Johnston was kidnapped by gunmen near his office in Gaza City on March 12, 2007. Thursday, May 10 marks his 60th day in captivity.
In Toronto at
Simcoe Park
200 Front Street West
(beside the CBC building)
Thursday, May 10, 2007
12:00 p.m. - 12:40p.m.
Speakers include:
Peter Mansbridge, CBC Television
Brian Stewart, CBC Television
Anna Maria Tremonti, CBC Radio
Rick MacInnes Rae, CBC Radio
Patrick Martin, The Globe and Mail
Sandro Contenta, Toronto Star


Click in the image link above or go to the BBC Editor's page on Alan Johnston.



Johnston, 44, is a veteran foreign correspondent. Before moving to Gaza in 2004, he ran BBC bureaus in Kabul and Tashkent. He is widely respected and liked by his peers. His reporting on events in Gaza has been widely acclaimed as balanced, insightful and courageous.



The BBC and media workers rights organizations around the world have been calling for Johnston's immediate and safe release from the day of his abduction. These appeals have taken on a new urgency as time goes on. His parents in Scotland, both in their 70s, have appeared on international television and radio to appeal to his kidnappers for their son's freedom.

Johnston is believed to be alive and in good health but there is no sign of his captors releasing him anytime soon. Why he's being held remains a matter for speculation.

A single media worker harmed or kidnapped is one too many. The International Freedom of Expression eXchange (IFEX) reports dozens of instances of journalists taken hostage each year, many of them in Iraq and the Gaza strip. Fourteen journalists have been kidnapped in the Gaza Strip since 2005. Reporters, camera crew and producers need to know they can work safely in troubled areas like Gaza. If journalists are unable to report freely, the world will have lost vital access to information.

CBC News Editor in Chief, Tony Burman's Letter: Why BBC's kidnapped Alan Johnston needs to be freed.



Technorati tags
writing, journalism,
BBC,Alan Johnston, Gaza,CBC


Labels: Alan Johnston, BBC, Canada, CBC, Gaza, Globe and Mail, news, Toronto, Toronto Star, writing