That's about 29 centimetres of snow piling up on a tree, luckily framed by a red brick wall at the back of a local mall, Nov. 29, 2010.
One thing I learned back on my first job as a two-way man (reporter-photographer) on the Sudbury Star was always carry a camera. It was in 1975-76 and one of the two full time staff photographers bought one of the first Olympus Trip 35 cameras you could fit into a jacket pocket. On the night of an Ontario provincial election, we had all shot various candidates. My colleague left his company gear in the office and drove home, only to come upon a serious accident, which he was able to shoot with the Olympus.
So now, years later, back in my old home town of Kitimat (Kitimat, the name given by the neighboring First Nation, the Tshimshian, means "People of the Snow"), the first big winter snow storm of the season starting this morning was no surprise. It brought back memories of my childhood.
There was not much opportunity to shoot, at first. A bolt that attached the chute on my brand new snow blower disappeared into the snow (bad design, none of the nuts would tighten properly, apparently designed to be kept somewhat loose) so I had to shovel the driveway.
I had a doctor's appointment and so after digging out and driving down to park at the mall, I noticed the snow piling up on the trees by the doctor's office. Had a long wait in the doctor's ( big lineup of seniors ahead of me and after me as well).
The northwestern winter light was already fading when I got out. I had taken my Sony Alpha 700 with me,. so I took the time to take some shots of the trees, before walking through shin deep snow back to the mall (where I shot tree against the brick wall) before heading to the hardware store to get better nuts and bolts for the snow blower and to the supermarket to buy groceries.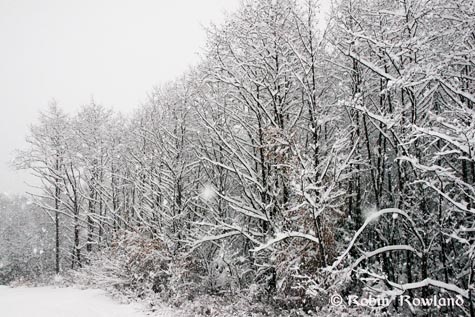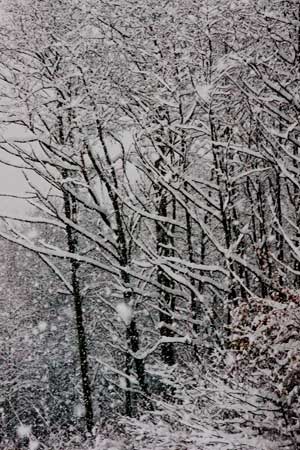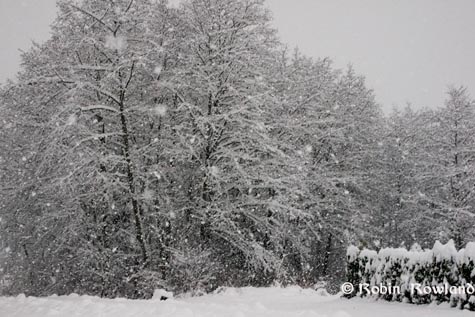 So drove home and got stuck the moment I backed into the driveway, that much more snow had fallen in the about two hours as I waited, saw the doc and shopped. But got the snow blower fixed and got the driveway clear just as it was getting dark.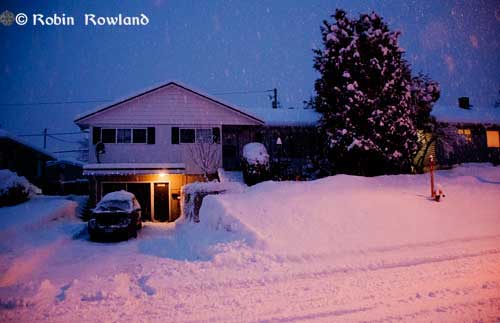 Always carry a camera, even if you are stuck in the snow, and going to the doctor and trying to find the right kind of nuts and bolts in an old fashioned hardware store. (Nearest big box is 60 kilometres down a snowy covered highway).
Went inside, warmed myself up with some green tea and watched CBC News Vancouver, where my former colleague Claire Martin very cheerfully informed the people of British Columbia that up until the time of the supper hour newscast, 29 centimetres of snow had fallen in Kitimat.