How Alberto Gonzales failed in history

This just posted on CBC.ca/news



Alberto Gonzales and the Geneva Convention.




Did the president's lawyer misread the Geneva Convention?




Did Alberto Gonzales, the embattled attorney general of the United States, turn a blind eye to legal history when he wrote a memo to President George W. Bush back in 2002 suggesting ways to avoid the Geneva Convention?

Although my book, A River Kwai Story The Sonkrai Tribunal is largely about the Second World War, it is also about the Geneva Convention and the inhuman treatment of prisoners of war.

So when I was doing my research for the book and I read a key phrase in a memo written January 25, 2002, from Gonzales to President George Bush (and leaked when the Abu Ghraib scandal broke) that said.



. . . some of the language of the GPW [Geneva Convention on Prisoners of War] is undefined (it prohibits, for example, 'outrages against personal dignity' and 'inhuman treatment') . . .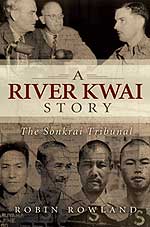 I was, to say the least, surprised, since almost all the Far East war crimes trials for the abuse of prisoner of war, charged or contained the phrase "inhuman treatment."

How could the counsel to the president of the United States ignore the suffering of several hundred thousand Allied prisoners of war, including thousands of American POWs?"

It may take many years of history to answer that question.

The CBC news story outlines what Gonzales should have known when he wrote that memo.

The book, of course, will tell the reader, the exact details of the "inhuman treatment" carried out by the Japanese against the men of F Force.




Technorati tags
CBC, journalism, Burma Thailand Railway, World War II, Australia,F Force, Prisoner of War,
military tribunal, Alberto Gonzales, POW, Geneva Convention




Labels: A River Kwai Story, Alberto Gonzales, Burma Thailand Railway, CBC, Geneva Convention, Guantanamo, human rights, Singapore, United States, war crime, World War II